With millions of Americans traveling through the holiday season, chances are some of those nomads are family and friends coming to stay in your home. Of course, you'll have clean bedding and towels for your overnight visitors, but you can make them feel extra at-home by providing these house guest "survival kits" that anticipate their needs before they even have them.
RELATED: Hosting for the holidays? Here's your cleaning game plan
Wi-Fi and tech tools
Don't be left fumbling around for that tiny slip of paper where you wrote down your home's Wi-Fi password. You know guests will want to avoid unnecessary data charges by connecting their devices to your wireless network, so have the network name and wifi password displayed where they can find it easily. Jennifer at Tater Tots & Jello wrote hers on a gold-framed chalkboard that hangs in her guest bedroom as part of an eye-catching wall display.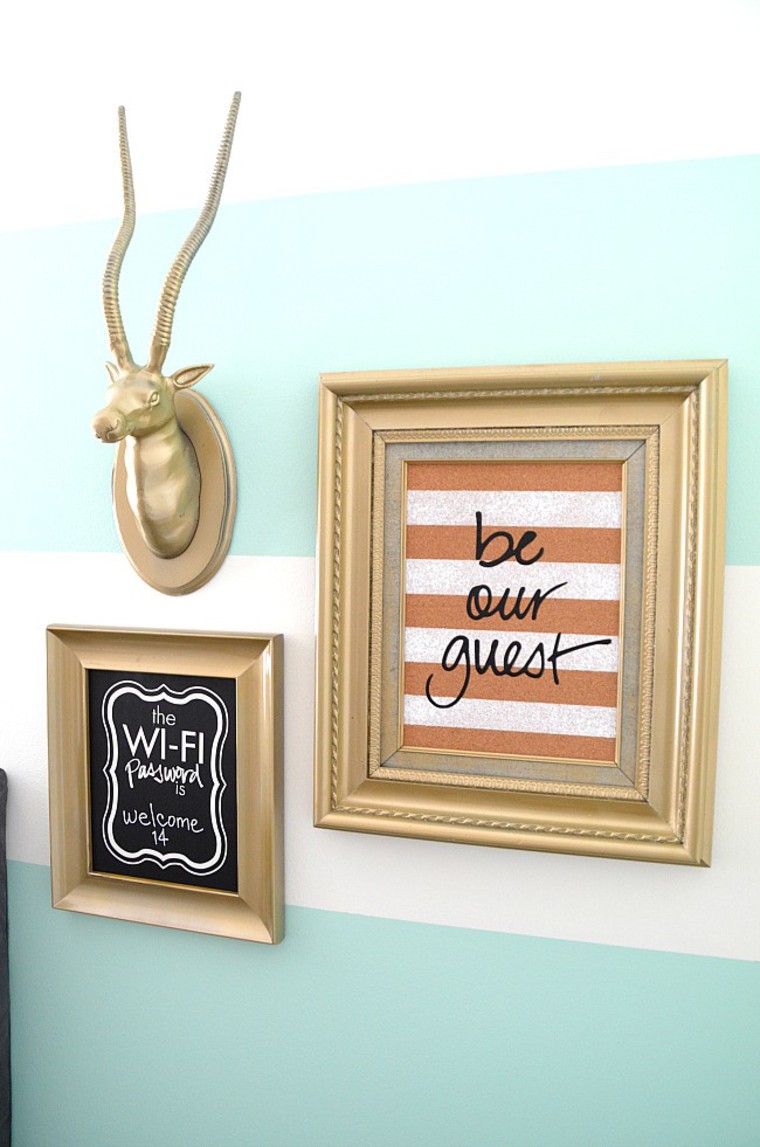 Most routers now have a guest mode, so you can create an easy-to-type password for visitors and keep the extra-secure one with complex characters and random capital letters just for yourself. Bonus: Have a universal charger on hand, too. In the holiday hecticness, someone is likely to have run out the door without it.
House keys, maps and more
Providing guests with their own set of house keys and hotel-like "area information" gives them the freedom to come and go as they need to do last-minute gift shopping, visit other friends or family in your town or even just go for a jog to counteract all the holiday treats.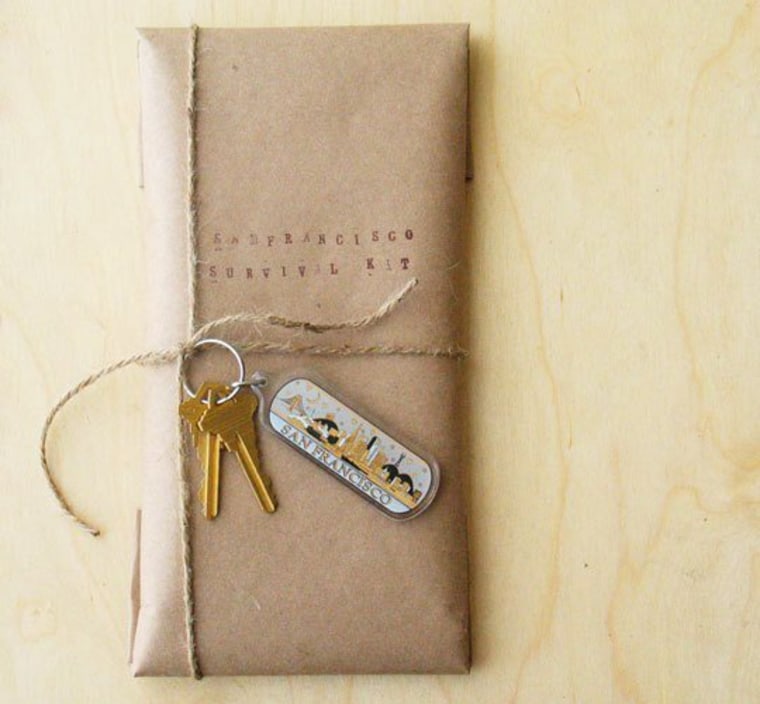 Blogger Tess Wilson puts her extra set of keys on a location-themed key chain tied onto a paper-wrapped bundle of maps, fare cards for public transportation, and her "best-of" lists of local restaurants, shops and activities.
RELATED: Holiday decorating: Create cheer, sparkle and shine with these festive ideas
Gift wrapping kit
With airport rules warning against gift-wrapped packages and houseguests likely doing some last-minute shopping, provide a kit full of everything they need to wrap up their presents so they don't have to sheepishly ask if they can "borrow" some paper and tape.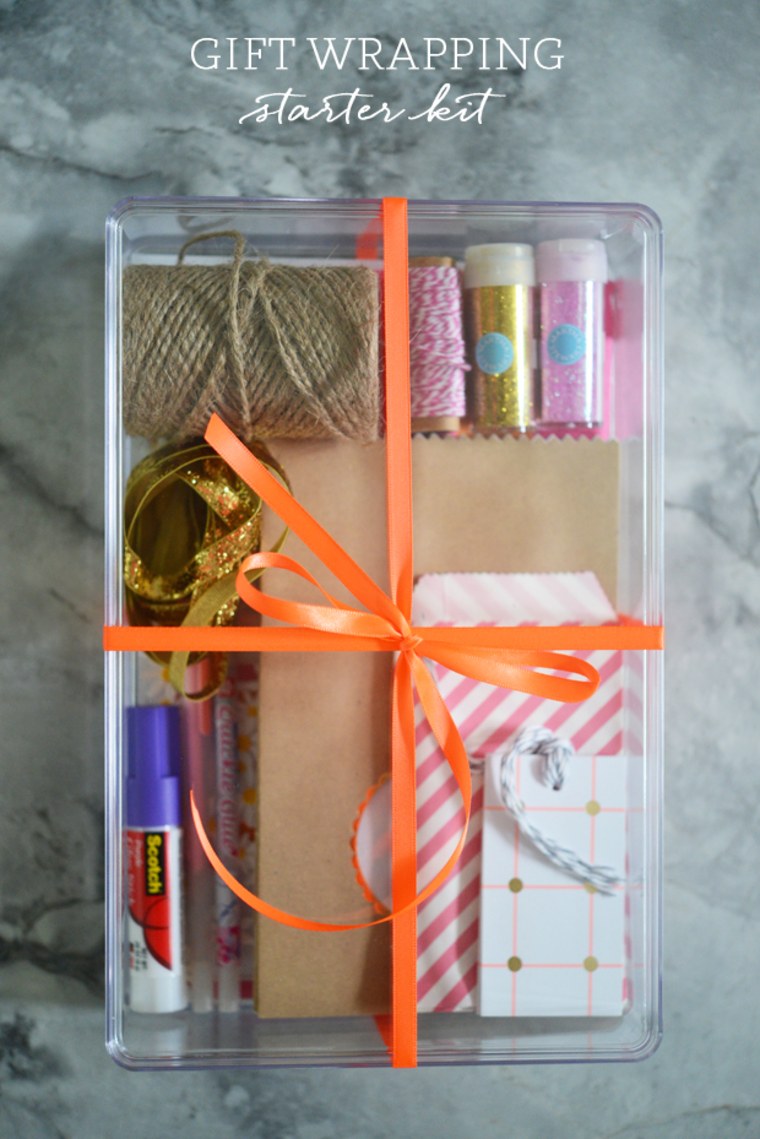 Emily Schuman at Cupcakes and Cashmere created this neat gift-wrapping kit by stashing tissue paper, gift bags, stickers, tags, ribbons, glitter, glue, scissors, and a pen in a clear lucite box.
Toiletries and snack basket
Three ounces of any toiletry item is rarely enough, so be sure to provide shampoo, conditioner, body wash, soap, toothpaste, and even lotion to your guests. Any lady will likely appreciate some makeup wipes, too!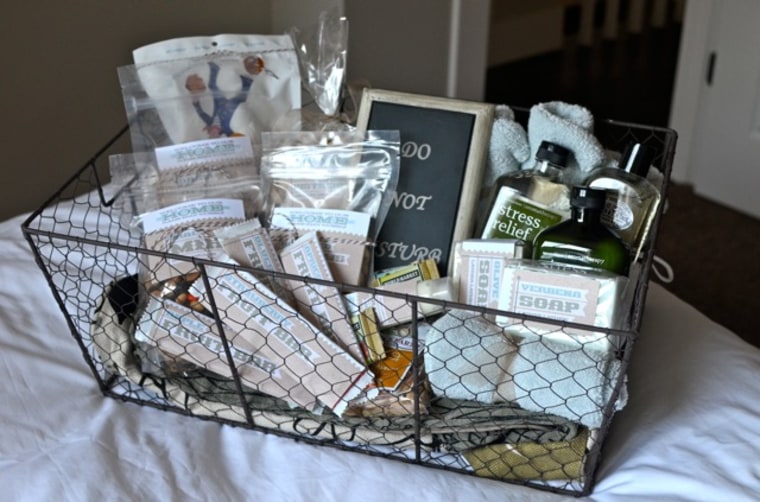 Jen at The Project Girl gathered toiletry items and even trail mix, nuts and crackers, chocolate, dried fruit and fruit bars, and bottled water into a decorative container to create a deluxe welcome basket for her houseguests. She even gussied it up with matching custom labels for every item, a welcome banner and a "do not disturb" sign.
Ellen Sturm Niz is a freelance editor and writer in New York City. Follow her on Twitter, Instagram, and on Pinterest.