Looks like Olivia Munn won Mother's Day this year!
The "X-Men: Apocalypse" actress surprised her mom, Kim Schmid, with a home renovation that includes a dreamy custom kitchen.
"My mom thinks that cooking is the most important thing and has everybody at the house for every holiday," Munn said during the latest episode of "My Houzz," which featured the project. "I want to give this renovation to my mother because if there's anybody in the world that I think deserves it, it's her."
Schmid still lives in Munn's childhood home in Oklahoma City, and while she's making the kitchen work, its tall cabinets and high countertops are not optimal for the 5-foot-1-inch woman.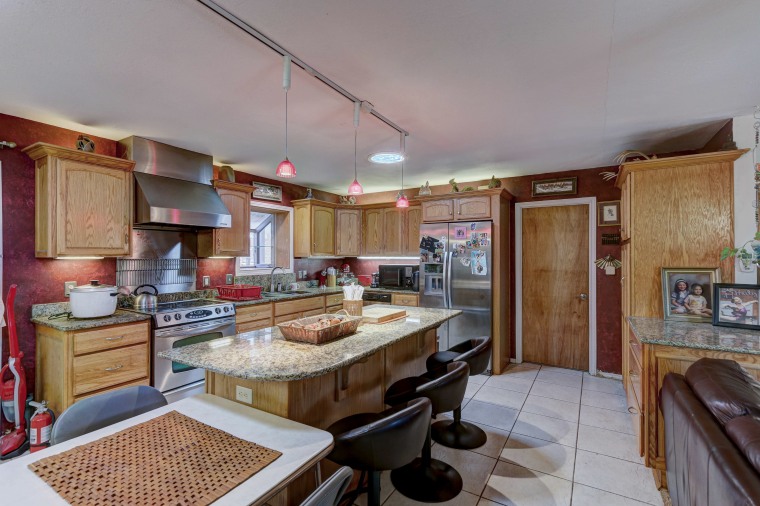 "She's really short so she can't reach the high shelves, and there's not enough storage for all the pots and pans that she needs," Munn explained.
With the help of designer-builder Travis Morelock, whom she found on Houzz, and her stepfather, Sam, Munn gave her mom a functional and sophisticated home makeover.
The house's original floor plan felt small and crowded, with the kitchen, living room and dining area all in one room. Morelock suggested raising the ceiling to make the space feel bigger and more airy.
In the kitchen, Munn's goal was to keep her mom off the step stool as much as possible, so they dropped the counter a couple of inches and installed cabinet rack systems that would allow Schmid to pull down items for easy reach.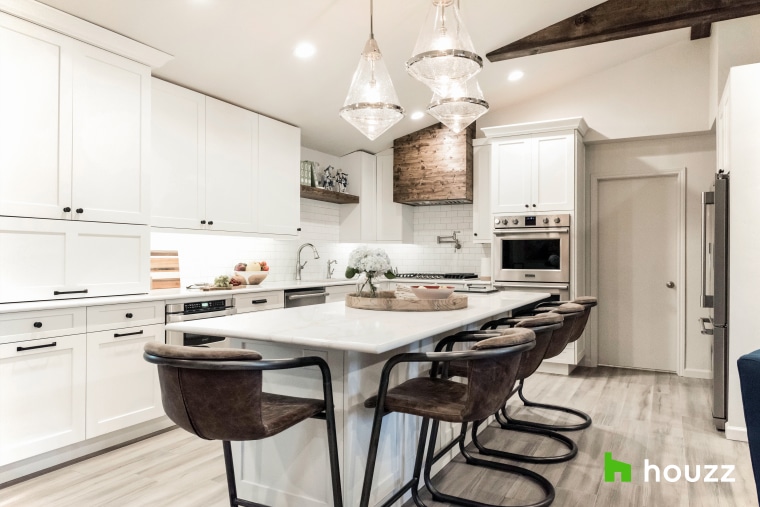 Another problem in the space was how cluttered the counters were with appliances. Morelock create an "appliance garage" that would allow Schmid to keep tools, like her toaster and blender, plugged in but hidden out of the way.
One thing Munn really wanted to do was create a built-in rice cooker since her mom uses it often. Morelock delivered with an integrated rice cooker in the new island that allows guests to load up their plates buffet-style. "That's my happy spot," Schmid said.
The living area is now a lot more functional than it used to be and less cluttered. To add more places to display some of Schmid's knicknacks and special pieces, Morelock broke down the broken fireplace and created a custom, built-in bookshelf.
"So beautiful, my goodness! I love it!" Schmid said of the renovation.
"I'm ecstatic that it all came together exactly how we talked about it," Munn said. "It's obviously going to make her life so much better. And I'm really excited that she loves it so much."
Want to steal the look? Shop for products from this renovation at Houzz. Or for more Houzz renovations, see Mario Lopez surprise his sister, Mila Kunis fix up her parents' condo and Ludacris' Mother's Day makeover.