It's officially the spookiest time of year! With Halloween just around the corner, it's time to trick, to treat — and to decorate.
RELATED: 10 amazing Halloween party ideas to steal: Recipes, decor & easy DIYs
Whether you don't have a porch to adorn with pumpkins or perhaps you want to bring the festive vibe inside, we found seven spaces beautifully decorated for Halloween, and we're showing you how to steal their ideas.
1. Black and white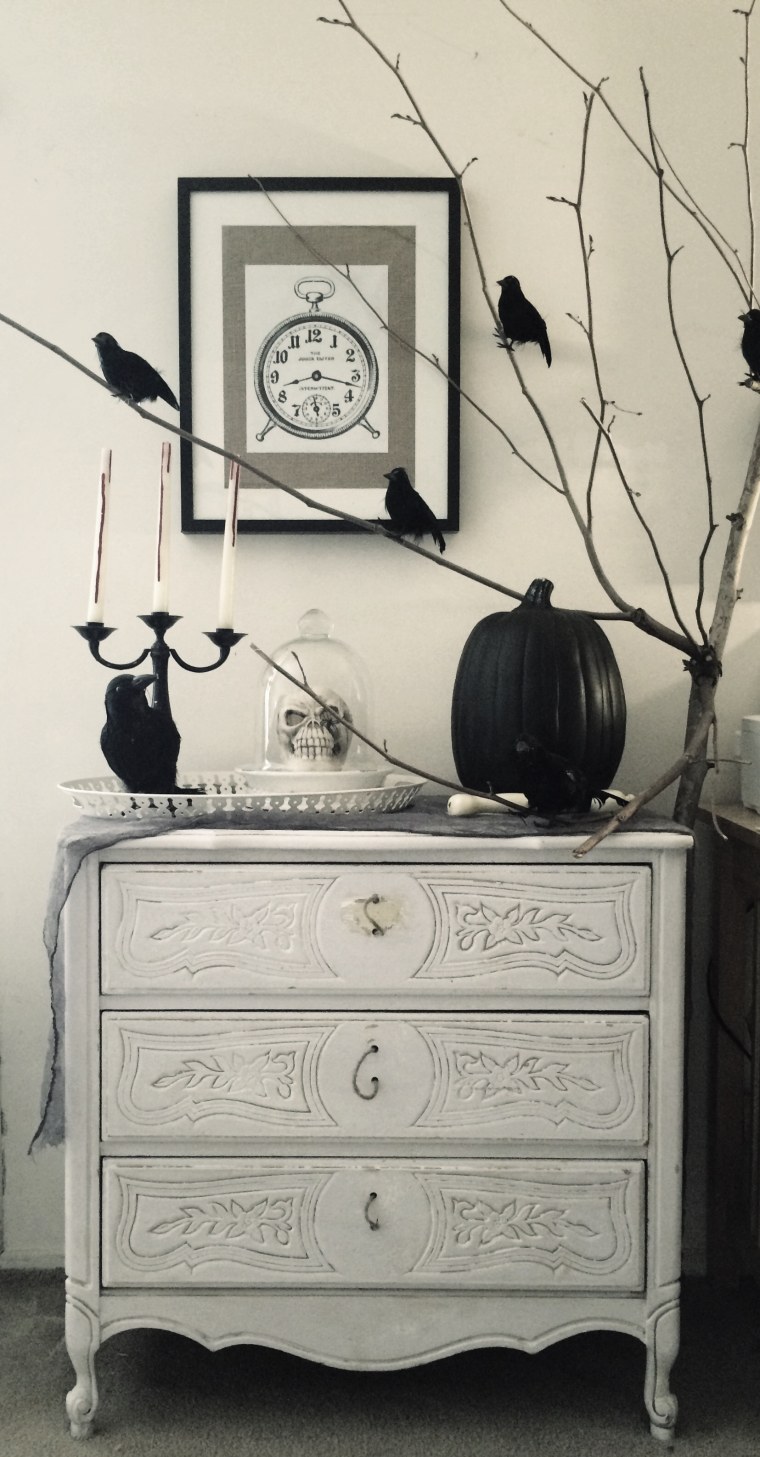 Instagram user Adryroa got creative when it came to finding places to decorate her home in time for Halloween. A chest of drawers instantly became the perfect backdrop for a sophisticated Halloween display.
Our favorite part is the black pumpkin, which can easily be recreated by spray-painting a pumpkin black. We also love the fake black birds, which can easily be picked up at your local crafts store. Tuck tree branches in a vase or behind a piece of furniture and place the birds throughout for a touch of outdoors inside.
RELATED: 9 no-carve (and very chic) pumpkin DIYs from Pinterest
2. Fly away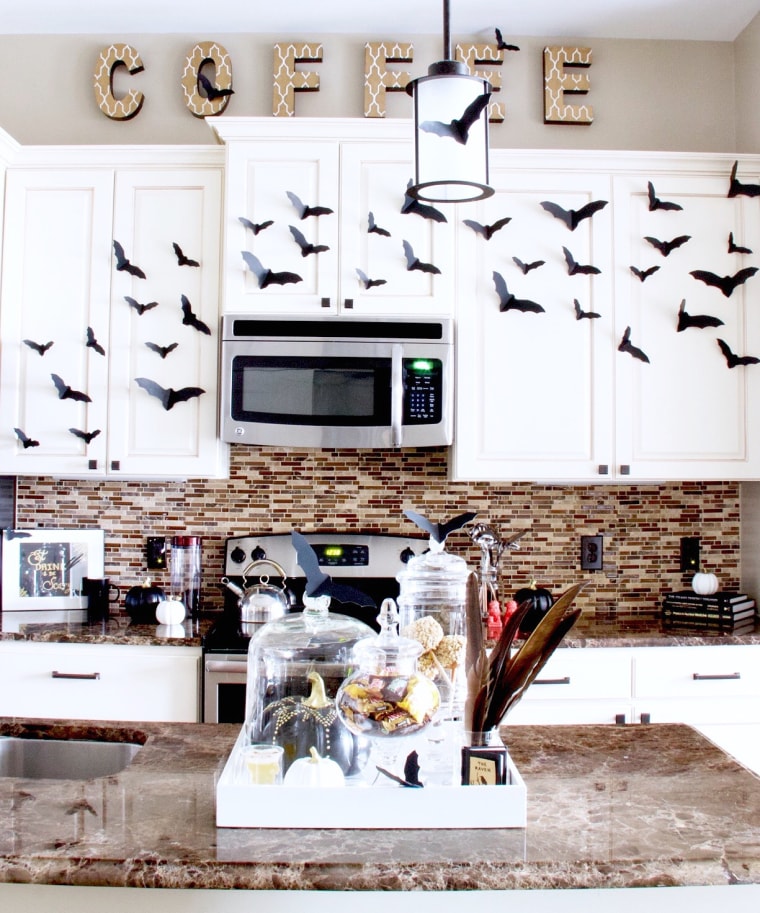 Soma Prum of the Instagram account TerraceoftheElephants decided to use her white cabinets as a blank slate for creating her own Halloween design. She used cutouts of black bats and displayed them across her cabinetry to look like they were quite literally flying inside her home. With some black poster paper, a simple stencil of a bat and some tape, you can create the same effect for any room.
3. Creepy class
For Karen Calvert of the Instagram account inspired_by_decor, her fireplace's mantel became the ultimate decorating destination. She draped fake cobwebs over a mirror and added black fake spiders. The addition of two white pumpkins and skulls kept things sophisticated yet festive. Add some bright orange candles for a pop of color and you're ready for Halloween. Don't have a mantel? Try this look on a console table.
RELATED: Simplify life with a food hack, Halloween door decor and more fun shortcuts
4. Ghouls and garland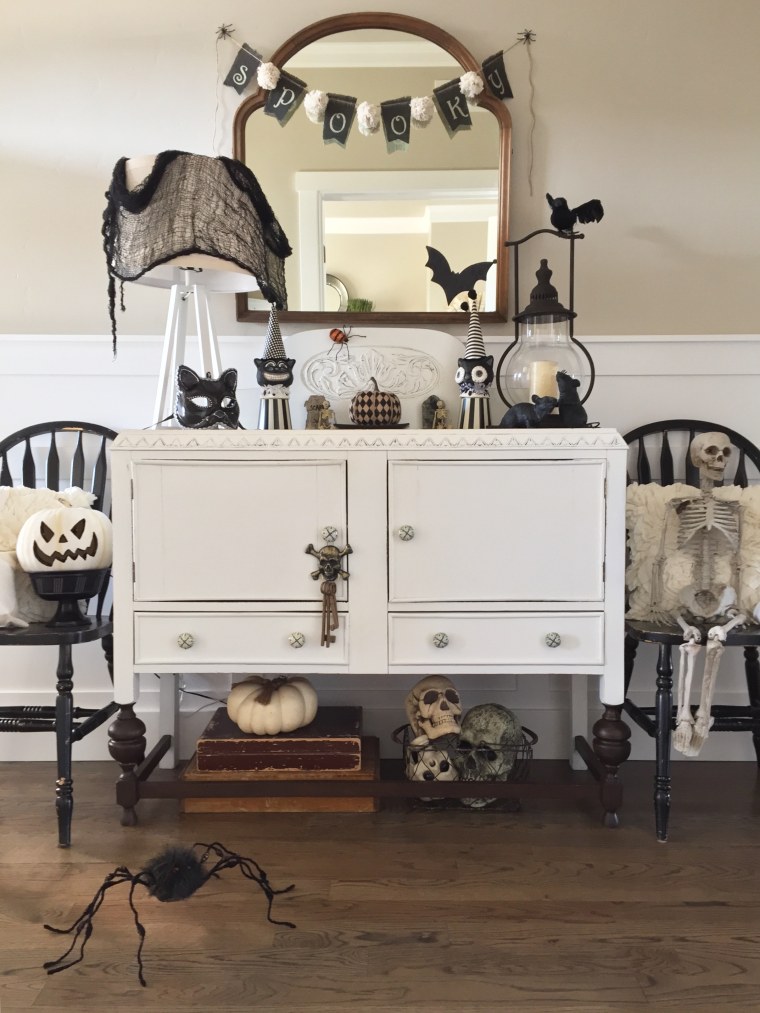 Playing with the black-and-white color combination, Yvonne Gerratt of the Instagram account PaintedPlanks turned her chest into a Halloween spectacle.
The "spooky" garland above the mirror instantly caught our eye. Make it your own by with black fabric, gold paint and white fake flowers or pom poms and twine. Halloween's never looked so chic.
5. Clever kernels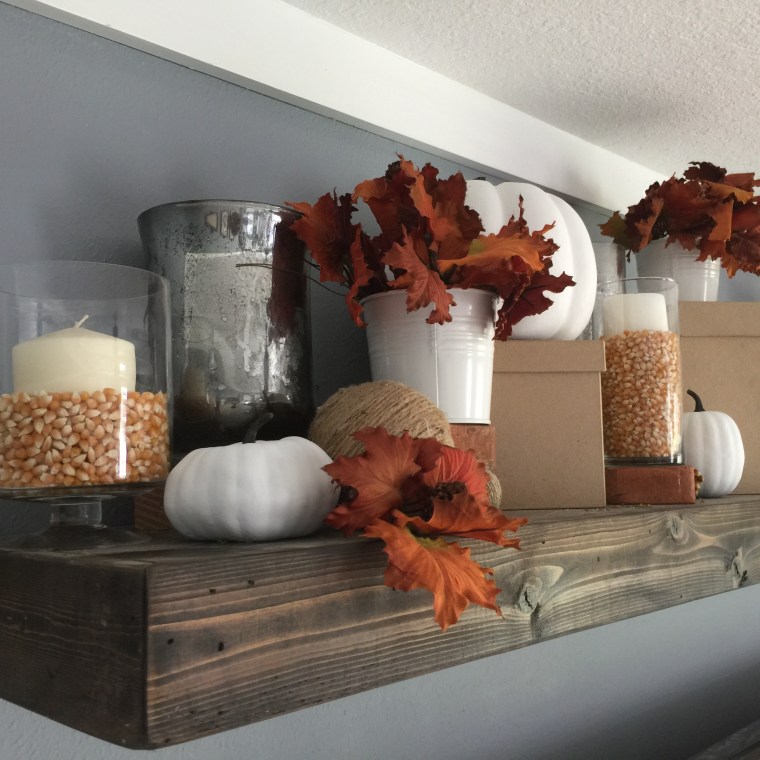 A simple hanging shelf or even bookshelf can easily become Halloween decor. Corey Decker of the blog Sawdust 2 Stitches played with whites, oranges and neutrals for her decor. We love how she placed popcorn kernels with the candles. Simply fill a vase halfway with kernels and add a candle. (It reminds us of our candy corn vases here.)
6. Eye candy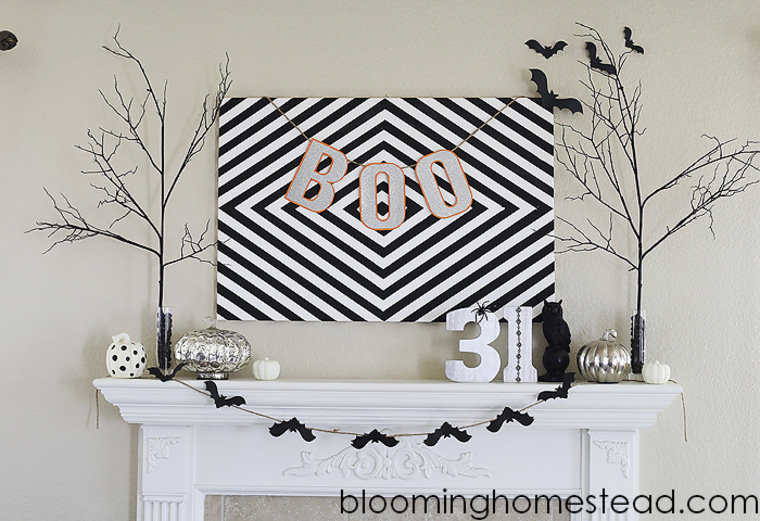 Marie Chorak of the blog Blooming Homestead placed rocks inside tall glasses with spray painted black branches to create some dimension on her mantel.
And while she painted a canvas with the black-and-white geometric pattern, you can get the same look by wrapping a piece of canvas in a similar patterned fabric. She added in a "BOO" garland with some glitter and orange for a touch of pizzazz. You can make your own with orange paper, glitter paint and twine.
RELATED: Ultimate Halloween light show? House 'lip-syncs' to Macklemore's 'Downtown'
7. Pretty planters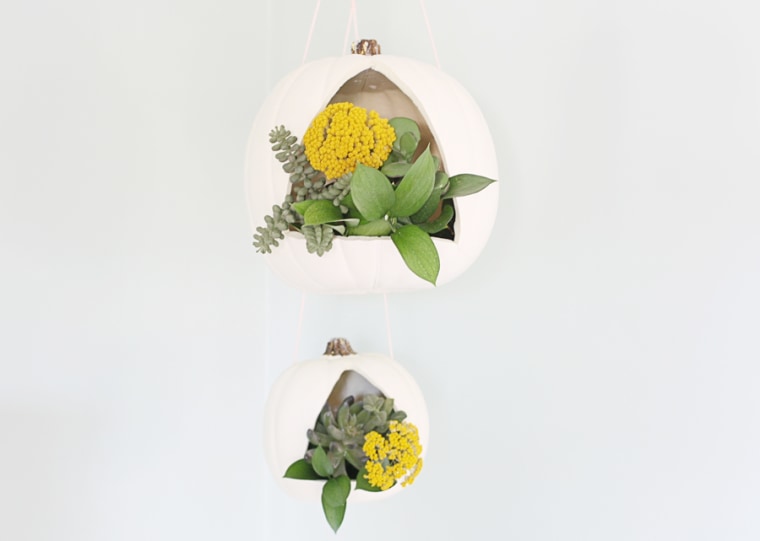 You might want to leave these adorable pumpkin planters up through the spring. To create them, Lidy Dipert of the blog Hello Lidy hollowed out white plastic pumpkin and placed fall-inspired greenery inside. If you want to add more color, you can play with foliage that comes in reds and oranges.
The best part is that they should last a few months, so there's no need to take them down any time soon.
Want more Halloween inspiration? Check out TODAY.com's ultimate Halloween party and click to see how you can get the look in your own home!