Research shows that 30 years ago, you had about 17 minutes to escape a house fire.
Today it's down to three or four minutes. The reason: Newer homes and the furniture inside them actually burn faster. A lot faster.
For more from Jeff Rossen, check out his book, ROSSEN TO THE RESCUE: Secrets to Avoiding Scams, Everyday Dangers, and Major Catastrophes.
To demonstrate, Rossen Reports went to Underwriters Laboratories in Chicago, where two rooms were built side by side: one a flashback to the '70s or '80s with real wood and many natural materials, and the other a modern one with a lot of synthetic fibers, from the curtains to the couch to even the coffee table.
As firefighters stood by, a fire set to a sofa pillow in the modern room quickly spread across the sofa and jumped to other furniture: a lamp, an end table, a chair and coffee table. Within 3 minutes, flames were going through the roof.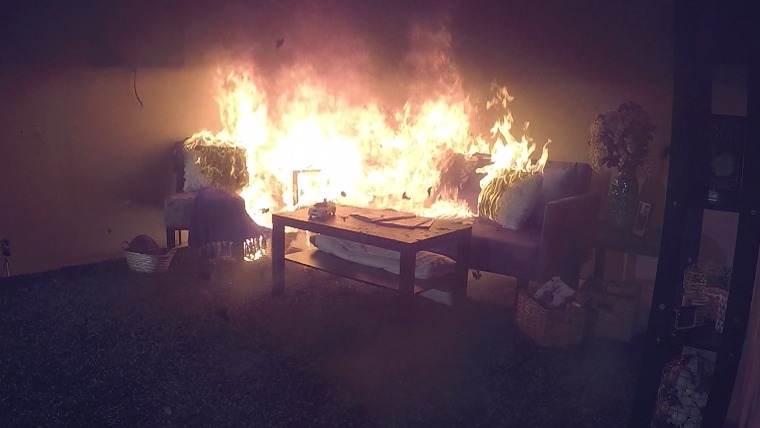 "The backing of your carpet is synthetic, your drapes are synthetic, the couch, the pillows are synthetic," explained John Drengenberg, consumer safety director for UL. "They burn hotter and faster than natural materials do."
A similar fire set to the sofa pillow in the room simulating an older home burned for several minutes without even catching the rest of the sofa. At 15 minutes the room was still intact; it wound up taking 30 minutes for the room to burn.
The American Home Furnishings Alliance, an industry group, told NBC News it supports a federal flammability standard for upholstered furniture, but only if product changes are safe, effective and affordable.
Until then: "When your smoke alarm goes off you don't have time to look around, get your wedding pictures," Drengenberg said. "You get out as quickly as you can."
The National Association of Home Builders, another industry group, told NBC News that new building codes make houses safer. But fire experts say to have a fire escape plan for your family. The Red Cross has an easy worksheet to help you create one.
To suggest a topic for an upcoming investigation, visit the Rossen Reports Facebook page.
FULL STATEMENT FROM THE AMERICAN HOME FURNISHINGS ALLIANCE:
"The American Home Furnishings Alliance supports research into how the materials that are used in home construction today – along with materials used in consumer products today – impact fire safety in American homes. Research that helps homeowners become more aware of potential fire hazards and plan safe routes of escape in the event of a fire is essential. In addition, research that provides firefighters with knowledge to better address those fires is critical and worthwhile.
In 2012, scientists at UL (Underwriters Laboratory) designed a series of experiments that focused on the size and geometry of modern homes as well as current furnishings and building materials. The experiments tested three modern home configurations against three so-called "legacy" configurations containing furniture UL described as being similar to furniture made in the 1950s.
In the 1950s, better quality upholstered furniture was constructed using materials like feather-down cushions and hair-and-cotton padding. However, more affordable upholstery of the time would have likely contained less costly (and far less durable) fillings like moss, animal hair and course fiber matting.
In the 1970s, much of the upholstered furniture manufactured in the United States transitioned to polyurethane foam and other synthetic materials for cushions. Polyurethane foam is valued for its durability, affordability and hypoallergenic qualities. Furthermore, as the industry began researching ways to make upholstered furniture more fire-safe, polyurethane foam was found to help reduce the chance of ignition from a smoldering source.
This was important, because in all available data from the 1970s through today, the vast majority of home fires that involve upholstered furniture are ignited by a smoldering source. In 1978, the residential furniture industry established the Upholstered Furniture Action Council (UFAC), which subsequently released voluntary construction and material guidelines that combined to make furniture resistant to smolder ignition.
It is important to note that, although "legacy" furniture made around the 1950s may ignite more slowly than "modern" furniture when exposed to an open flame, it ignites faster than "modern" furniture containing polyurethane foam when exposed to a smoldering source – which, again, is the most common ignition source in home fires involving upholstered furniture.
Over the past 25 years, the number of U.S. household fires involving upholstered furniture has been reduced by more than 88 percent. This dramatic reduction is attributed to:
industry compliance with the voluntary UFAC standard;
fewer smokers; and, most recently,
reduced ignition propensity (RIP) cigarettes.
Because of the positive results achieved by these industry and societal changes, AHFA has continued to advocate for a federal flammability standard for upholstered furniture based on smolder-resistance.
UFAC's work followed the 1975 implementation of California Technical Bulletin 117, a mandatory standard for upholstered products sold in the state of California. In 2013, California updated TB 117, culminating a year-long effort to address growing concerns about consumer exposure to flame retardant chemicals. The revised standard, TB 117-2013, is based largely on the requirements and testing methodology within the UFAC standard, which can be met without the addition of flame retardants to the foam. AHFA recommends that consumers shopping for fire-safe furniture look for the TB 117-2013 compliance label on upholstered products.
In October 2015, AHFA formally petitioned the U.S. Consumer Product Safety Commission to adopt the upholstered furniture performance standards and flammability test methods prescribed by TB 117-2013 as a national, mandatory flammability standard for residential upholstered furniture.
Throughout nearly four decades of debate over how best to reduce the number of residential fires, especially those involving upholstered furniture, AHFA has steadfastly maintained the position that product modifications should be made only as they are proven safe, effective and affordable for the greatest number of consumers.
AHFA opposes increasing chemical risks to consumers as a solution to fires caused by "small open flame" ignition sources. The most common open flame sources seldom come in contact with upholstered furniture without careless or purposeful behavior, such as unsafe use of candles, children playing with matches or lighters, and arson.
Common sense dictates that these sources be addressed through education that discourages fire play and encourages installation and maintenance of working smoke detectors in the home – which are proven to be one of the most effective means for preventing injury and death from all types of residential fires, including those involving upholstered furniture."
FULL STATEMENT FROM THE NATIONAL ASSOCIATION OF HOME BUILDERS:
"According to the National Fire Protection Association, the leading causes of unintentional, nonconfined home fires are older heating and lighting equipment along with antiquated electrical distribution.
All data show that fatalities decrease when older, less safe homes are replaced with new homes that include safer construction based on newer building codes. These improvements include draft stopping in concealed spaces, safer appliances, changes to the electrical code and requiring hardwired, interconnected smoke alarms."
This story first published on Jan. 14, 2016. For more from Jeff Rossen, check out his book, ROSSEN TO THE RESCUE: Secrets to Avoiding Scams, Everyday Dangers, and Major Catastrophes.