How many times have you stood by an airport luggage carousel watching an endless stream of identical black suitcases pass by?
Sure, attaching a colorful tag can help identify your bag, but some travelers have stumbled upon what appears to be the perfect solution.
That's right: Plastering your mug on luggage can help you not only find your bag quickly, it also serves as a theft deterrent.
It's a travel hack that's been around for at least a couple of years; a photo of a man boldly using the technique went viral on Reddit back in December 2015.
If you've lost one too many suitcases over the years, you can try out the trend for yourself. Firebox, an online retailer that allows customers to print high-resolution images onto pillows, masks and bacon-scented air fresheners, now offers three sizes of reusable luggage sleeves.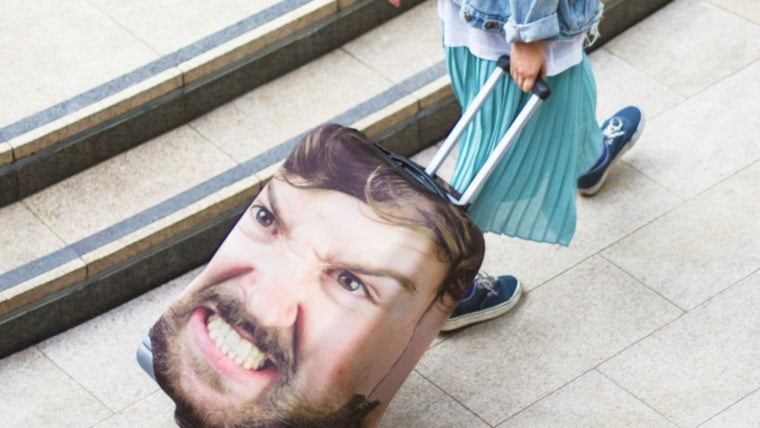 Head Case, $27, Firebox
Here are a few more options.
MyFly Bag Personalized Carry On-Luggage, $150, Rakuten
Also available for $150 at LuggagePros.
Selfie Club 20" Personalized Carry On, $33, Shoes.com
Also available for $35 at Ebags.
If personalized luggage isn't your style, here are five lively ways to differentiate your bag from the rest.
1. Choose a suitcase with an uncommon or easily noticeable print.
Disney Mickey Mouse Pants Hardside Spinner, $88 (usually $140), Amazon
Also available for $90 at Ebags.
2. Add a colorful, lockable belt for inexpensive customization and security.
Transportation Security Administration-Approved Luggage Strap, $13, Amazon
Similar product available for $13 at Bed Bath and Beyond.
3. Attach a vibrant ribbon to each of your family members' suitcases so you'll easily spot them all.
Grand Opening Ribbon, $29, Amazon
Also available for $10 at CeremonialSupplies.
4. Use patches and stickers!
Variety Sticker Pack, $10, Amazon
5. Include a fun tag with your name and contact information.
Aluminum Luggage Tags, $9, Amazon