Whether you're on the coast or in a landlocked state, enjoy the ocean blue with these sea-inspired home decor items. 
Maritime mirror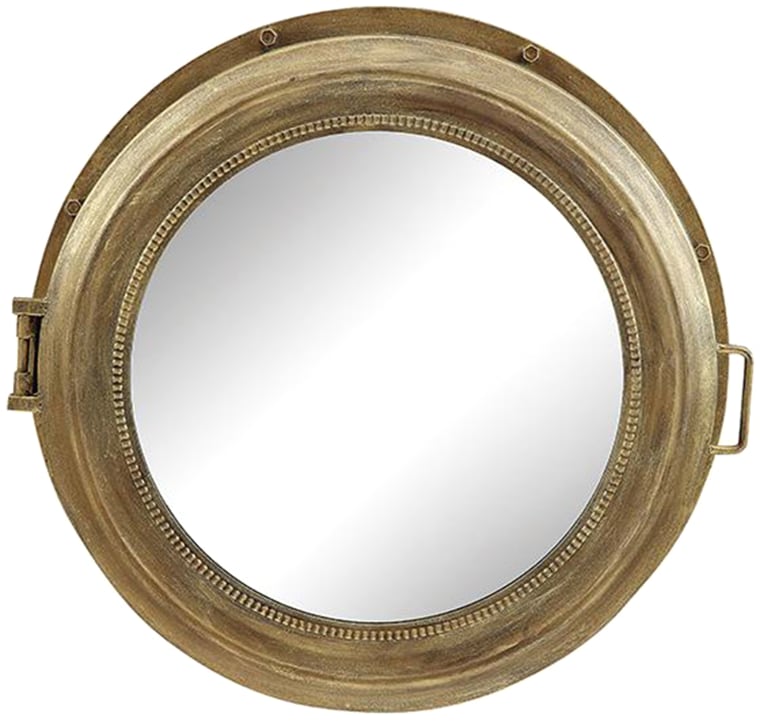 The porthole, a classic nautical element, makes a grand appearance here in the form of an industrial metal bathroom cabinet. The gold-finished, wall-mounted design features three interior glass shelves for stowing sundries (Creswell Mirrored Wall Cabinet, $229, HomeDecorators.com).

Right stripes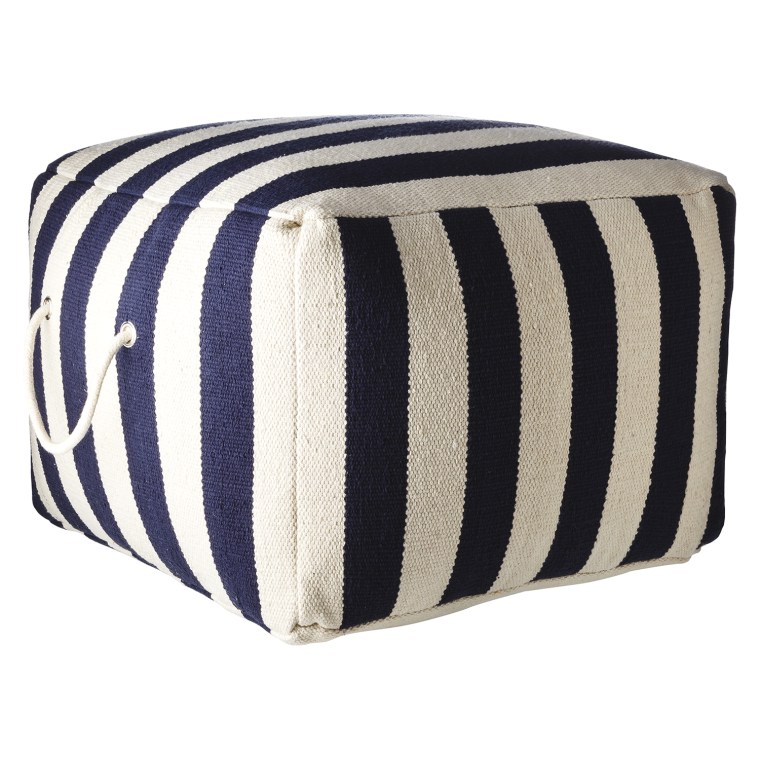 Comfy poufs add softness and seating to spare spaces. This textured cotton version, with its classic stripes and rope handle, is particularly on theme (Threshold Nautical Stripe Pouf, $69.99, at Target.com).

Rustic rug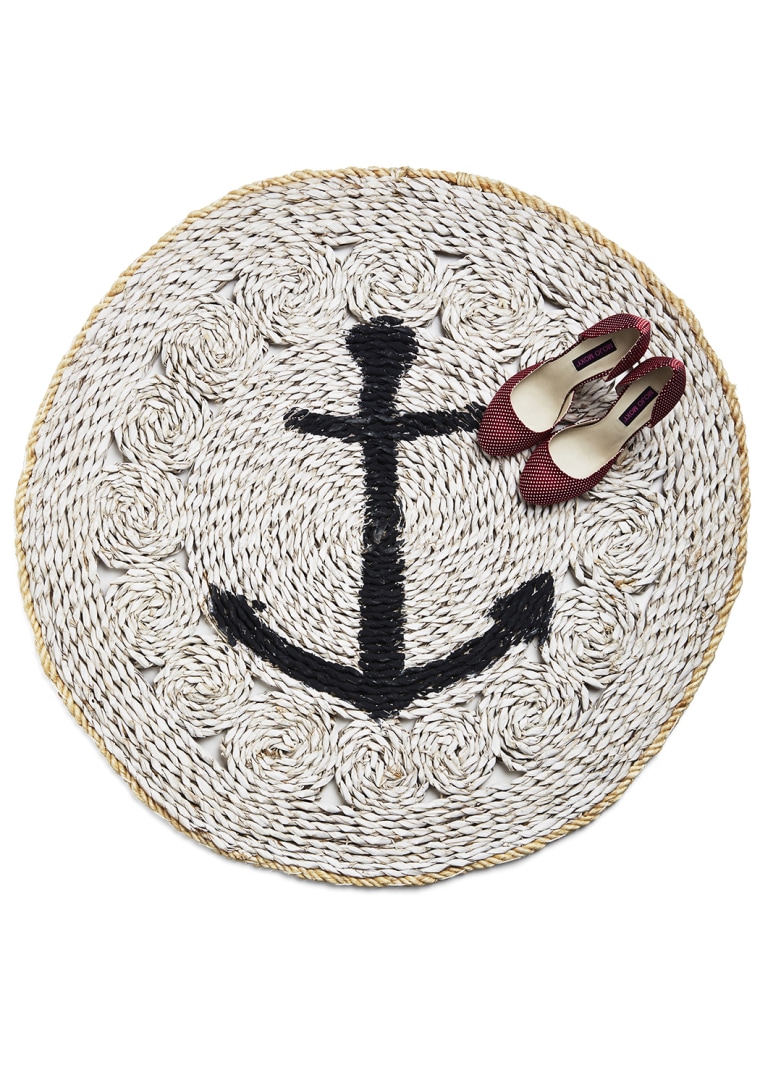 This rope-rimmed, straw and twine rug hits not one but two classic nautical notes — bleached-out natural fibers and an anchor motif (Porch and Starboard Rug, $49.99, at ModCloth.com).

Curtain call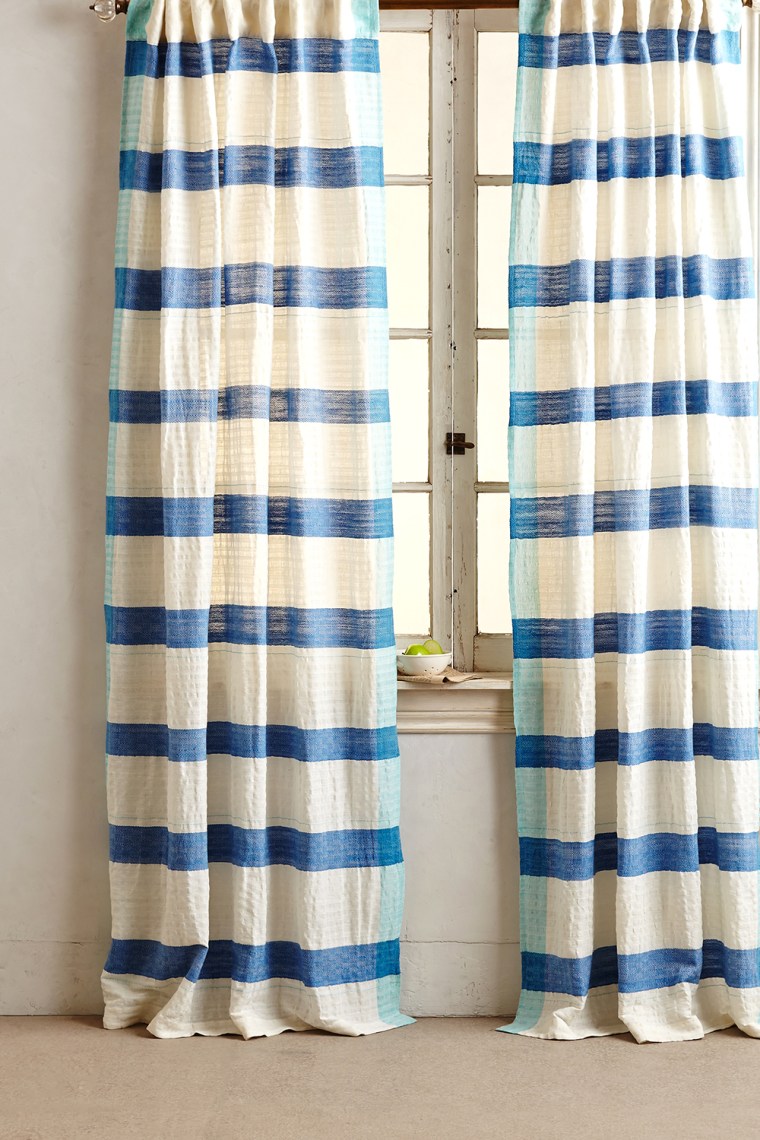 Want to quickly bring the sea inside? String up these lovely linen and cotton panels. The stormy blue stripes and subtle green threads evoke seaside ports from Maine to the Mediterranean (Sanaga Stripe Curtain, $88.00-$148.00, at Anthropologie.com).

Tow the lines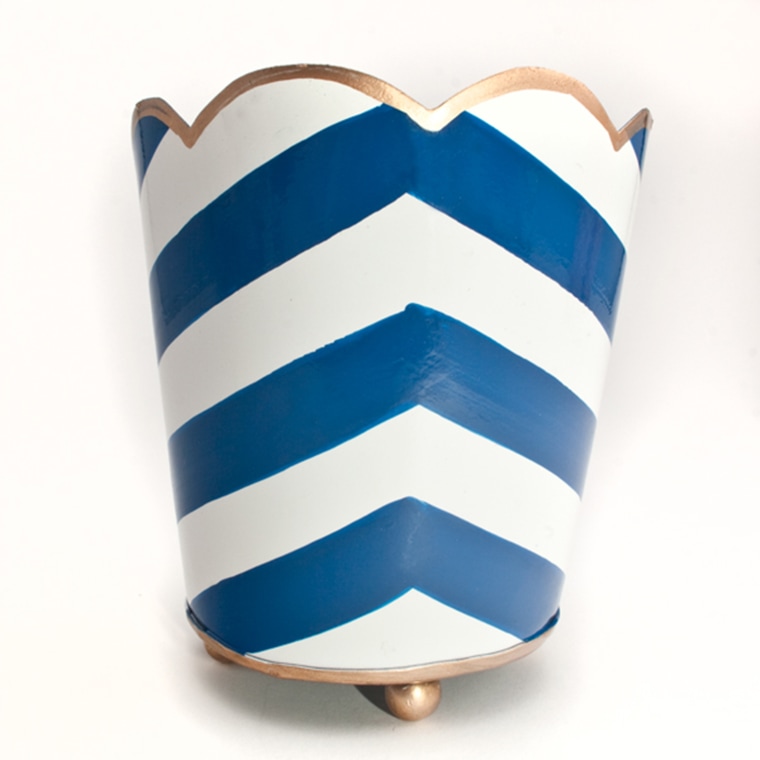 Deck out your desk! Blue and white zig-zags bestow briny charm onto this chic painted metal cup, perfectly portioned to hold an ocean of pens, markers and other assorted office tools (Painted Chevron Pencil Cup, $18,at SeeJaneWork.com).

Rope refined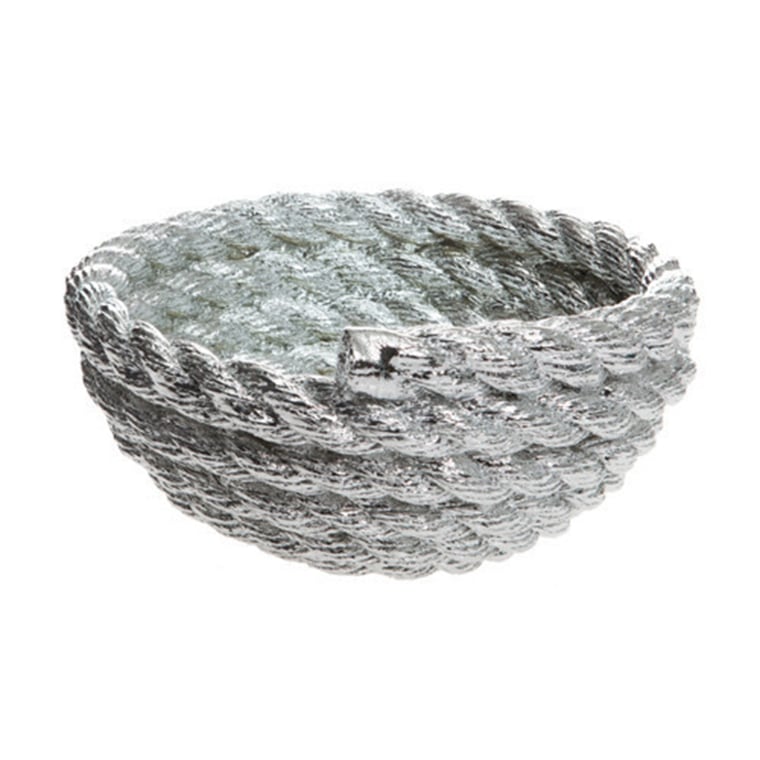 Humble, workhorse rope gets a luxurious makeover with this shimmering coiled bowl created by Harry Allen for Areaware. The resin and marble catch-all is just 8-inches wide and 4-inches high, but it makes a bold statement (Coil Silver Rope Bowl, $75, ShopHorne.com).

Shore thing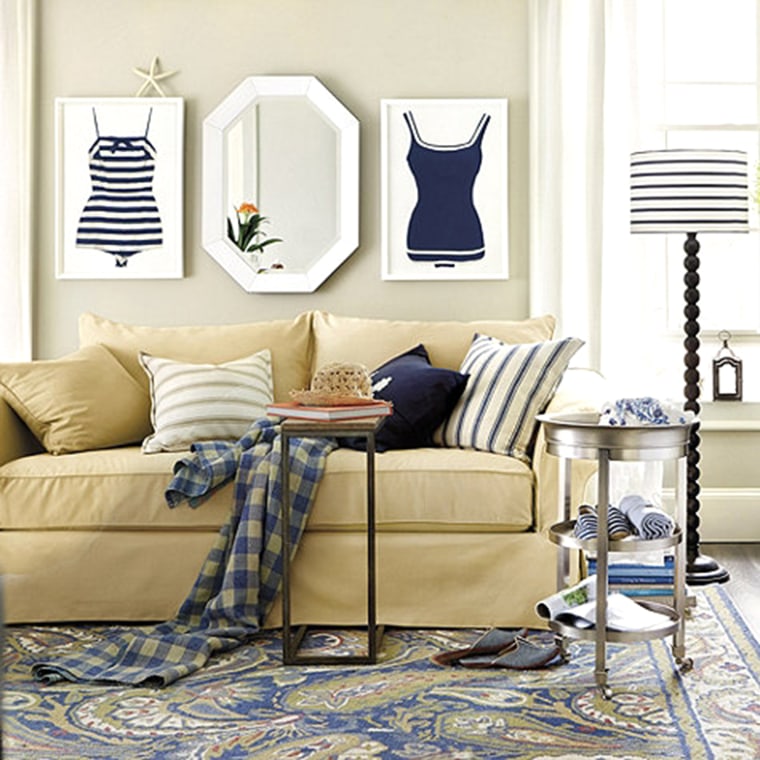 These boardwalk-inspired beauties may look real, but they are faux and fabulous. They are in fact high-res scans of actual vintage suits printed on white giclée paper for contrast (Vintage Bathing Suit Art, $199 each, at BallardDesigns.com).
Pretty pair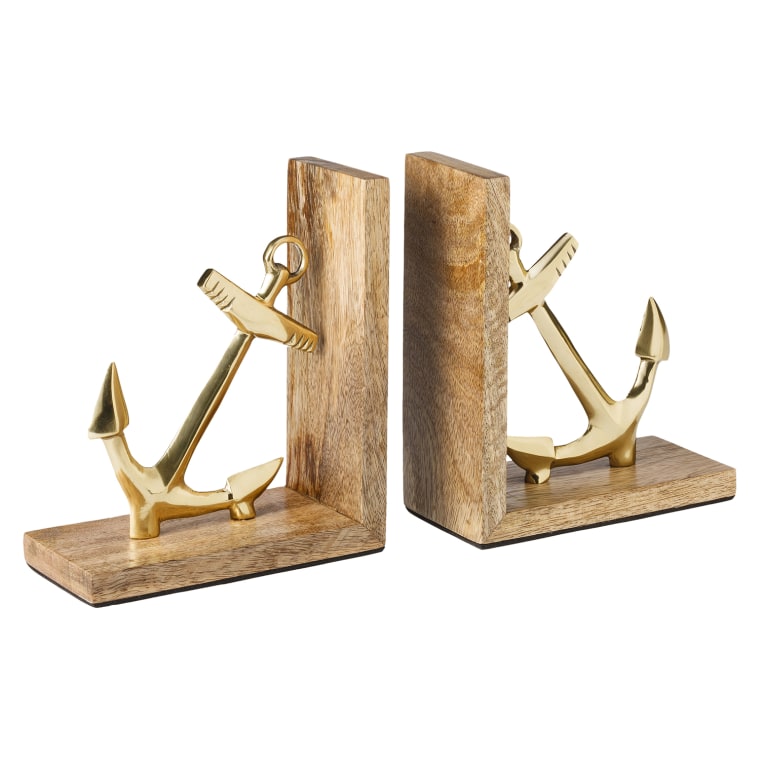 "Moby Dick," "Old Man and the Sea," "One Fish Two Fish Red Fish Blue Fish,"whatever your collection, these handsome wood and gold-toned anchor accents will keep your bookshelf in ship shape (Threshold Anchor Bookends, $24.99, at Target.com).

Tall cool ones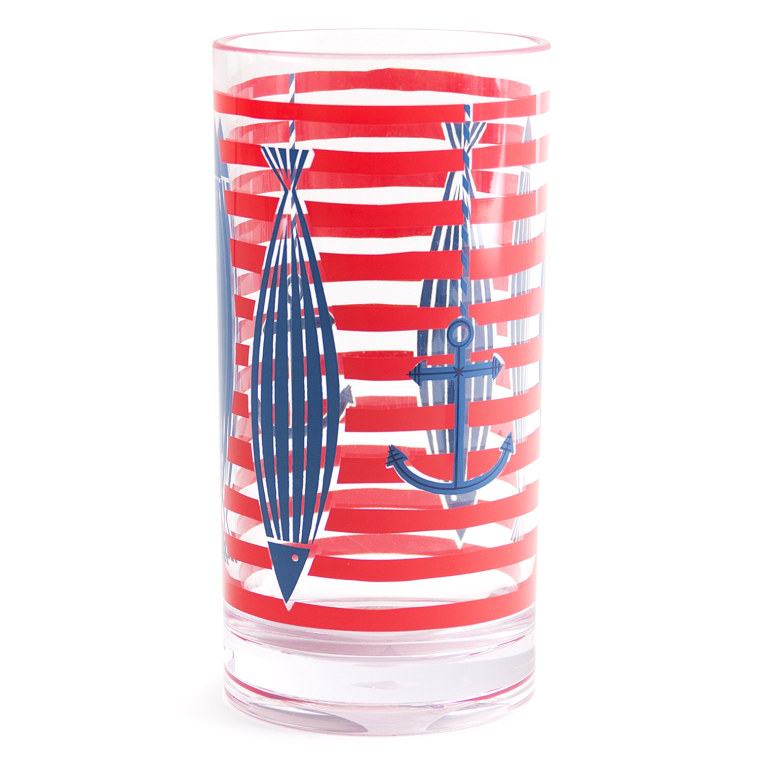 From rum-running pirates to gin and tonic preppies, the sea has never been a place for teetotalers. Jonathan Adler's French-inspired acrylic glasses will put you in the mood to knock back a few, and they won't shatter if knocked over after one too many (Côte d'Azur Highball Glass, $11 at JonathanAdler.com).

Shell chic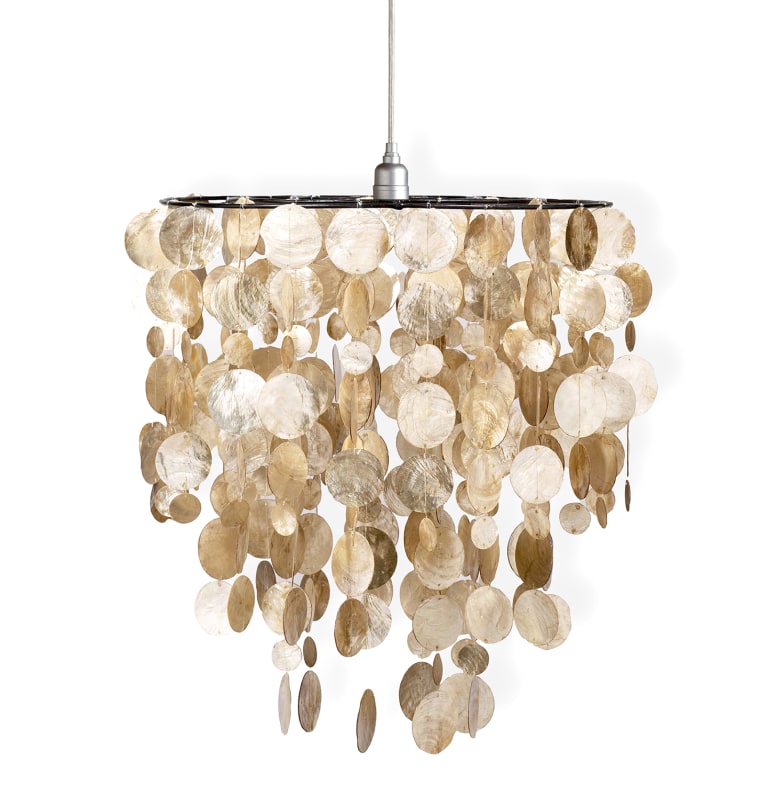 No need to comb the beach for this pretty piece. Each dangling fixture is strung with rows upon rows of iridescent capiz shells, casting a golden glow and creating a soothing chime in any room (Capiz Hanging Pendant Lantern, $69.99 at WorldMarket.com).

Light idea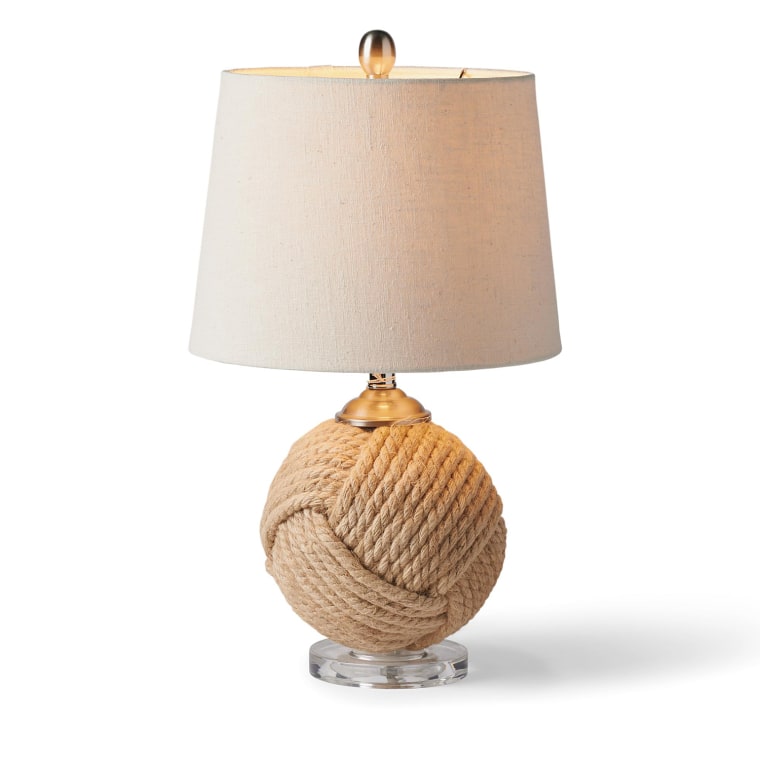 Brighten up your bedside with a cute coastal table lamp featuring a poly-resin rope swirled around a clear acrylic base. Find the neutral shade too sedate? It can easily be re-created with a little D-I-Y action (Nautical Portland Lamp, $99, GrandinRoad.com).