Congratulations! You have signed a the papers on a fabulous new pad. Bravo! Before you move in though, there are a few things to do first. Real estate and rental experts are chiming in on the essentials you need to cross off the list before you get settled.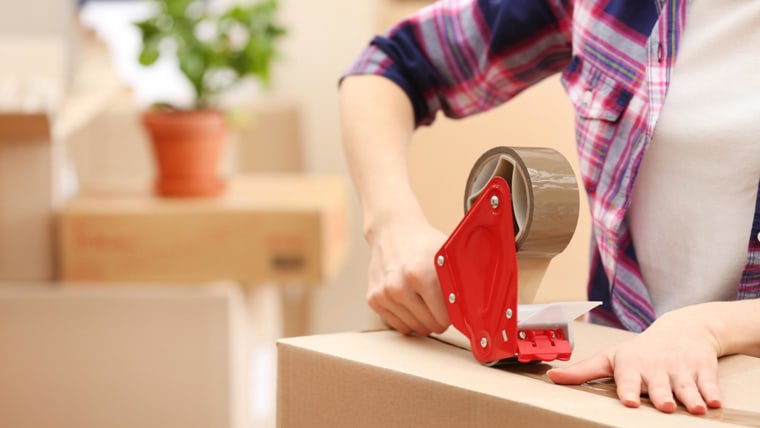 Don't wait to paint
Nothing brightens up the joint like a fresh coat of paint, says Luciane Serifovic, executive vice president and director of rentals for Douglas Elliman Real Estate. And though it may seem like too much work on your part, or too big an ask of your landlord, it's really worth getting the job done now — unless you relish someday pushing all your things into the center of the room, covering it all with a tarp and then leaving home while the walls dry (ugh, fumes). Depending on your state, the landlord may technically be required to paint every few number of years, a rule that often goes unenforced. So if your new landlord is not ready or not willing to paint, consider doing it yourself.
It's perfect! Oh wait…
Want your security back someday? Document every little thing that's wrong with your new digs before you move in, Serifovic recommends. Otherwise it's your landlord's word against yours (and they will have your cash). If you can get access, do a careful check on your own (bring a friend for an extra set of eyes) and share the list of holes, cracks, loose floor tiles, etc. with your landlord. Even better, take pictures.
Start with a clean slate
Most landlords leave apartments superficially spiffy, but fail to really get in there, so make a thorough pre-move-in cleaning a must, says Sabrina Fierman, vice president of the cleaning business New York's Little Elves. "It becomes harder to clean once all your stuff is there. Plus, you don't want to be slowed down by cobwebs and dust while you're unpacking."
At a bare minimum, she suggests cleaning everything but the ceilings and walls: floors, baseboards, moldings, tops of doors, blinds, shades, windows sills, frames and fixtures (lights switches, door knobs, closet rods), as well as interior spaces like closet shelves, medicine and kitchen cabinets and refrigerators. "Basically anything you put your personal things into," she says.
Create a temporary walkway
After you have scrubbed, wiped and mopped (or paid upwards for $200 for a professional), the last thing you want is a major move-in mess. Though the process itself will kick up some clutter and dust, it should be manageable if you have already given your new home a nice top-to-bottom cleaning, says Fierman. The problem is what the movers drag in. She suggests laying down brown Builder's Paper to create walkways down halls and into rooms to catch mud, dirt and any debris. Your floors will thank you.
Start a beautiful new friendship
"You want to build a rapport with your landlord. If you have a good relationship, he or she will want to help you if there are any issues," says Serifovic. Say hello the day you move in, and try to meet the super and doormen.
"Kill them with kindness in the beginning," she says.
Set up your utilities
Inform your local gas, electric and phone (if you still use a landline) companies of your exact move-out and move-in dates as you don't want to pay for a service you're not using, Serifovic recommends. And don't mess around with cable. Although there's often no or a low fee to transfer cable and interest service to a new location (they're pretty happy to keep the business), getting an appointment when you need it can be tricky, so the more notice you give them the better.
Share your new address
Let everyone know you have moved — especially your current landlord, says Serifovic, otherwise "they will not be in a hurry" to refund your security. Officially change your address with the U.S. Post Office, but contact your bank and creditors (cards, mobile phone, school loans, etc.) directly to let them know where to send bills. You don't want to accidentally miss a payment and hurt your credit rating, something that happens "all the time," says Serifovic.