The Mueller family once owned seven homes and a bed and breakfast. Today, they work minimum-wage jobs — but they're still living large. 

The family from Tampa, Florida, is part of a growing real estate trend in which people move into empty luxury homes for sale and essentially act as a "model family," human staging props used to turn a house into a home — for someone else. 
"The home will sell faster and it's gonna sell for more money, and it sells for more money because it looks more valued and it's cared for,'' Kim Magnuson, the sales and marketing director for Showhomes Home Staging Tampa, told TODAY on Tuesday. 
Working with Showhomes, the Muellers live in a luxury house for about half of what it would cost to rent. One catch: They have to keep the home immaculately clean all the time in case a prospective buyer stops by. 
"Never any dishes in the sink, always in the dishwasher, laundry never on top of the washing machine or the dryer,'' Dareda Mueller told TODAY's Gabe Gutierrez. 

The family also has to leave the house at a moment's notice if a prospective buyer is coming to see it. Once the property is sold, the family usually has about a week to move to another luxury property. 
"It gives you a two-week window that is very challenging,'' Bob Mueller said. "So you have like a week to pack up all your things, and then you have five days to unpack all those boxes." 
"It's a lot of fun,'' Dareda said. "It's very adventurous." 
The family has lived in five houses over the past two years. Before the housing downturn hit, they used to own seven homes and a bed and breakfast, but now they both work at McDonald's.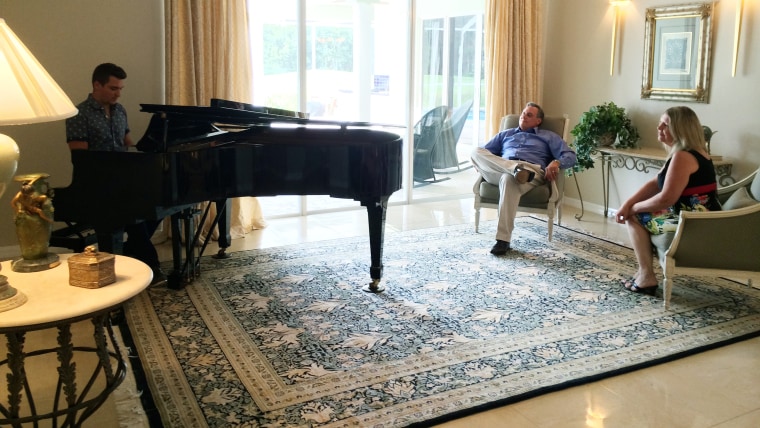 "Through, you know, the struggle of having been wealthier at one time and not as wealthy now, has really just helped us all pull together and draw closer,'' Bob said. 

The family loves living the transient life, and celebrates every time one of "their" houses get sold. 
"We sold the home, and then it's on to the next place,'' Dareda said. 
— Gabe Gutierrez and Scott Stump, TODAY

Follow TODAY.com writer Scott Stump on Twitter and Google+.