Mila Kunis just set the bar high for Mother's Day.
The actress teamed up with the home company Houzz to makeover her parents' California condo. Not only is the result stunning, but her parents' reaction has us reaching for the tissues.
It's the home that's been a steady constant in actress Mila Kunis's life since she was 9, and because her parents Mark and Elvira never plan to move, she decided it was time to give the condo an upgrade.
"The house kind of looks like "Miami Vice" circa 1994," the "Bad Moms" star said in the latest episode of Houzz's makeover video series, "My Houzz."
Besides the outdated interior, the layout needed some work too. The kitchen is tucked away between two walls, which makes it feels more like a tiny closet than a family gathering area.
"Whoever's in the kitchen is isolated from everybody else," Kunis explained.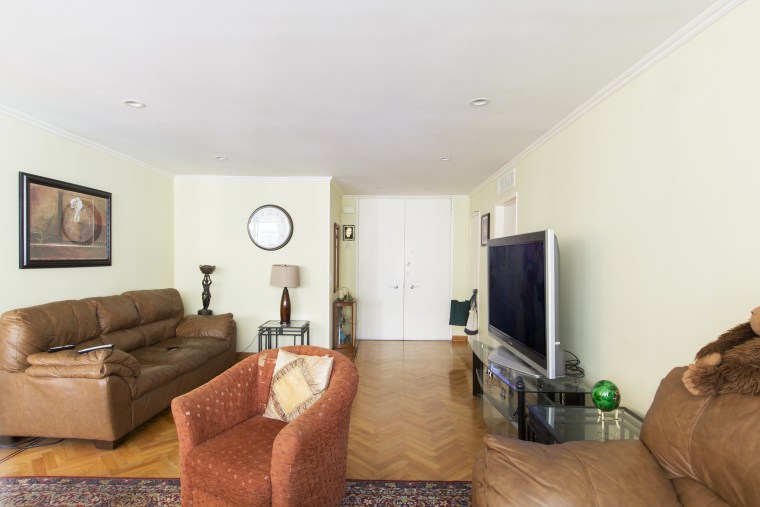 She enlisted the help of LA-based designer Breeze Giannasio to transform the space into a more open floor plan. The two worked together to make the area more airy and comfortable for future family gatherings, which would come in handy since Kunis was nine months pregnant at the time.
But the baby on the way didn't stop the expecting mom to help tear down a wall.
"I might be nine months pregnant, but if anyone is knocking down that wall, it's me," she said in the video. After one hard swing though, she decided to leave the rest of the job to the professionals.
Kunis and Giannasio added a stunning chandelier, rustic farmhouse table and large sectional sofa to give the space a more modern feel. It's a dramatic makeover, and one that her parents ultimately loved.(Even Mila's husband Ashton Kutcher, who remodeled his own mom's basement, gave her a thumbs up to the transformation.)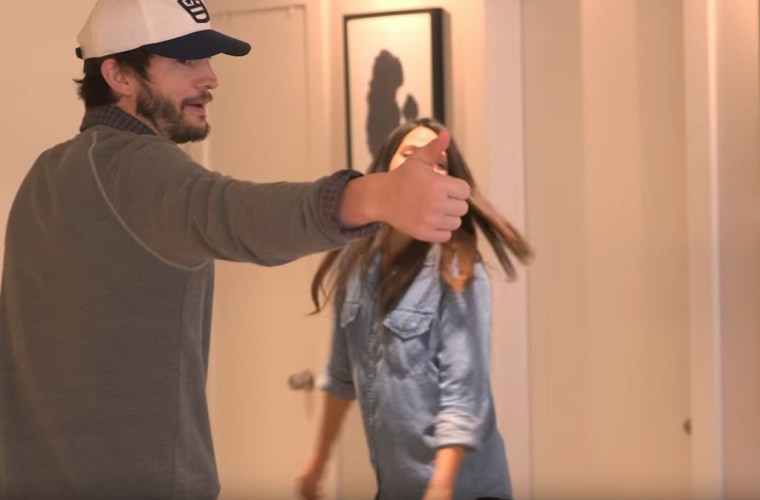 The two appeared grateful and overwhelmed with joy when their daughter showed them their new living area.
RELATED:'My way of saying thank you': Ashton Kutcher surprises mom with a home makeover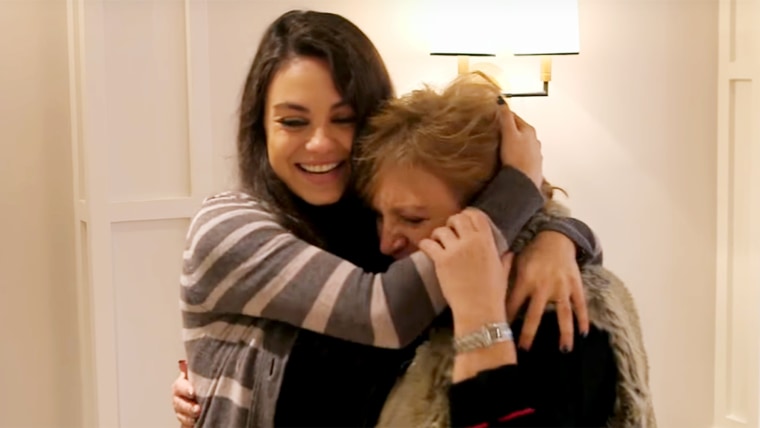 "There's just so much more air and light in that room, and I think that will translate into their whole life," Kunis said. "I definitely think there's gonna be a lot more Sunday dinners there."