When it comes to dealing with old bathrooms, blogger Kristin Luna of Camels & Chocolate knows a thing or two. After all, she and her husband have a 118-year-old home outside of Nashville, Tennessee.
"The house has its quirks," she told TODAY Home. "Some are charming, others are frustrating. The bathroom fell into the latter category."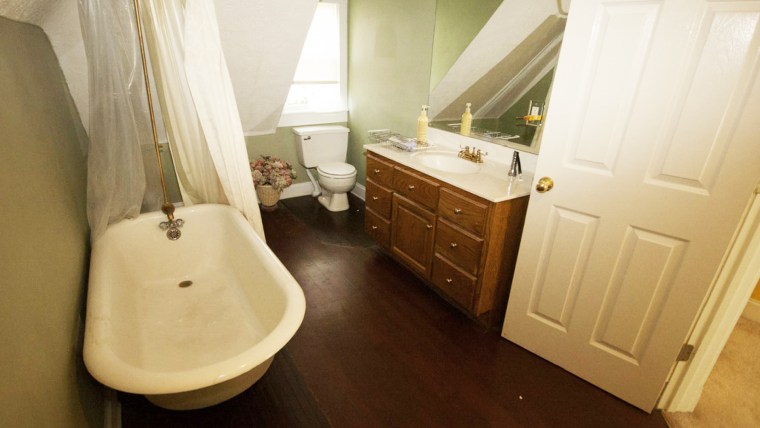 As one of only two bathrooms in the home, the upstairs space serves both the master and guest room. "Functionality was of utmost importance," she explained. However, when they first bought the house in 2012, the room was hardly practical for a modern couple.
The old clawfoot tub was placed under the slanted roof-line ceiling, rendering it unusable as a shower. "When standing in it, you'd hit your head on the slanted wall," she said.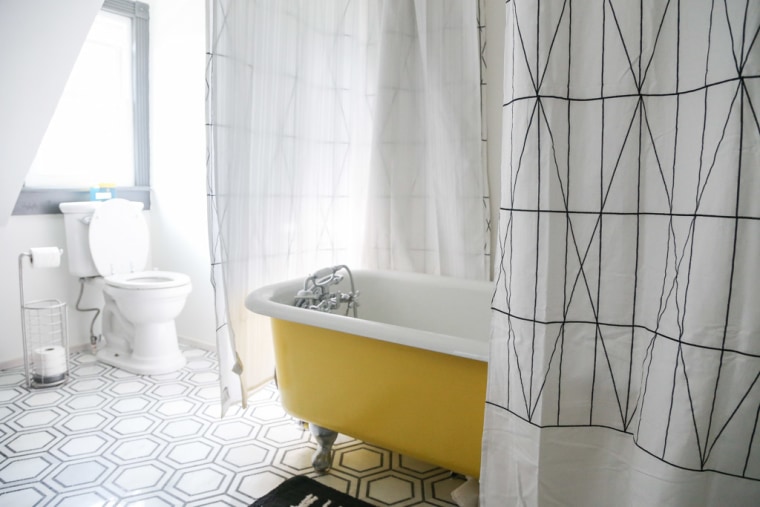 They decided to completely gut the room down to the plywood and removed the tub from its original spot so they could relocate to the opposite side of the room where there was a bit more headspace for a standing shower.
To match the look they were going for — art deco meets mid-century modern — Luna painted the classic tub yellow and sprayed the feet chrome which gives the space a fun pop of color.
For the floor, the couple found a hexagon-designed tile, which they laid themselves. "We had no idea how the rest of the bathroom would shape up, but we knew we needed this tile in our lives," she said, adding that it ended up serving as the inspiration for the rest of the room's decor.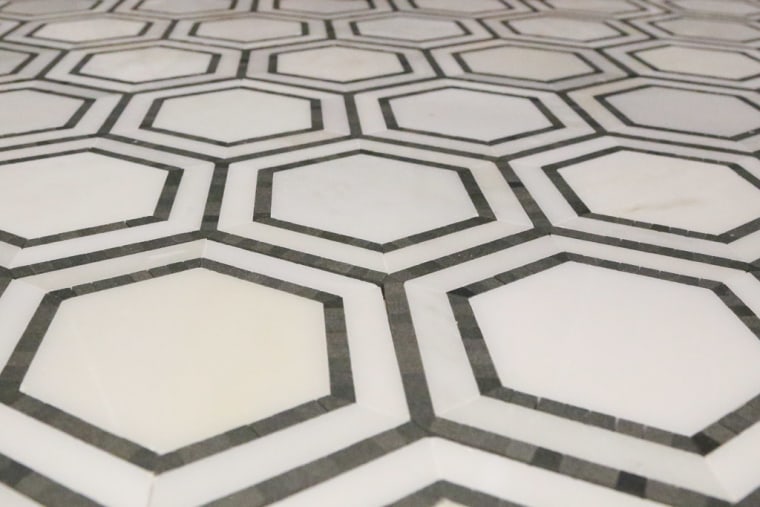 After relocating the vanity area to the side with the slanted ceiling, they realized that they'd need something that sat low enough. "My husband had the genius idea to convert a mid-century modern dresser into a vanity because of its low-slung nature," she said.
Of course with mid-century modern being a popular home decor trend right now, everything they found was at a high price point. "We found a few brand new pieces off of West Elm that we liked, but they weren't exactly what we wanted, and given we were going to drill straight into them, it seemed weird to take a $1,500-$2,000 piece of new furniture and immediately wreck it."
Months after they began searching for the perfect piece, her husband found a vintage Broyhill Brasilia vanity off of Craigslist for $900, then started drilling so they could run the plumbing and place their existing vessel sink on top. "Luckily, it worked, and the dresser-turned-vanity really rounds out the space," she said.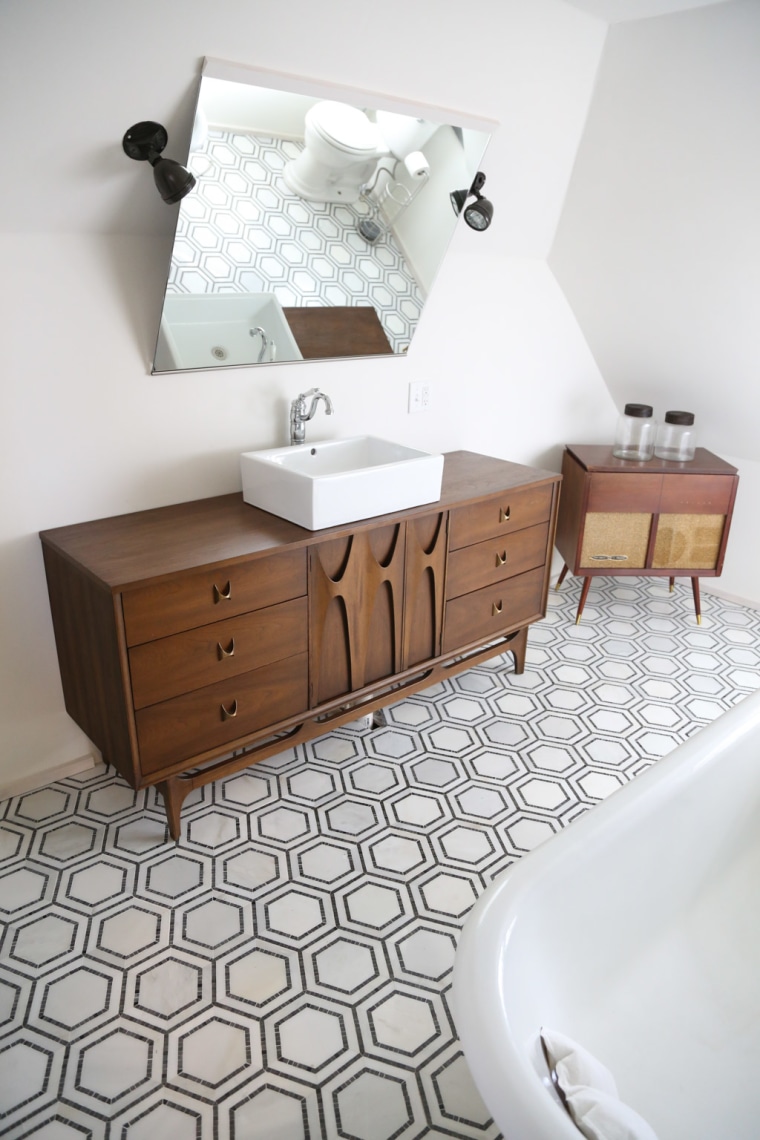 Luna bought the shower curtain, linens and other accessories from Nordstrom — they're all DKNY. "Finding a hanging rack for the curtain was impossible," she said. Her husband ended up making his own rig with a copper pipe and a set of clamps from a drum kit.
One of her biggest pieces of advice for those who are working with older homes is to think outside the box. "The rooms in older homes aren't often box-shaped like newer builds, and it can be tricky to figure out how to best utilize the space with all its edges and angles," she said.
"We're also fans of using blue painter's tape to lay out any space before we commit to it; it's important to figure out how you move around a room before you make any dramatic and costly changes."
But Luna says the most important thing to remember is to not rush the project. "Nearly 18 months passed from when we laid the tile until we found the vanity that completed the space," she said. "I'm glad we didn't just buy some cheap vanity for the sake of buying one, and I appreciate our bathroom so much more now that we really took the time to pick pieces that we loved."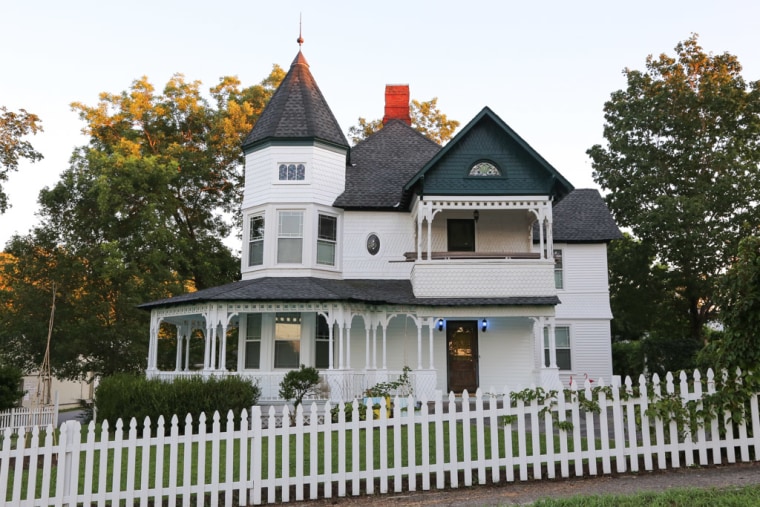 The bathroom wasn't the only dramatic makeover Luna and her husband did on their home. See more of their projects at Camels & Chocolate.