Offering TODAY an exclusive look at the first White House room to get a modern update, Michelle Obama revealed some of her bold choices for the renovation of the Old Family Dining Room — and why her own family dinners are "absolutely important."
While retaining many original pieces, like a decades-old crystal chandelier, Obama became the first White House occupant to add modern, 20th century touches to the room. Among the furnishings is a 1966 painting by Alma Thomas, the first African-American woman artist to be featured in the White House. Other new pieces include work by Robert Rauschenberg, Josef Albers and Anni Albers.
"It's a real statement in modern craftsmanship," the first lady told TODAY contributing correspondent Jenna Bush Hager. "It's kind of unbelievable that we haven't done this before. Because modern art and design is such an important part of the American tradition."
Obama also discussed several elements about the newly revamped room, which she first unveiled to the public Tuesday when she and Jenna surprised visitors on a White House tour:
The weight she felt while making decorating choices: "You feel a really huge responsibility to make sure that the changes reflect the values of the house, that they reflect the values of the country," she said.
Why she loves sharing her "home" with White House visitors: "Living here is such a gift. And you feel an awesome sense of responsibility to make sure you're taking care of this house. But you also want to make sure that Americans feel like it's their home, too."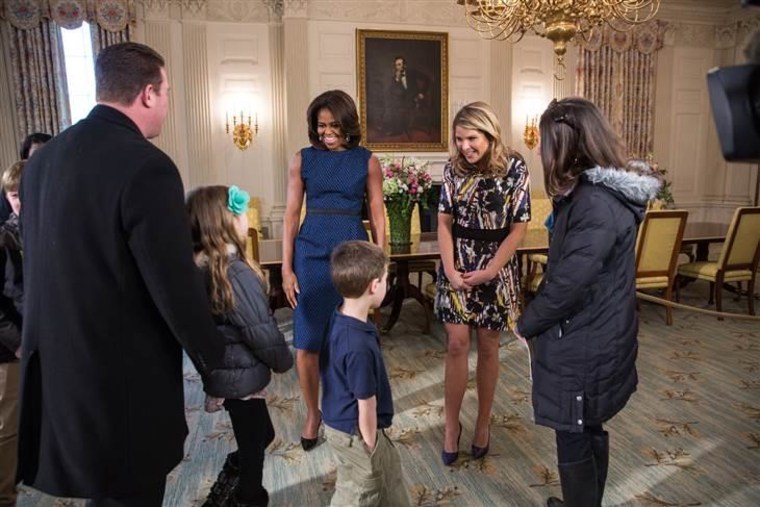 Jenna, whose family was the previous White House tenant before the Obamas, also spoke to the first lady about how she and President Obama have turned the great mansion into a home for their two teenage daughters. Family dinners, the first lady said, are crucial because they offer an opportunity to "just eat a good meal and catch up," she said.
Talking to their children is more crucial now that their daughters are getting older: "They're absolutely important. I mean, Barack and I have tried to hold fast to the family dinner, almost every evening," the first lady said. "I mean, now we've got kids who have sports and, you know, dances and things like that."
Family meals provide a peek into their children's lives: "That's really the time when you get to hear, you know, the little things and the voice of your kids that might be wrong or right, you know? You can kind of check their temperature."
They also provide a break from intense public scrutiny: "It's a good opportunity for Barack to just forget about the worries of the world that he carries around. And we can just be a family."
The first lady also spoke about how she plans to spend the upcoming Valentine's Day. After Jenna recalled a sweet note the Obama girls once wrote to their dad, listing all the reasons why they loved him, the first lady named several of her own reasons:
He constantly balances his many jobs: "I just constantly think of how proud I am of him that he's able to carry the weight of the world but still, you know, find time to be my husband, and the father of my kids."
The couple live for life's little moments: "In this big space, it's the small things like watching a game together or sharing a news article or laughing at the kids being silly," Obama said. "It's those small things every day that really truly express what love is."