Memorial Day is around the corner! If you're throwing a party to celebrate summer's arrival, lifestyle expert Limor Suss rounded up some great decor and treat ideas.
Flip-flop Cookies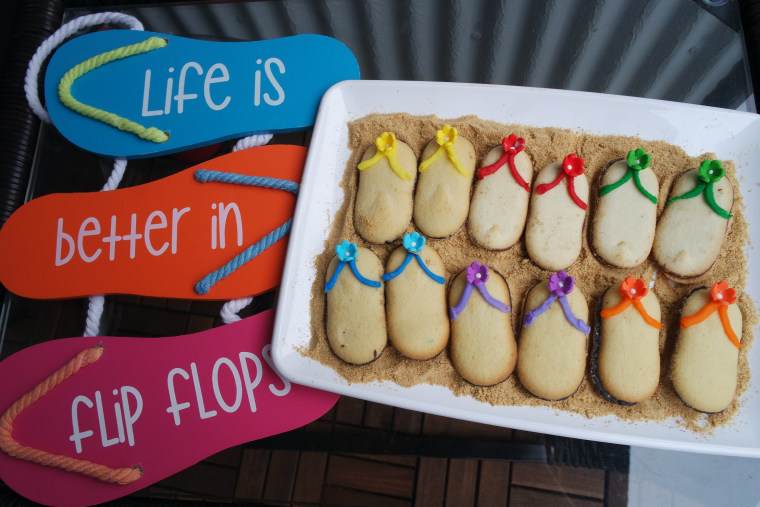 These easy to make cookies will be sure to be a hit all summer long.
What you'll need:
Milano cookies (Can also use Vienna or Nutter Butter)
Icing
Flower icing decoration
Graham crackers
Directions:
On one side of a cookie, draw an upside down "V."
Place flower decoration where the upside down "V" comes to a point.
Crumble graham crackers so the consistency comes out to look like sand.
Lay out crumbled graham crackers and lay the flip flop cookies on top
"Burger and fries" dessert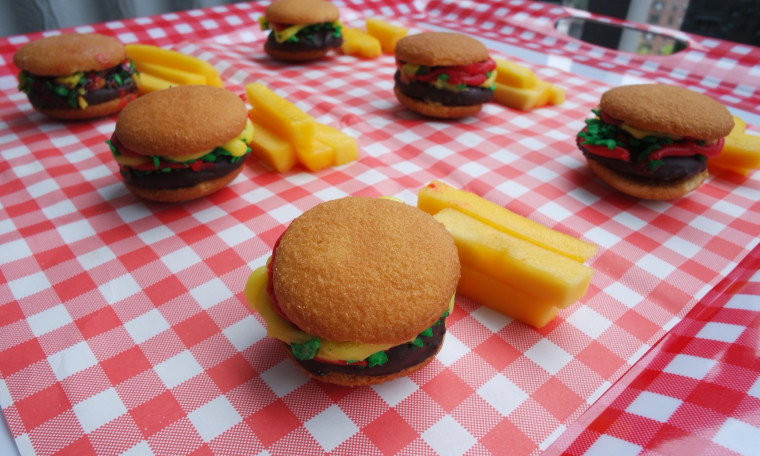 What you'll need:
Vanilla wafers
Dark chocolate melts
Red icing
Yellow icing
Shredded coconut
Green food coloring
Parchment paper
Mangos
Directions:
Melt chocolate melts in microwave or a small slow cooker.
Dip wafers in melted chocolate.
Lay chocolate-covered wafers flat on parchment paper.
Put in the fridge to harden — about 10 minutes.
In a small bowl, mix shredded coconut and green food coloring until the coconut turns the color of lettuce.
Once the chocolate-covered wafer has hardened, lay out one plain wafer and add the chocolate covered wafer on top.
Add some of the green shredded coconut.
Add red and yellow icing.
Cover with another wafer.
Slice up mango to look like french fries
M&M favors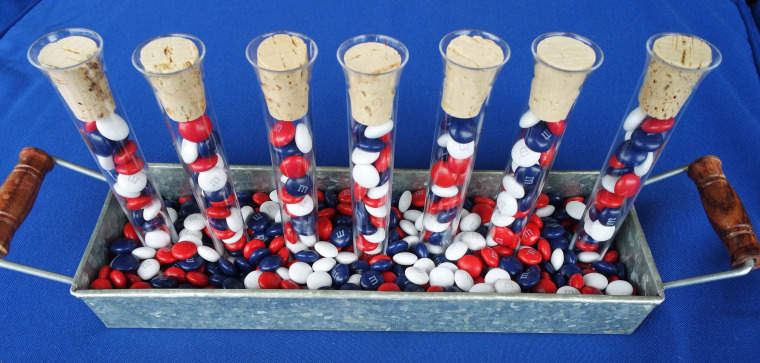 What you'll need:
Test Tubes with corks
Red, white & blue M&Ms
Plate for display
Directions:
Add equal amount of red, white and blue M&Ms into test tube.
Add cork.
Pour remaining M&Ms on plate for display.
Pool noodle luminaries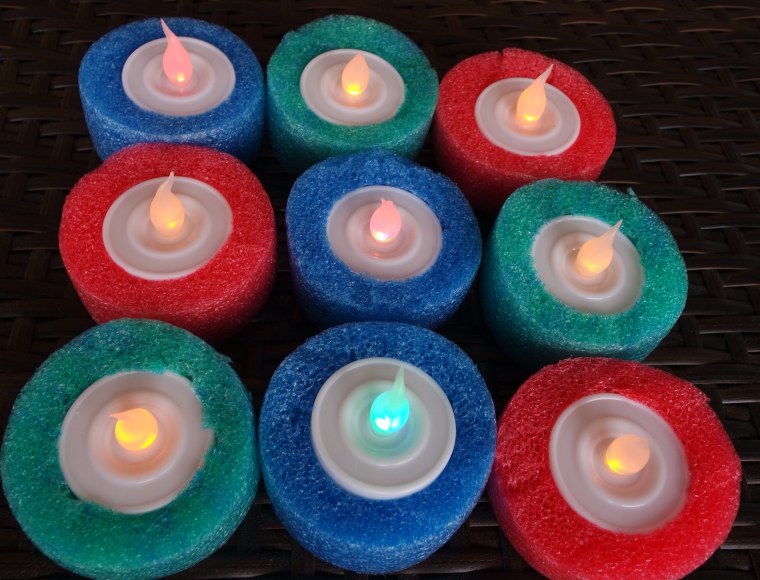 What you'll need:
Pool noodles
Flameless tea lights
Knife
Directions:
Cut pool noodles into equal pieces so that they are each disc shaped and thick enough to place the LED tea light inside.
Using the exacto knife, make the center slightly bigger so the tea light can fit.
Carefully insert flameless tea light into the center of the pool noodle.
Place on tables as centerpieces.
Note: If you'd like to have them float in a jar or a pool, use plastic wrap on each LED light prior to inserting into the pool noodle
Summer photo booth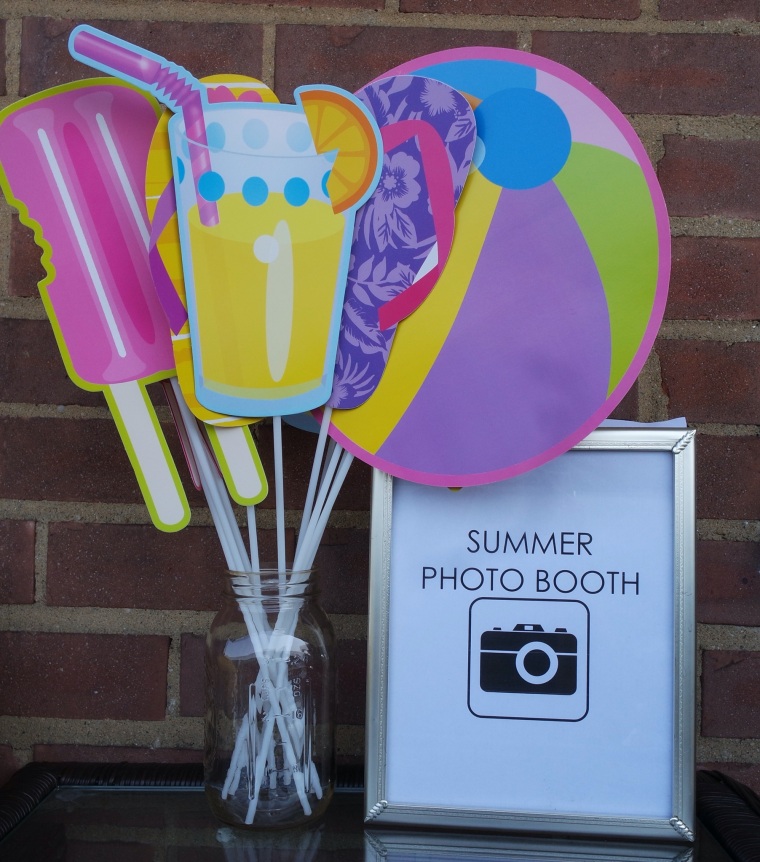 What you'll need:
Summer party cutouts, available at party stores
Sticks
Tape
Directions:
Tape each cutout onto a stick.
Have each person pick their favorite and selfie away!
*Note: You can also download templates and cut to size if you don't want to purchase
Red, white and blue place settings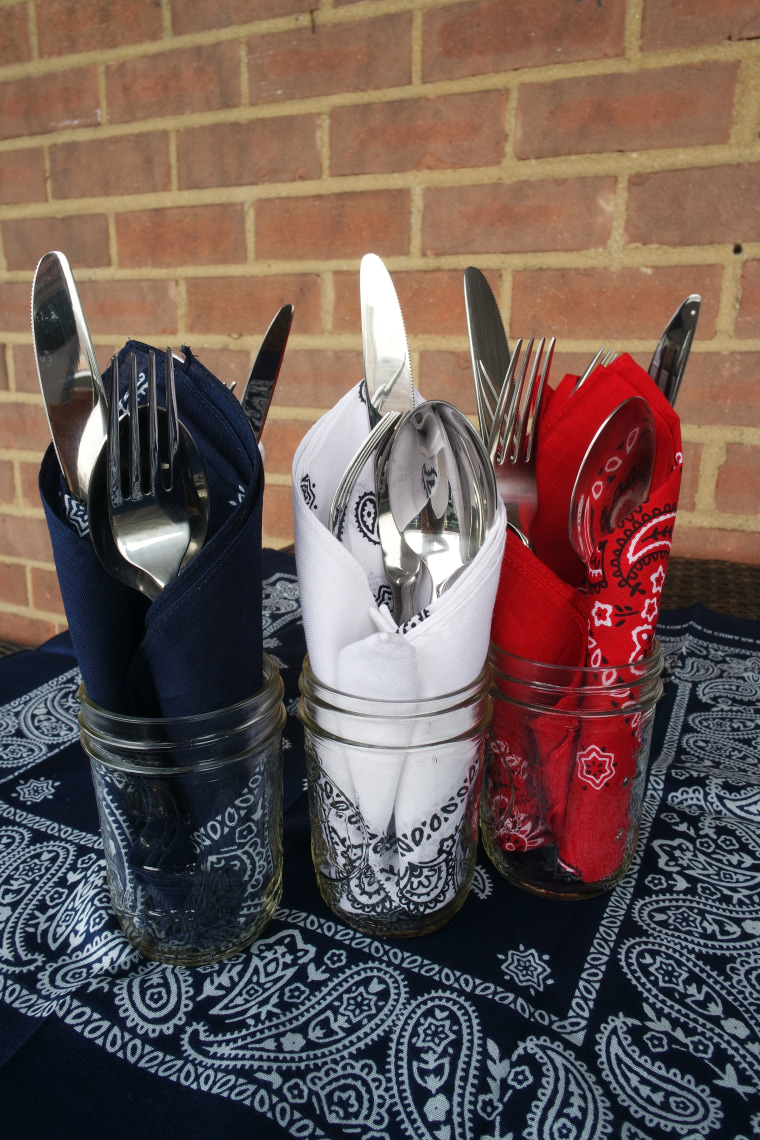 What You'll Need:
Mason jar
Bandana in red, white and blue
Silverware
Directions:
Make a triangle with each bandana and place into each mason jar
Add Fork, Knife and Spoon
Each person can take one as their place setting and have a glass, napkin, and silverware