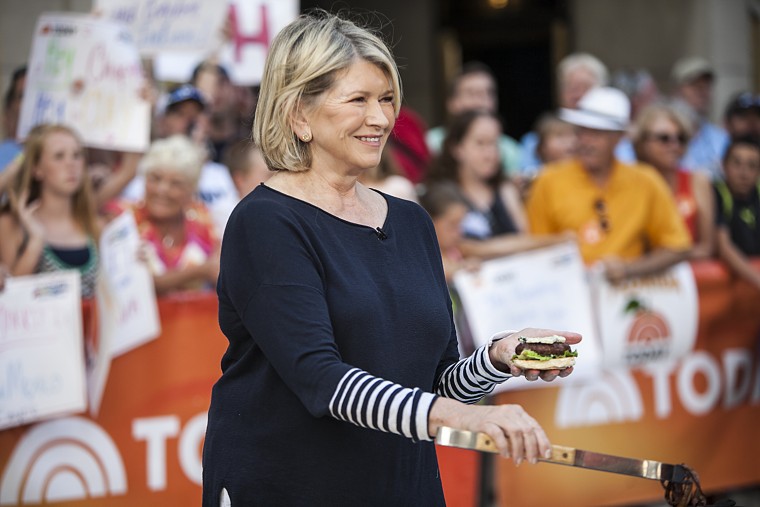 Does just the idea of hosting a Fourth of July party send your blood pressure up like a Roman candle? Martha Stewart is here to help. From easy-to-make recipes, activities for kids and one big tip for making cleaning up easy, she has you covered. So call up your friends, fire up the grill and enjoy the party!
Food on the fly
While no meal may be more American than burgers and hot dogs, you can add zing to them with these side dishes, which can be whipped up in only a few minutes with just a handful of ingredients: 
Corn with a kick: After cooking the corn, lightly coat it in mayonnaise and sprinkle each cob with lime juice, salt, chili powder and queso blanco. The mayonnaise adheres the spices and cheese to the corn, making each bite a tasty one. "It's so delicious," Martha told TODAY.com. 

Get more Fourth of July entertaining tips from Martha Stewart
Homemade chips: They sound high-end, but Martha revealed that homemade chips are actually quite easy to make. Just cut tortillas into triangles, then brush each triangle with some olive oil and sprinkle them with salt. Then toss the tortilla triangles into the oven to bake until crispy.
Dip to remember: Skip the chip dip in the can and take two minutes to make your own. Martha suggests mixing sour cream with grated cucumber and any fresh herbs for a delicious dip that people will be munching on all night long.
Entertainment

While your party guests wait for the fireworks to begin, Martha suggests adding a little Fourth of July history into the fun, particularly if young children are there and may not know what it's about. "Everyone who celebrates should know what the heck the Fourth of July is," she said. 
One of her favorite Independence Day traditions is to share how to fold and care for the American flag. "There are very specific rules about the care of the flag," Martha said, including that it is never to be suspended on a pole during nighttime unless it is illuminated. Share some of these fun facts, then invite any children to practice folding the flag into its proper triangle. 
"That's something every kid should learn how to do," she said. "Kids love that." 

After party
"Clean up doesn't have to be such a giant chore," Martha said, and with this one easy tip, it won't be. Before guests arrive, throw a tub under the serving table for glasses, another for dishes and another for flatware. Simply throw the dishes in as the night goes on so you don't have to haul dishes back and forth to the sink.
Bonus tip! "Make sure you have good garbage bag-lined trash cans," Martha said, so thrown-away food doesn't poke through the plastic and leave a mess.