Fans of the HGTV show Fixer Upper can now experience Chip and Joanna Gaines in another form of media: a print magazine. The home improvement gurus have launched a new quarterly lifestyle publication called The Magnolia Journal, and the first issue will hit newsstands October 11.
The duo graces the Fall 2016 cover, posing in a rustic barn. Behind them sits a fully set Thanksgiving table, beautifully capturing the issue's theme, "Hospitality."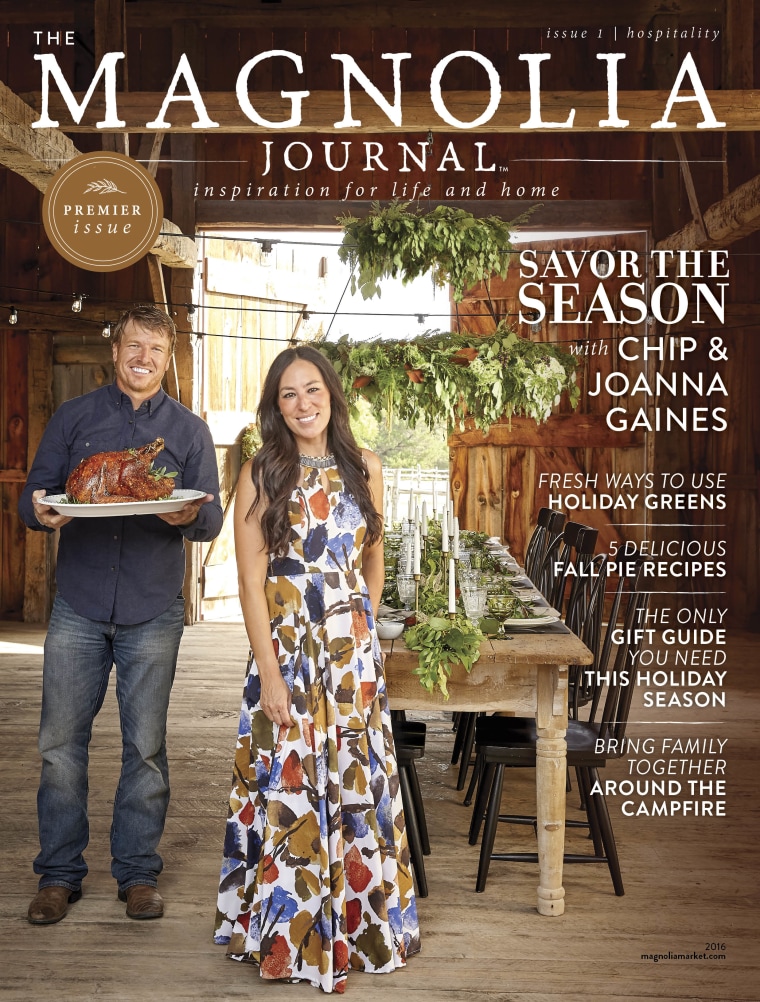 "A mysterious thing happens in the simple act of opening our homes and welcoming others," Joanna writes in her editor's letter. "One of the things I am most looking forward to with this magazine is the opportunity to connect with readers from all walks and seasons of life, with different stories to share."
Readers will find the hospitality theme weaving throughout the issue.
One feature has Joanna sharing her favorite seasonal items such as the fall album she loves listening to and gift ideas for friends and family. In another, there are smart tricks for adding holiday touches to every corner of your home. You can also read tips to make your guests feel welcome at your home, and you'll even get a sneak peek of what will be on the Gaines' Thanksgiving table this year (you know, just in case your invitation gets lost in the mail.)
RELATED: Chip and Joanna Gaines reveal their sweet marriage secret in 'The Magnolia Story'
The magazine is published by Meredith (the same company that brings us Martha Stewart Living and Better Homes and Gardens), although they insist Joanna had a huge hand in the making of it.
"The Meredith team worked with Joanna and her staff to create a design that is light, fresh, easy to read, and ultimately captures the modern rustic style that Magnolia is known for," said Meredith Core Media Editorial Content Director Doug Kouma in a press release. "Readers will see an emphasis on gorgeous photography with a strong back-to-our-roots feel."
RELATED:'Fixer Upper' couple not happy to see their popular projects turned into rentals
The Magnolia Journal will be available for purchase at major retailers (think Target, Barnes & Noble, and Whole Foods), as well as Magnolia Market in Waco, Texas, and on magnoliamarket.com for $7.99. Or you can subscribe to four issues for $20.