You don't have to shell out big bucks to get that dreamy bedroom or ultimate living room.
Founder and editor of the lifestyle site "Style Me Pretty" Abby Larson stopped TODAY to share DIY tips on how to give your home the ultimate pop of color and flare. The best part: her tips are budget friendly and won't take hours to complete. What more could you want?
DIY flamingo tray
Clear acrylic trays are one of the chicest, most versatile accents you can add to your home decor. We took ours to the next level with the addition of a colorful watercolor flamingo. If you love quick DIYs, then this is for you. Just print the image on sticker paper, cut out and stick on the tray for instant magic!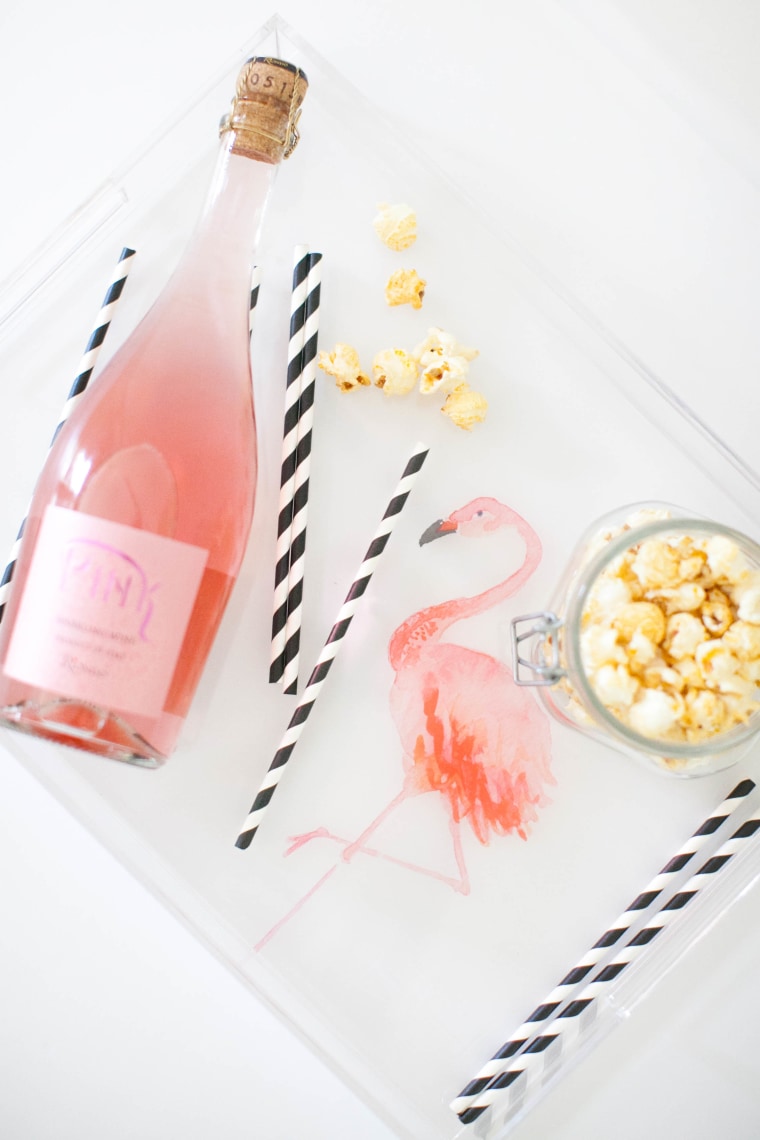 Cost: $25 per tray (plus some tools from around the house)
Time: 15 minutes per tray
Materials:
Clear acrylic tray
Clear sticker paper
Inkjet printer
Scissors
Flamingo template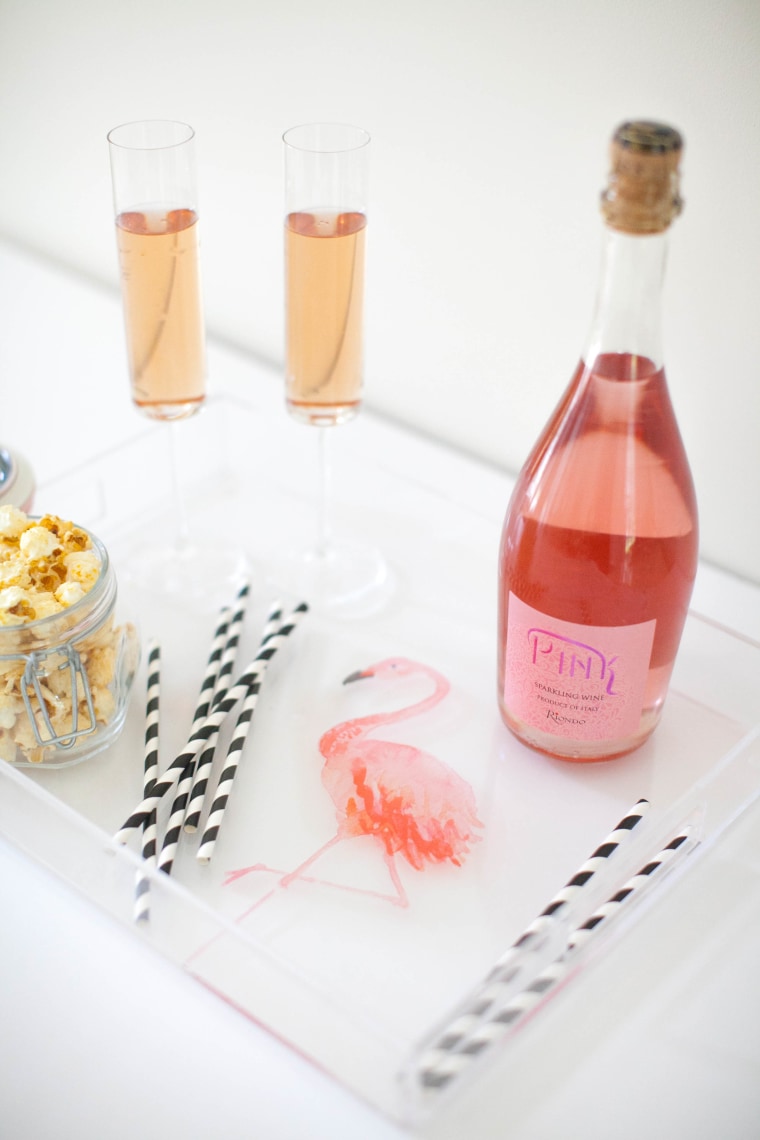 Instructions:
1: Print out the flamingo template, which you can find by searching for an image you like, onto the sticker paper according to paper instructions.
2: Cut out the flamingo shape, getting rid of as much excess sticker paper as possible.
3: Press the sticker onto the tray, beginning on one end of the sticker and slowly rolling down to the other end, pressing and smoothing out air bubbles as you go. Voila!
DIY open weave side table
I love the ethnic vibe of this table but one in stores can run you up to a thousand dollars. Instead, we made ours by wrapping an inexpensive side table with metal sheeting found at most hardware stores, then giving the whole table a wash of gold paint. The result feels expensive but barely made a ding on our wallet.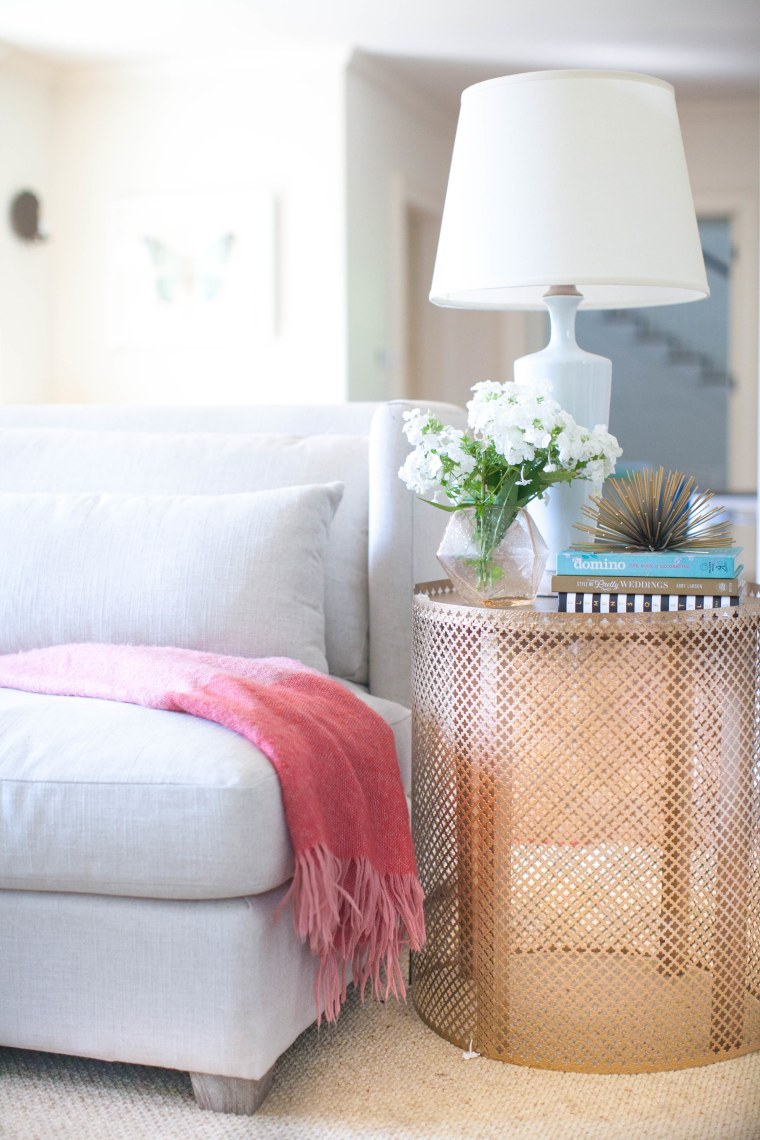 Cost: $110 per table (plus some tools from around the house)
Time: 90 minutes per table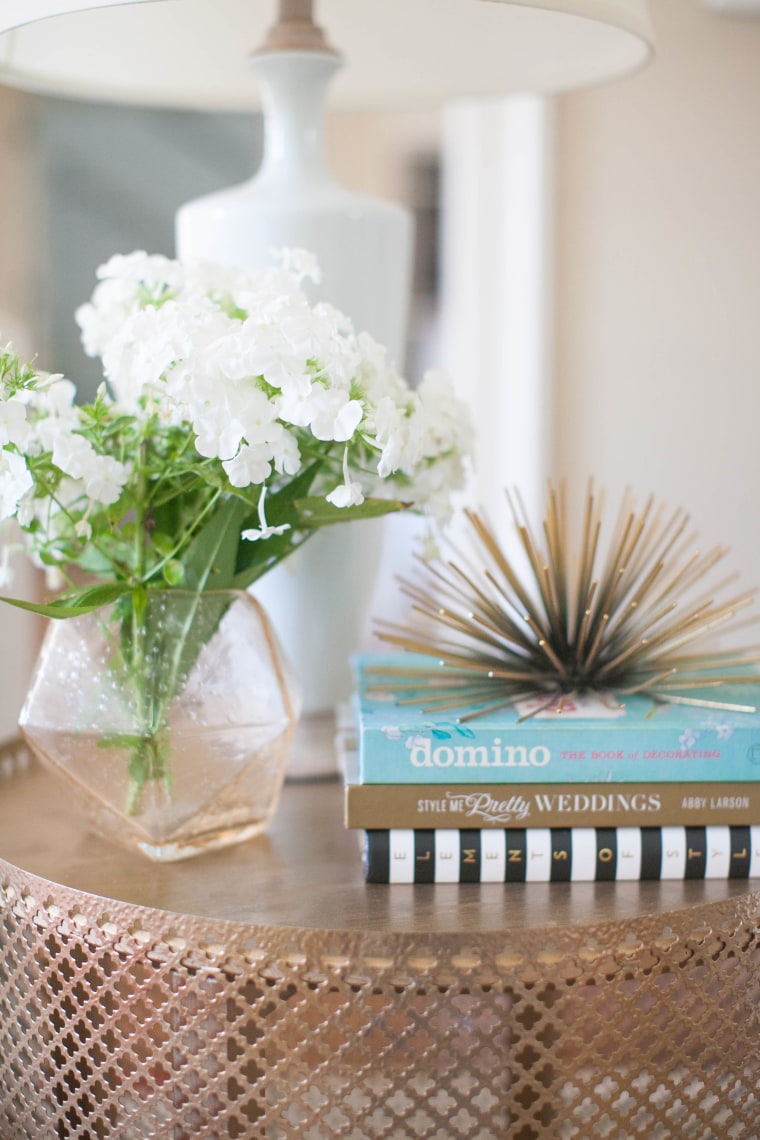 Materials:
IKEA side table
2 24-inch x 36-inch sheets of metal sheeting
Thin metal wire
Gold spray paint
Pliers with wire cutters
Staple gun
1/4" staples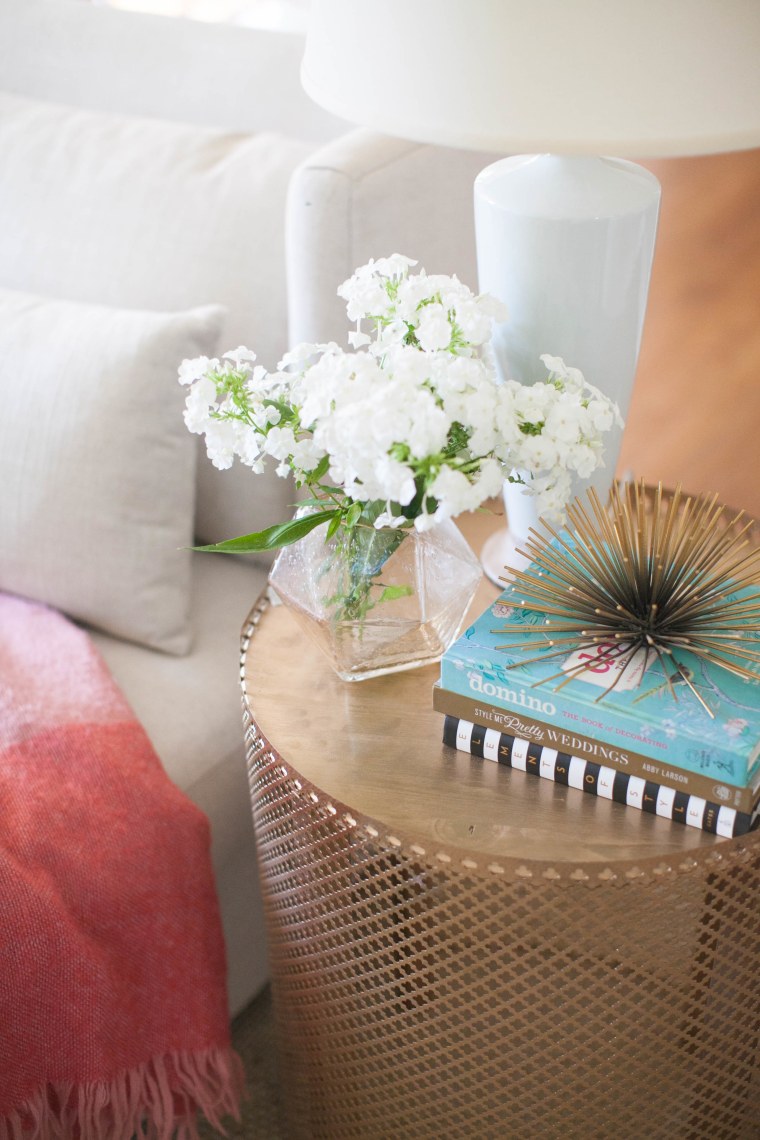 Instructions:
1: Build the side table according to the IKEA instructions. We left out the bottom shelf because we wouldn't have access to it with the metal sheeting on.
2: Use the wire to wrap the ends of the two sheet pieces together, so that it becomes a piece that is about 24 inches x 71 inches. Tie off the wire at the ends and trim and tuck the wire so it's hidden.
3: Wrap the sheet around the table and mark where the sheet overlaps itself. Use the wire cutters to trim the sheet to fit the table, with about 1/2 inch of overlap.
4: Wrap the open ends of the sheet together with wire to make it a complete cylinder. Slide the cylinder over the table. When the sheeting hits the floor, it should make a rim about 1" or so taller than the table height. Staple the sheeting to the table along the table rim.
5: Spray paint the table and sheeting gold from every angle, and let dry for 60 minutes.
DIY oversize photo
Large scale art doesn't need to unattainable. I shot this with my iphone, uploaded the image to Art.com and had it blown up to 24 inches x 32 inches then crafted a super easy DIY acrylic frame to coordinate. Once I had the photo in my hands the whole thing took a couple of hours to put together most of which was spent driving to the hardware store to have the acrylic cut! Which, as a tip, is mostly cut at no charge!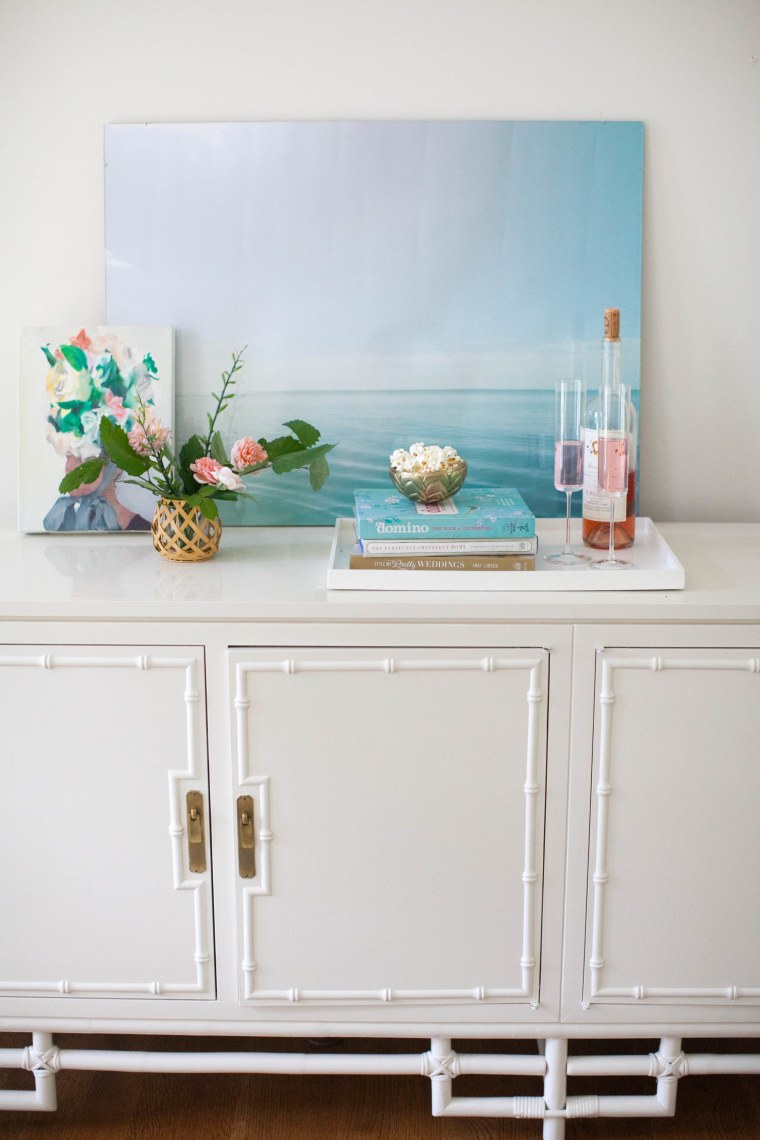 Cost: $50 per picture
Time: 1 hours per picture
Materials:
High resolution iphone photo
24-inch x 32-inch photo print from art.com
24-inch x 32-inch thin plywood
24-inch x 32-inch plexiglass
4 Swiss corner clips
String
Scissors
Double sided tape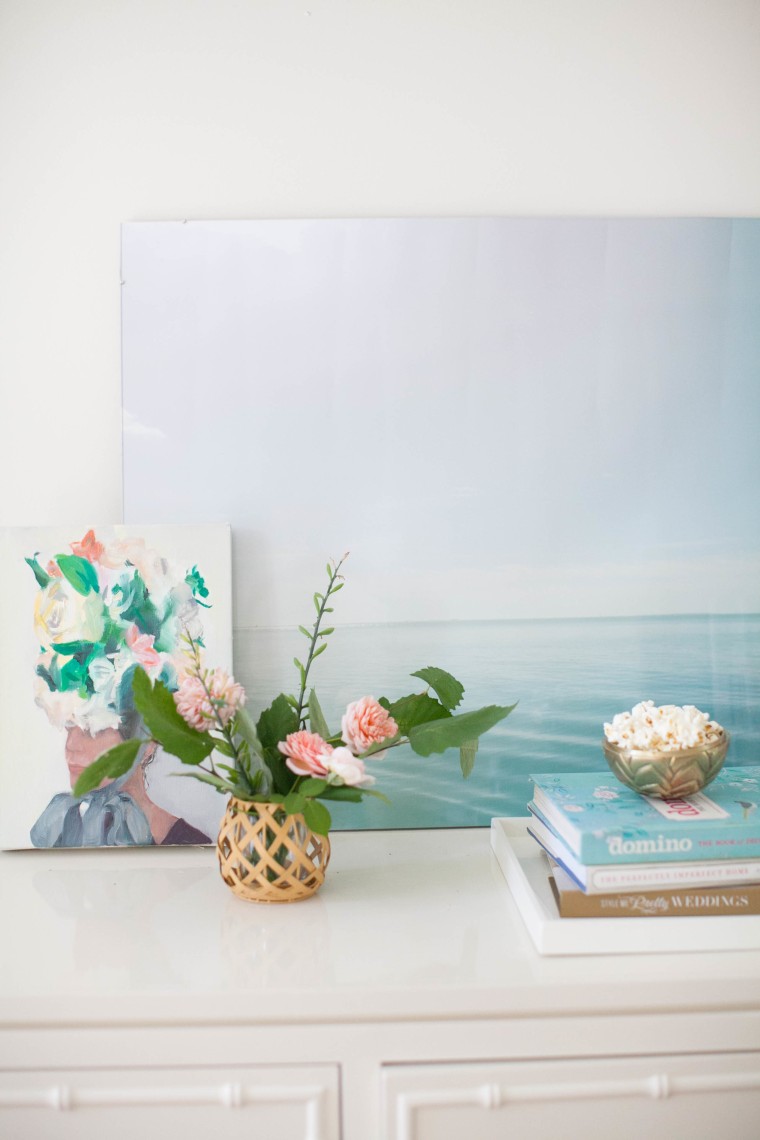 Instructions:
1: Get your photo printed at art.com.
2: Layer the plywood, photo, and plexiglass. You may want to use a couple pieces of double stick tape on the back of the photo to help keep it in place.
3: Place a Swiss corner clip on each corner. Tie a string through each clip, making a box and an "X" shape.
4: Hang your new oversize photo from the string!
DIY calligraphy pillows
Throw pillows are one of those accessories that can really change the spirit of a room. They are easy ways to mix up a color palette, to introduce a new pattern or flair or to simply change the look of your room with the season. But you never want to spend too much money on trendy pillows. Invest in high-quality version that you love, then sprinkle in fun, DIY ones like these calligraphy pillows that we made with a white pillow case and an iron on transfer!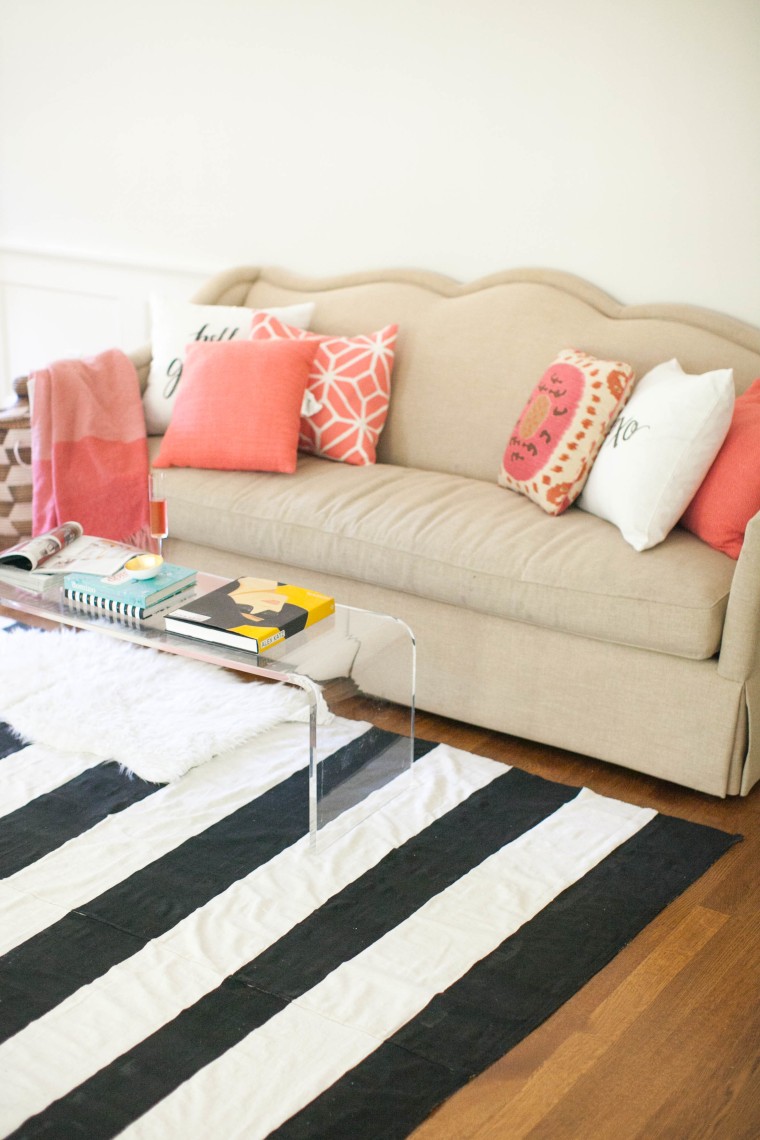 Cost: $17 per pillow (plus some tools from around the house- iron, printer, scissors)
Time: 1/2 hours per pillow
Materials:
White throw pillow covers
Throw pillow inserts
Iron-transfer paper *you can get it at any art store
Iron
Scissors
Inkjet printer
Hello gorgeous template
XOXO template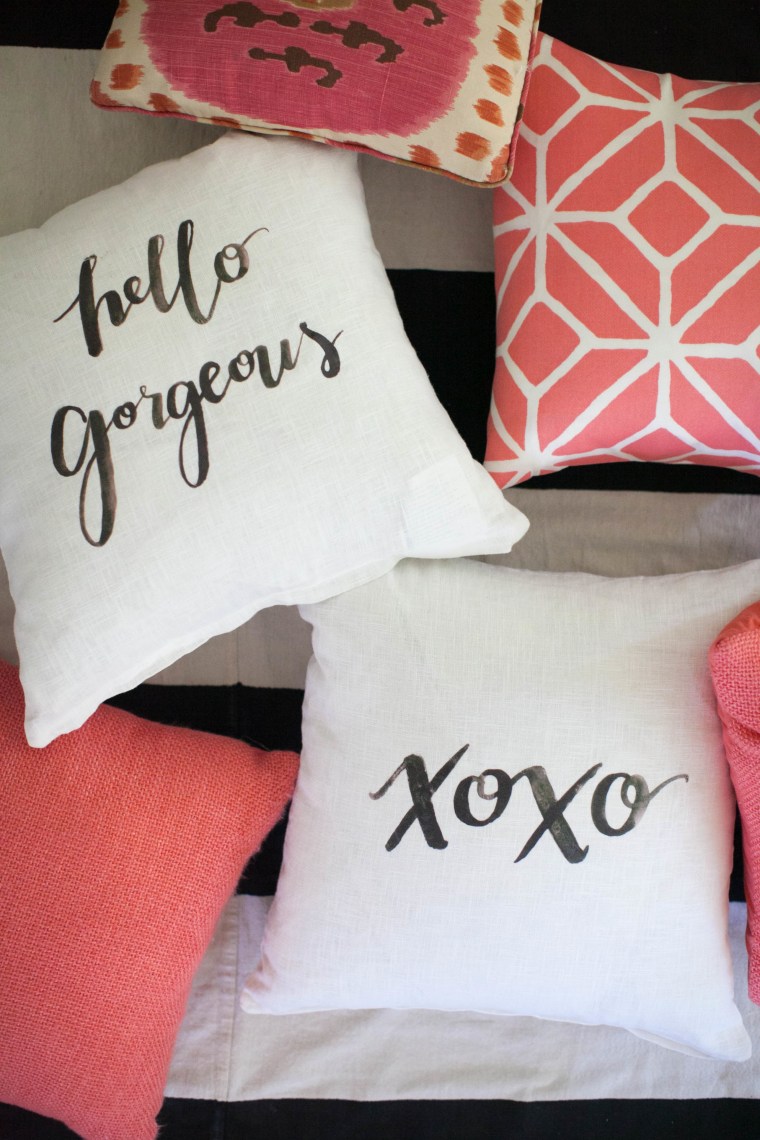 Instructions:
1: Print out the calligraphy template, which you can find by searching for calligraphy version of your favorite phrase, onto the sticker paper according to paper instructions. The image in the template is already reversed so you can print as is.
2: Trim the extra transfer paper around the calligraphy words. The more excess paper you can remove, the neater and cleaner your finished pillow will look.
3: Iron the calligraphy words onto the throw pillow cover (make sure the steam is turned off!). Remove the backing paper once cool. Repeat to make as many pillows as you like!
DIY painted canvas rug
It's no secret that rugs can cost a pretty penny. This one is made using a really heavyweight cotton drop cloth, some painters tape and black latex paint. With a sealant, it can be used indoors or out and makes such an enormous design statement for under $50.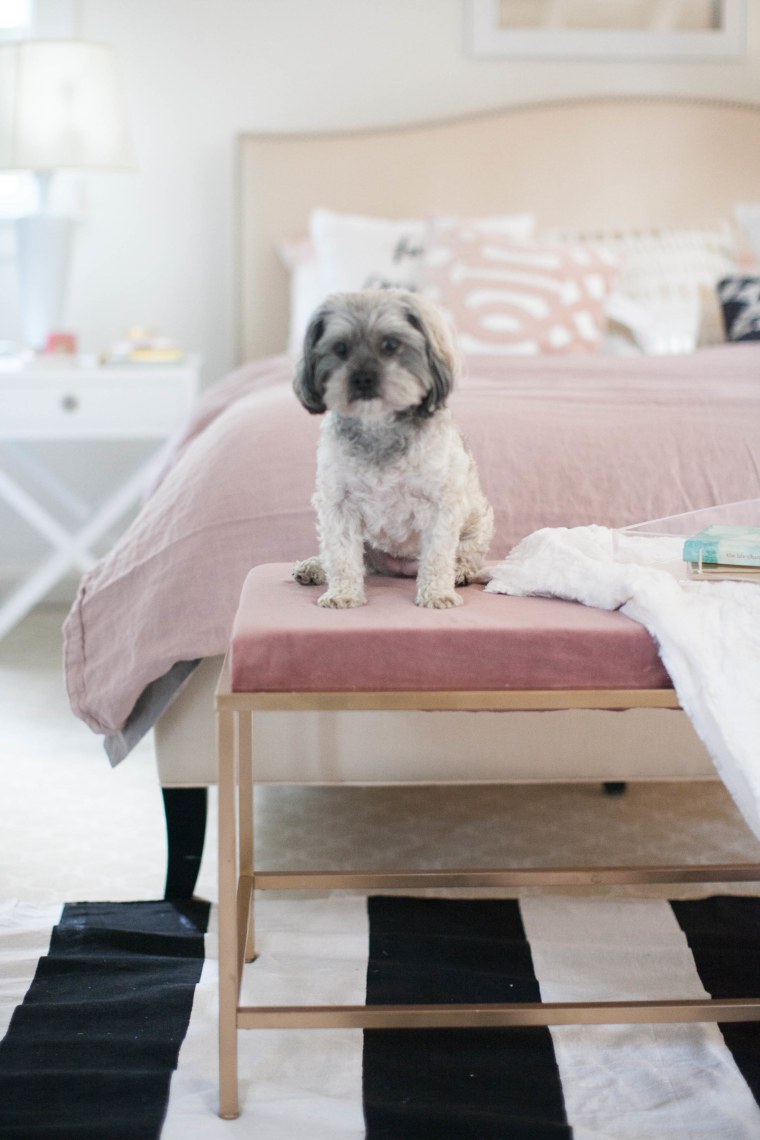 Cost: $30 per rug (plus some tools from around the house- iron)
Time: 2 hours (plus drying time) per rug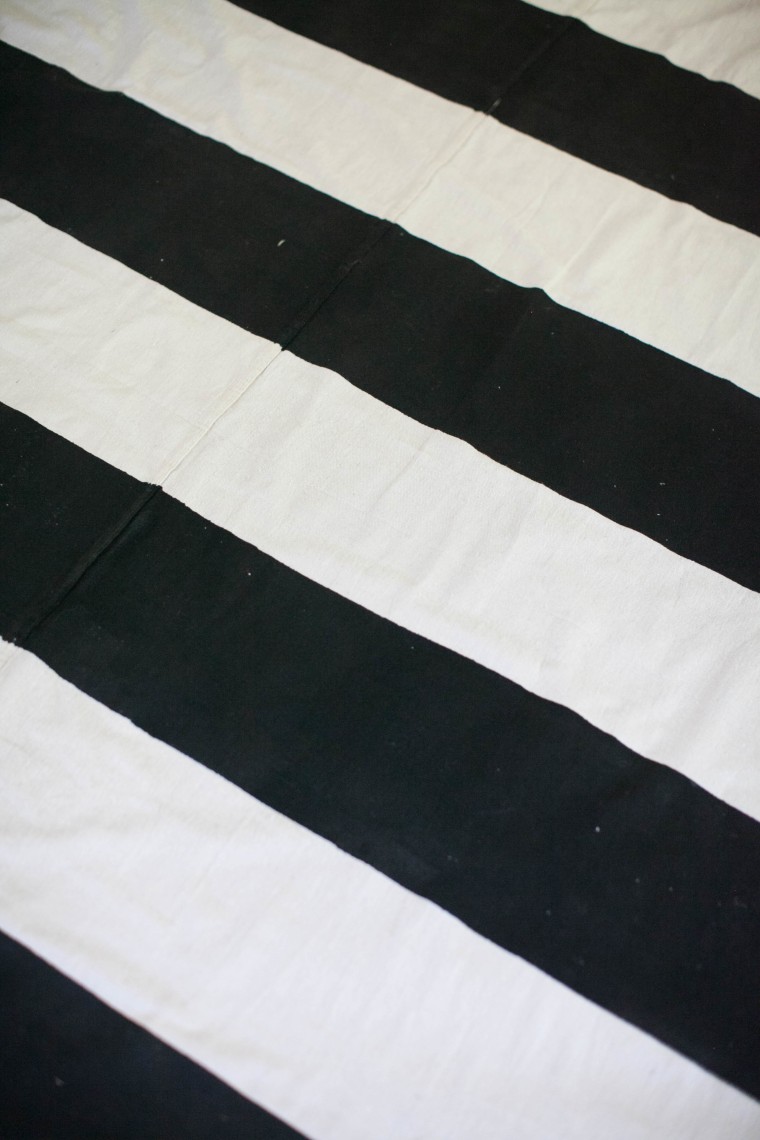 Materials:
Canvas drop cloth
Black paint
Painter's tape
Paintbrush
Yardstick
Iron
Rug pad (optional)
Polyurethane sealant (optional)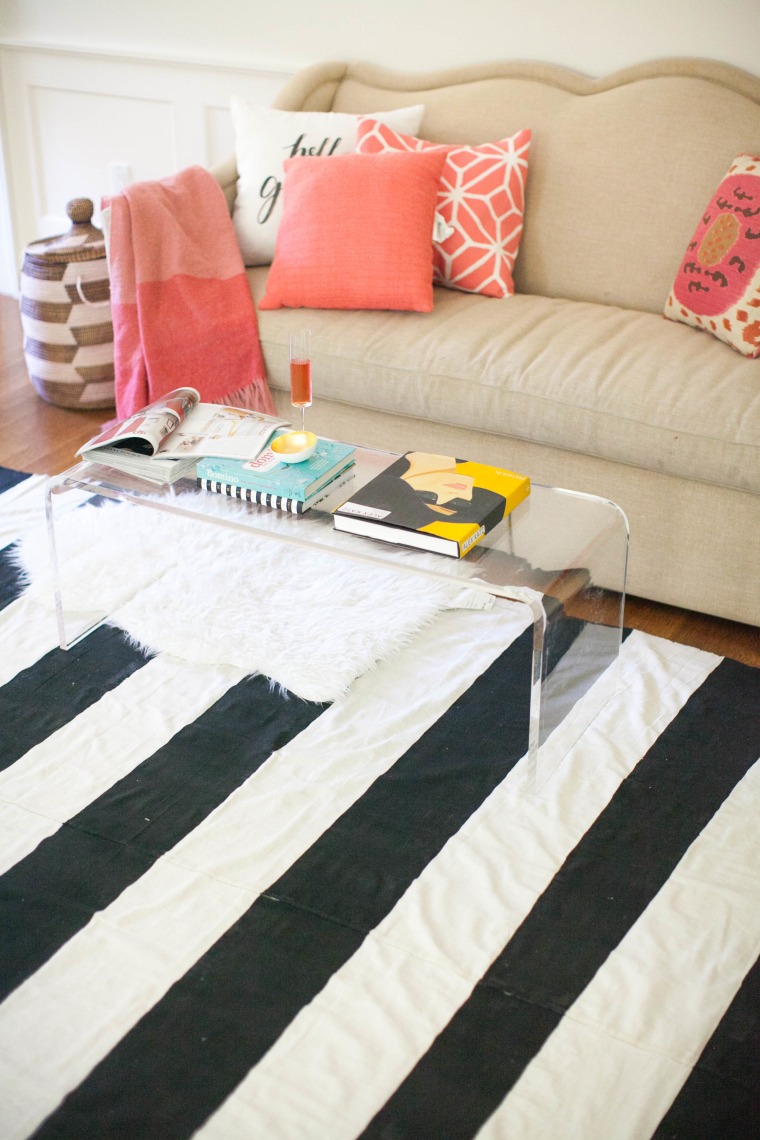 Instructions:
1: Wash and dry the canvas. Iron out any wrinkles.
2: Lay the canvas out on the floor. Tape out 6-inch-to-8-inch wide stripes using the painter's tape.
3: Paint every other stripe black and let dry two hours. You may want to do two coats. You can coat your stripes with a thin layer of sealant if the rug is going in a high-traffic area.
4: Remove the painter's tape. Lay your canvas rug on a grippy rug pad so it doesn't slip!
DIY upholstered bench
This bench was actually repurposed from a $60 coffee table! We painted the legs gold, then wrapped a piece of velvet like fabric over a pre-cut piece of foam using nothing more than a staple gun. I am a little in love with this project and feel like of all of our ideas, this one really feels the most luxe, the most high end.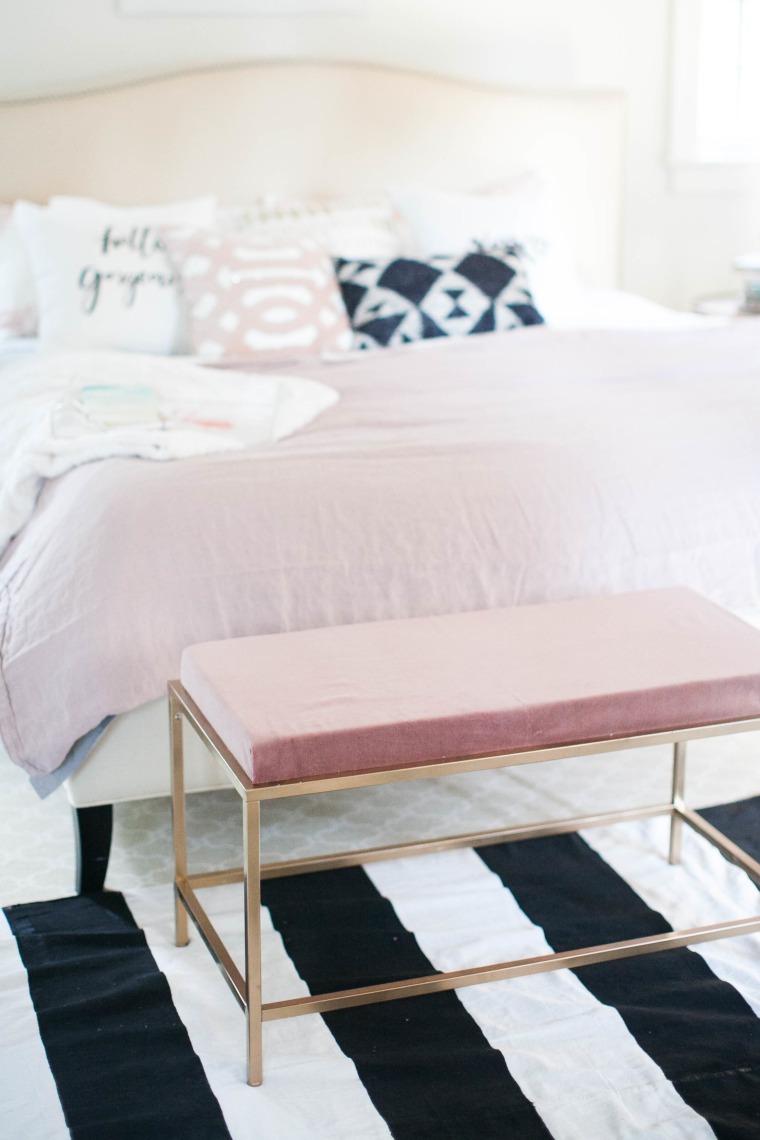 Cost: $100 per bench (plus some tools from around the house- scissors, pliers, staple gun)
Time: 1 1/2 hours per bench
Materials:
Ikea coffee table
Gold spray paint
1 yard fabric
1 1/4 yards of 2-inch thick, 24-inch wide foam sheet
Yardstick
Sharpie
Scissors
Pliers
Staple gun
1/4-inch staples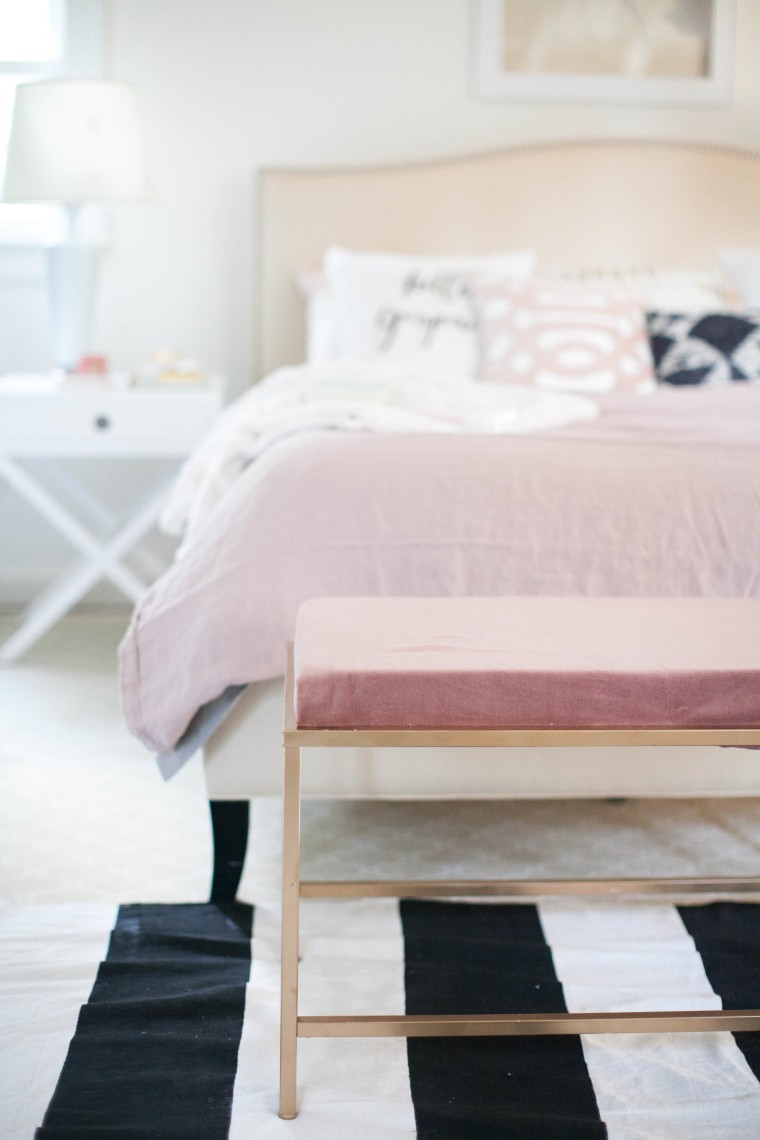 Instructions:
1: Use pliers to twist off the metal tabs on the bottom of the long table. Pull them straight up and straight down a few times and they should pop right off.
2: Spray paint the frame of the table gold and let dry 1 hour.
3: Trace the composite board of the coffee table with the sharpie on the foam sheet. Cut out the foam sheet along the lines with a bread knife.
4: Cut the fabric to be 8" wider and longer than the table base.
5: Layer the foam sheet, then fabric, on top of the base. Staple gun the fabric to the underside of the base to secure it. At corners, fold the fabric to make a nice seam and then staple.
6: Place the base on the top of the gold frame and your bench is ready to go!