Looking for a new way to color your world? Need some advice on the latest hues in paint for your home? Well, you're in luck. There are more choices than colors in the rainbow, but there are tricks to help you choose the right one for your room? House & Garden magazine's latest issue is all about color trends. Susanna Salk is the special projects editor and she was invited to appear on TODAY to share some hints from the magazine. Here's more on what she discussed on the show:
Colors immediately impact our emotions and the mood of the room. Choosing the right color is like meeting many people at a big party: It's stimulating but overwhelming. My advice: Spend time on the ones that instinctively make you feel good or to which you are drawn, instead of trying to get to know a little bit about all of them. It's less overwhelming that way. Here are some tips about choosing the best hues for your room...
There is no such thing as a "bad color". Forget all those color "rules" about "this can't go with that," etc. Instead, consider:
The function of a room can sometimes help you determine the kind of color: Bedroom= serene; kitchen= cheerful; dining room= whimsical or sophisticated.
The light or lack of it: Sometimes the brighter the room the deeper the color it can handle.
Its view or orientation: Is it reflecting what is going on outside (nature/sunsets) or is the color in charge of creating its own setting?
What colors do you love? What rooms make you happy? Let these answers inform you and go with your gut.
Let's experiment a little and show you how color can impact even the simplest settings: Wall 1
Color: Decorator's WhiteThere's nothing chicer than white on white. It makes your room look large and serene. There are so many whites out there, so decide what kind you want: There are creamy/whites, grey/whites and white/whites. Finish in flat: Flat is best for surfaces with imperfections and flaws because there's minimal shine. It's good for ceilings; not so great for walls in high traffic areas because it won't stand up to stains or washing.
Wall 2
Color: Sheer Romance 837 Blue gives instant sophistication to any room and warms up when paired with a warm white.
Finish in eggshell: Eggshell has a light, satiny sheen making it more resistant to stains and more washable. It's a popular finish for walls in high-moisture areas such as baths and kitchens. Wall 3
Color: Yellow (Little Angel 318, Amarillo 32O -- split by a chair rail)
Don't forget to explore the possibilities of putting 2 ranges of one color on a wall: It gives diversity and depth without having to be too overt. I love how yellow can work in any season and in any room: Kitchen or living room.
Finish for both in matte: Matte is a great alternative to flat, has minimal sheen, and was developed to be washable.
Creating exciting, but workable color combinations:
Color is all about context and what its next to. Professional color forecasters predict the use of bolder colors for shutters, doors, window frames and other trim will be big in 2007. Now, a more self assured public is asserting itself by using color to make dramatic statements. Colors are more saturated and deeper. And we have tapped other cultures for ideas.

Bold color is exciting to use, but there's a trick to using it without hating it the next day. Try pairing it with the correct neutral hues. This will relax the contrasts. Here are some examples:
Emerald green with black and white (See photo above.) Malachite is so big these days. Here we pair it with graphic black and white for a high energy, sophisticated vibe. This kind of color combination really specifies the way a room will be used.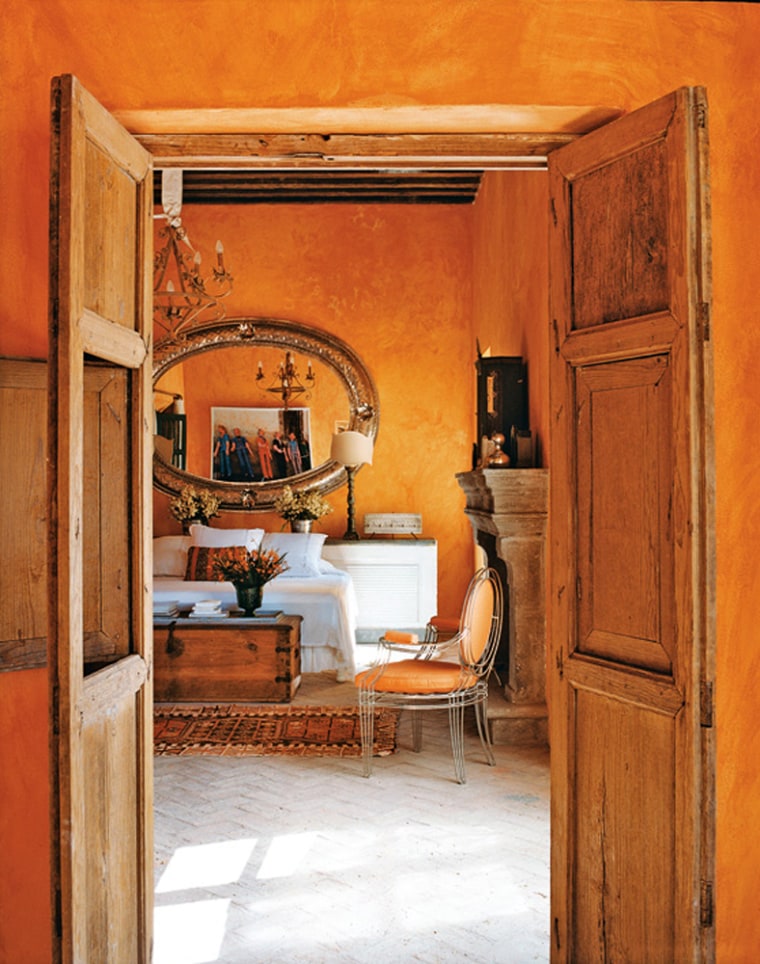 Tangerine with stone
For a softer alternative to bold orange, try warm, sunny tangerine paired with stone.
--------------------------------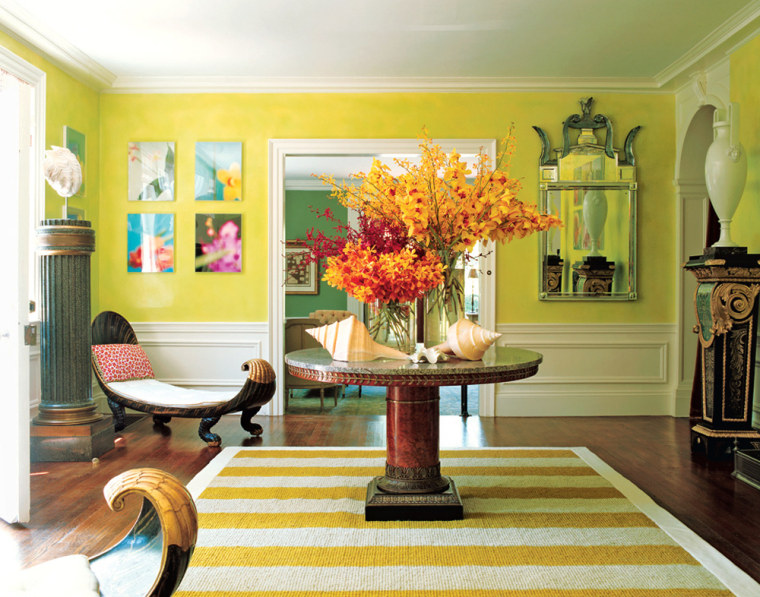 Yellow with silver
Citron and charteuse need only silver's shimmer to take on a glamourous glow. Balance the acid tones with strokes of deep brown and white.
--------------------------------------------------------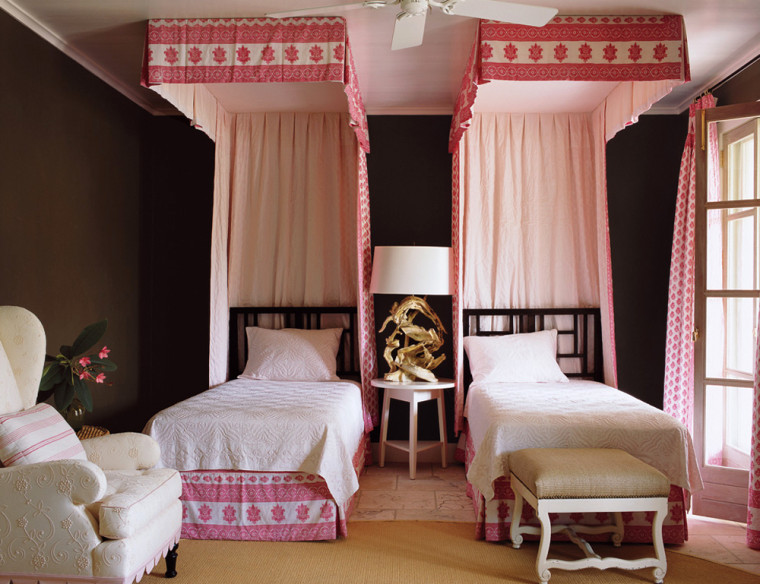 Pink with brown
Chocolate browns coupled with exotic patterns and splashes of girlie pinks give a mature feminine touch.
Other hints on color:
Enveloping a space all in one color is a chic way to solve a "mystery" room.
Dont just rely on a paint chip: Paint a bit of the color onto the wall: It can sometimes look completely different in the light, etc. But paint chips are helpful in terms of seeing the range of colors you've chosen for your house (hallways that lead into rooms, etc.)
It's nice to color code your rooms so each has an identity.
Using two tones adds interest to small spaces and helps it from getting too dark. Objects are highlighted by what they are contrasted against: Matte against glossy, etc. Pair homey with glam; folksy with ornate: Do it against a dark backdrop to add a glam effect.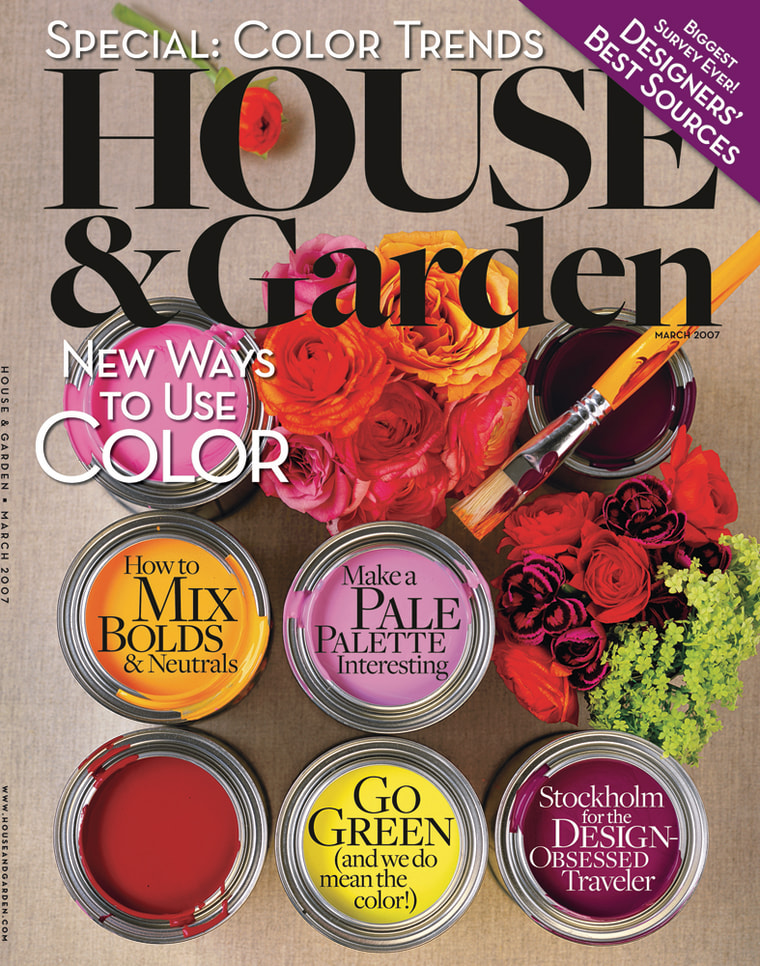 Note: What you saw on TODAY:
Oxford Chairs and Cantana Tables from Crate and Barrel
For more hints on color and other great ideas for your home, check out the latest issue of House & Garden magazine or visit their website at: