Imagine you could replace every bottle of cleaning product cluttering up the space under your sink with only three things.
It may seem too good to be true, but cleaning expert Jan M. Dougherty has done just that — and she's sharing her secrets with TODAY.
"I've run my business for 10 years, cleaning 100 houses a week with my crew," says Dougherty, author of "The Lost Art of Housecleaning.""And I only use three products in my business and in my home."
Those three products are:
Krud Kutter, a biodegradable, non-toxic cleaner/degreaser
Undiluted white vinegar
Old English Lemon Oil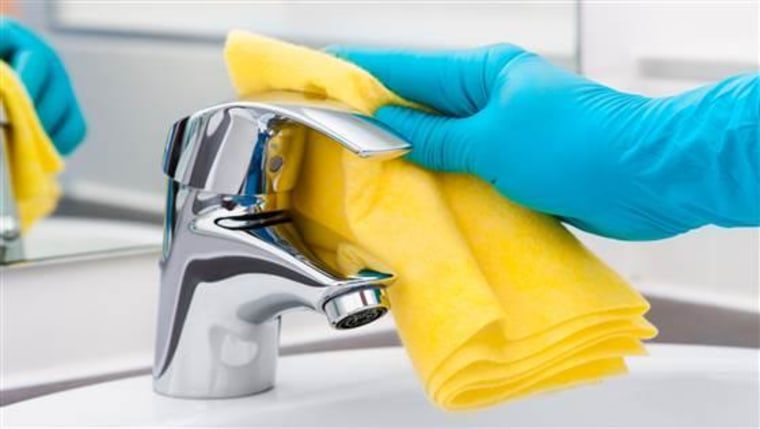 Dougherty says that when you mix these products properly, the results can be big — and the savings, even bigger. Dougherty claims that a $2-gallon of vinegar lasts her a month, a $13-gallon of Krud Kutter lasts a year and a $4-gallon of Old English Lemon Oil lasts her three to four years.
"Of the 100 women I've hired and trained as house cleaners over the last 10 years, every one of them without exception at the end of the first day of training looked at me and said, 'If I'd known this 20 or 30 years ago, my life would have been completely different," Dougherty says.
RELATED: 28 ways to use vinegar around your house
Here's how she suggests you tackle the house using these products:
Krud Kutter
Dougherty insists that there is nothing you can't clean with Krud Kutter — and no, she's not a paid spokesperson! She spot-treats laundry, washes windows, removes soap scum, cleans metal, leather, wood, carpets, fabric and counter tops with the product.
For general cleaning, Dougherty recommends mixing five-parts water with one-part Krud Kutter in a spray bottle — and make sure to put the water in the bottle first.
"If you put the Krud Kutter in first and then add water, you will have bubbles forever and never get the water in," Dougherty said.
Then simply spray where needed and wipe off the grime!
Vinegar
After cleaning a shower, tub or kitchen with the Krud Kutter solution, Dougherty sprays everything once with vinegar and wipes with a clean rag to polish hardware, porcelain and to sterilize any germs.
"You'll never find any germs in my house," she says, while adding that she also uses vinegar for its natural deodorizing properties.
"When it's winter and your house is all shut up and things start to smell musty, put some vinegar in a spray bottle and lightly spray carpet, drapes and fabric furniture," she says. The aroma will disappear once the vinegar evaporates, leaving an odorless space.
RELATED: How to clean your showerhead, makeup brushes, kitchen sink and more
"If something is clean, it doesn't smell, period," Dougherty says. "You don't have to perfume it to make it smell good."
Old English Lemon Oil
In addition to using Old English Lemon Oil to polish wood furniture, Dougherty uses it on stainless steel appliances.
"I put a little on a rag, wipe it to get all the dirt off and then wipe it with a second clean rag to to wipe off the excess," she said. "My refrigerator is as clean as yours for one-tenth of one cent of lemon oil instead of $8 invested in a can."