You might think you're the number one fan of HGTV's "Fixer Upper" … but you haven't met Kwandaa Roberts.
Roberts, 45, recently decorated a dollhouse to look like a modern-rustic home designed by Joanna Gaines; as in, exactly like a Joanna Gaines design.
It all started when Roberts, an OBGYN who lives in Elkins Park, Pennsylvania, bought an empty dollhouse from Chip and Joanna Gaines' lifestyle brand for Target, Hearth & Hand.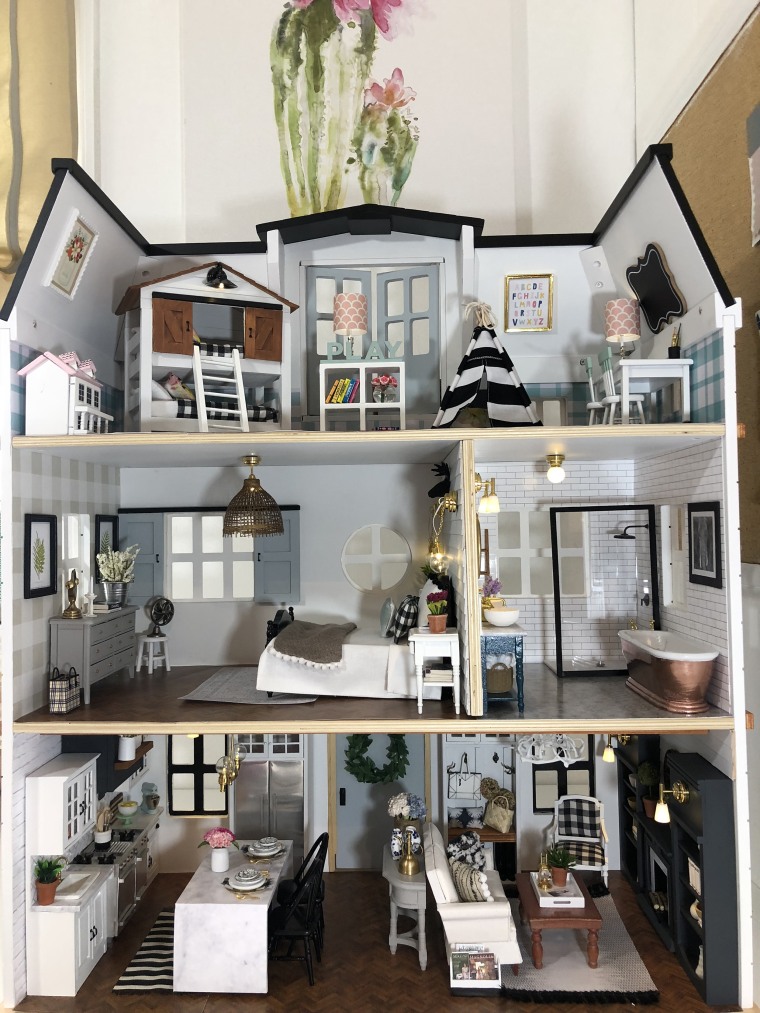 "I said, you know what, I think I'm just going to go all the way out," she told TODAY Home. "I'm literally going to do it like a real house, like I would design a real house in Joanna Gaines' farmhouse style."
And, well, mission accomplished.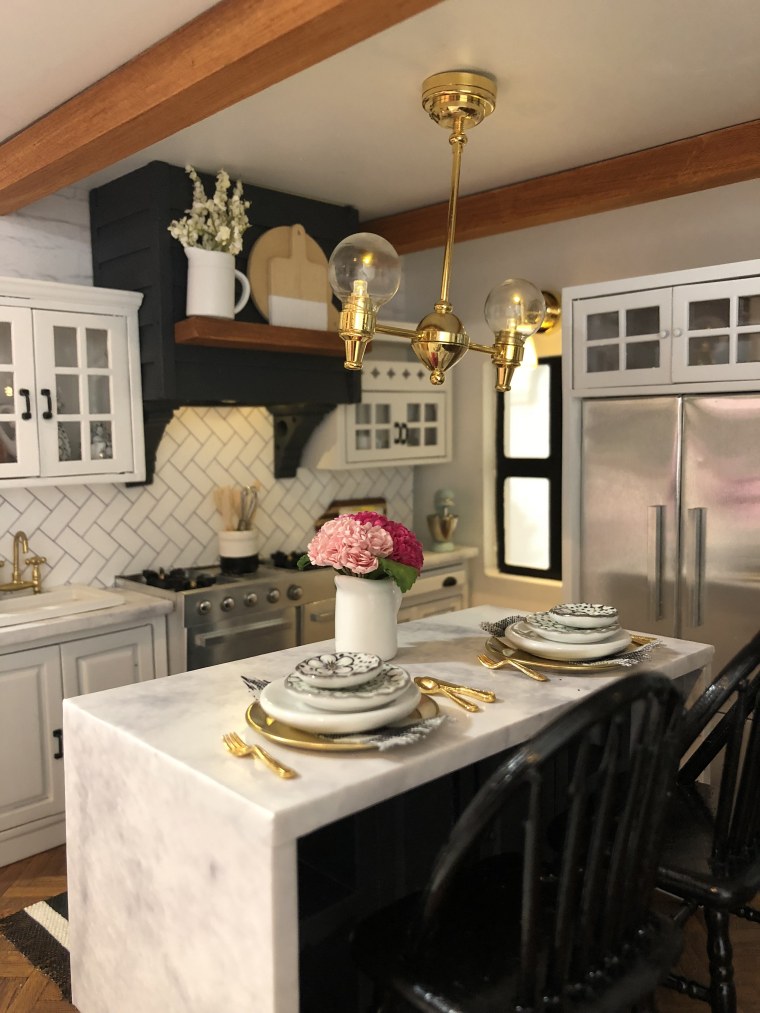 Roberts paid attention to every imaginable detail, installing exposed wooden beams, marble countertops and a subway tile accent wall.
Seriously, this kitchen would not look out of place on an episode of "Fixer Upper."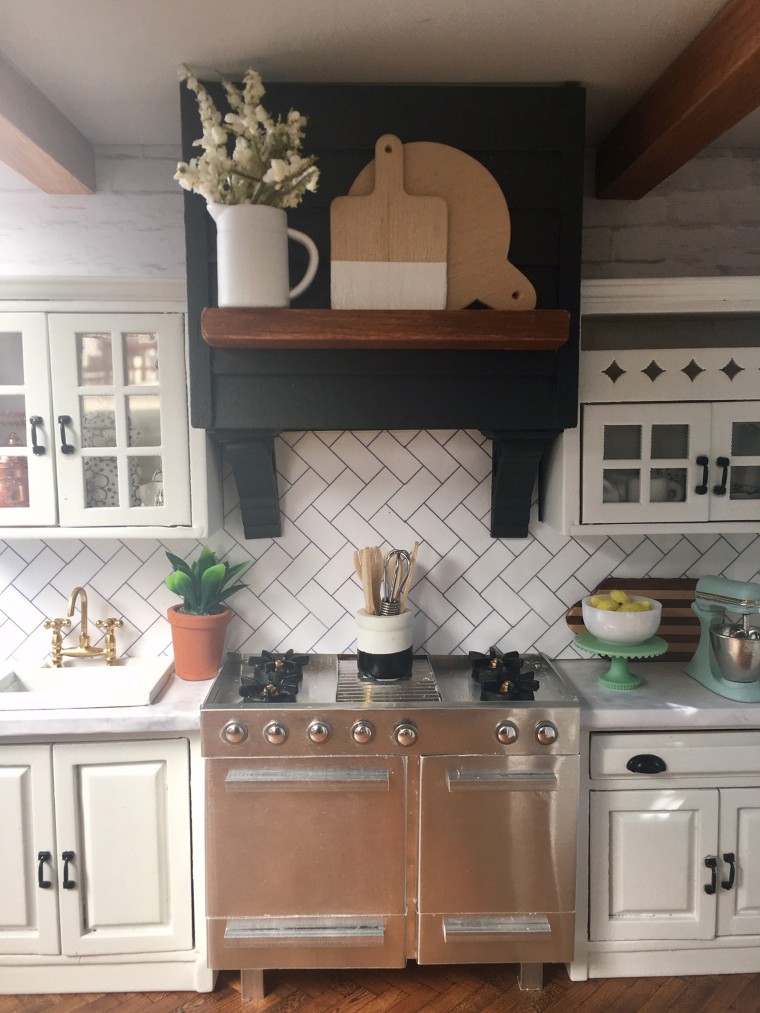 The house even has working light fixtures, thanks to some miniature, battery-operated bulbs.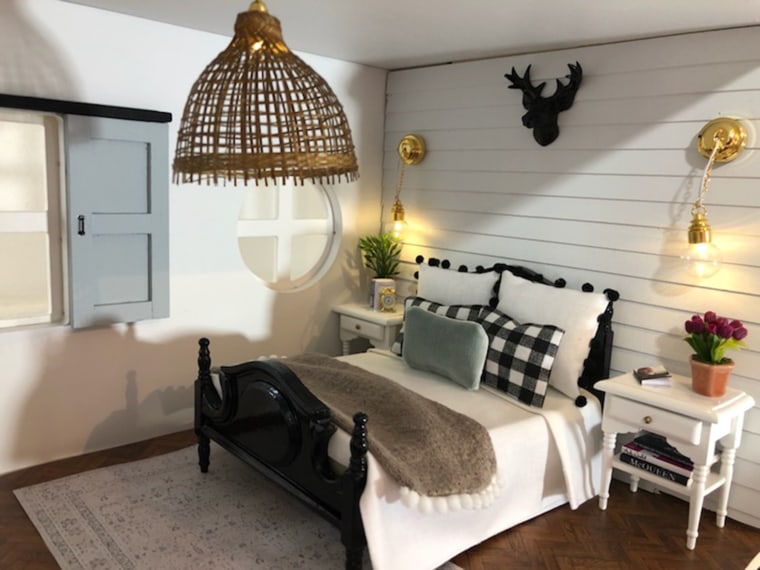 One challenge Roberts faced while decorating the house is that most off-the-shelf dollhouse furniture is designed in a traditional Victorian style — hardly Chip and Joanna approved. So, she ended up altering or custom-building most of the decor.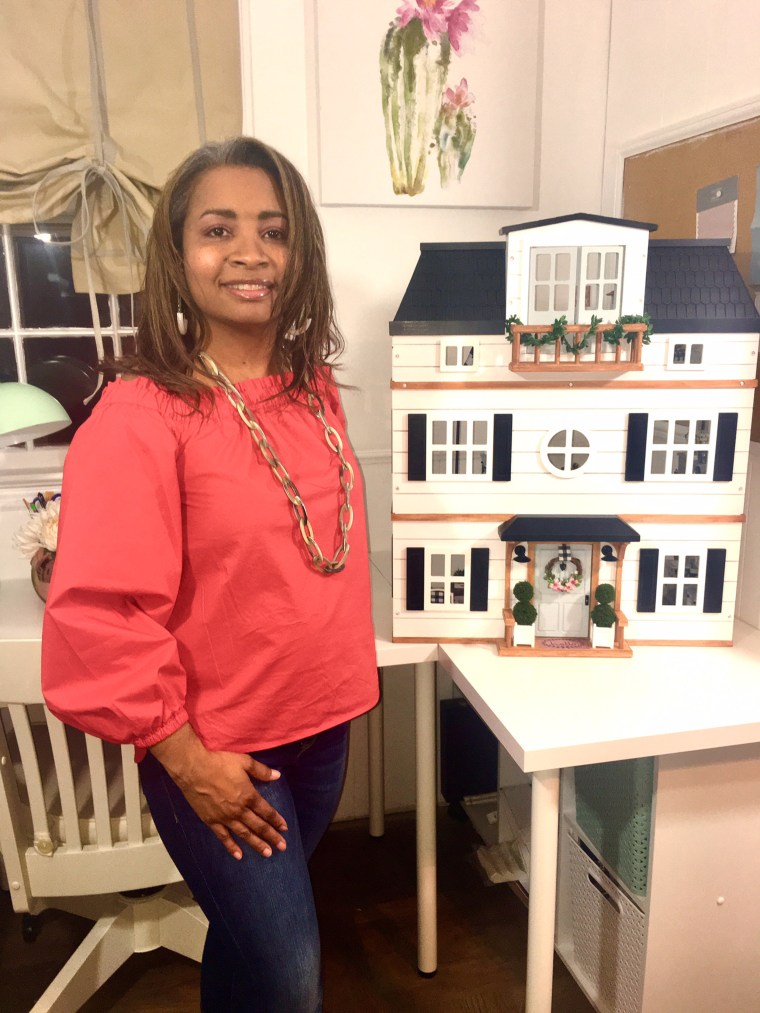 "I would just buy basic, unfinished stock pieces and then try to change them into what I wanted," she told TODAY Home.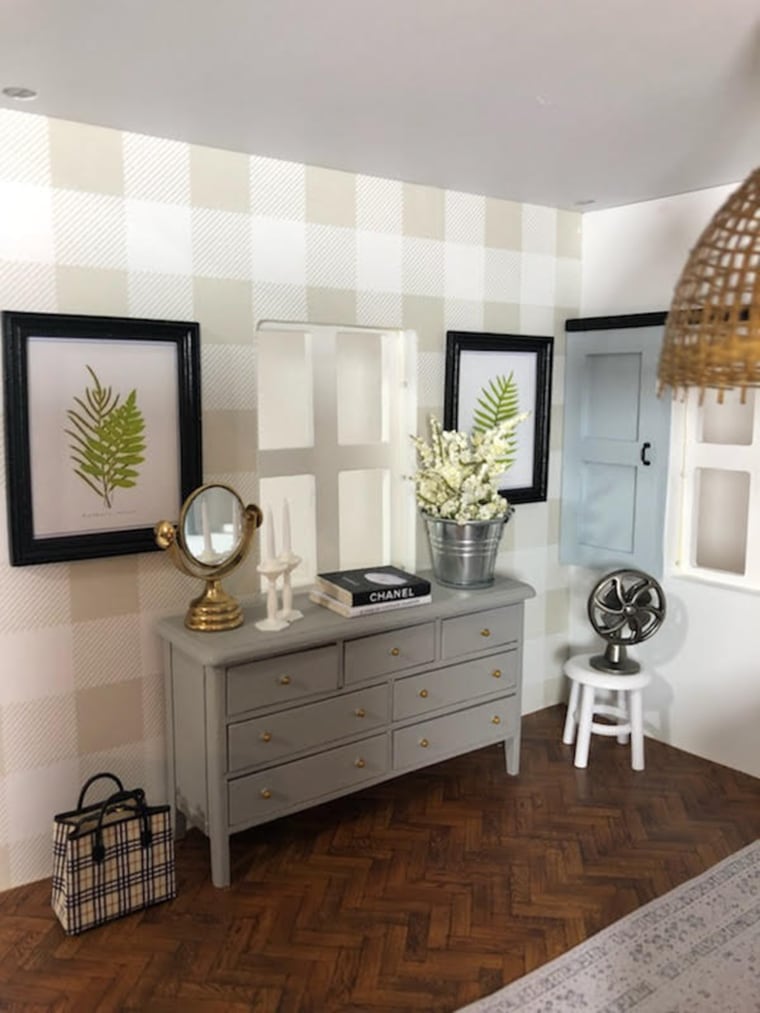 As much as she loves the entire house, Roberts says her favorite room is the bathroom, because it's pretty much her real-life dream bathroom.
"I would kill for that copper tub," she told TODAY Home. "I would put that in my house, that bathroom ... The tub would only fit my toe, but I literally would like to try ... Could I get in it? Is there any way I could soak in that little tub?"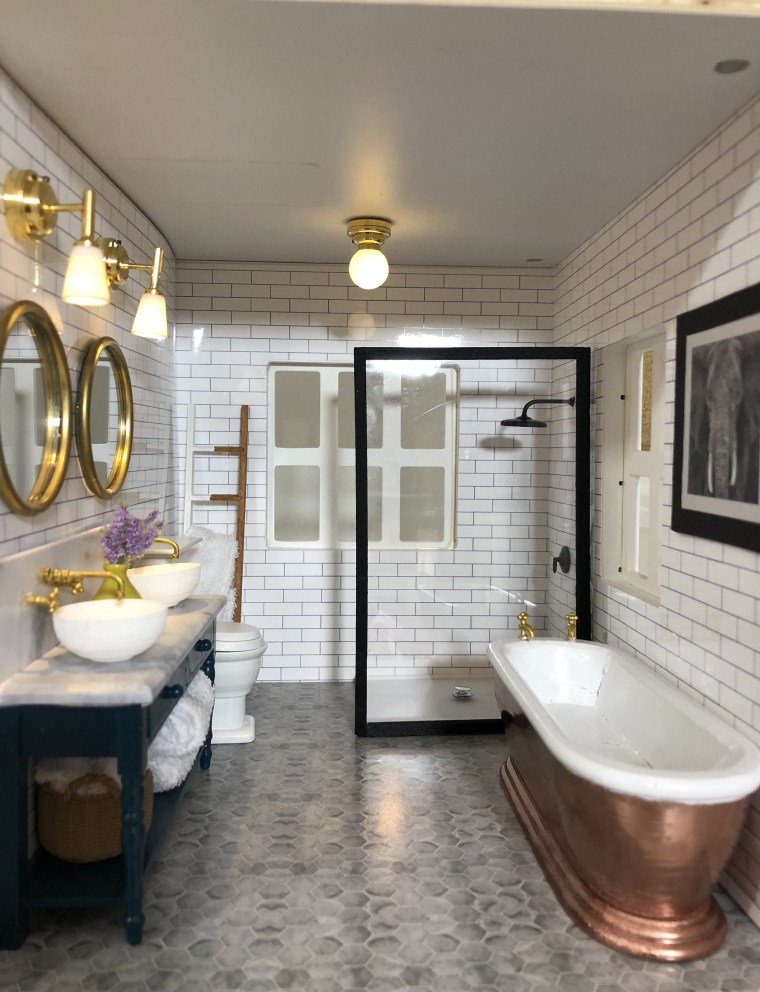 The bathtub is actually an unfinished wooden one she found on eBay. She spray painted the exterior to make it look like vintage copper.
The tile walls look so real, but they are actually a pattern printed out on glossy photo paper to make the texture feel authentic. She created the marble top on the vanity with contact paper from Lowe's. Brilliant!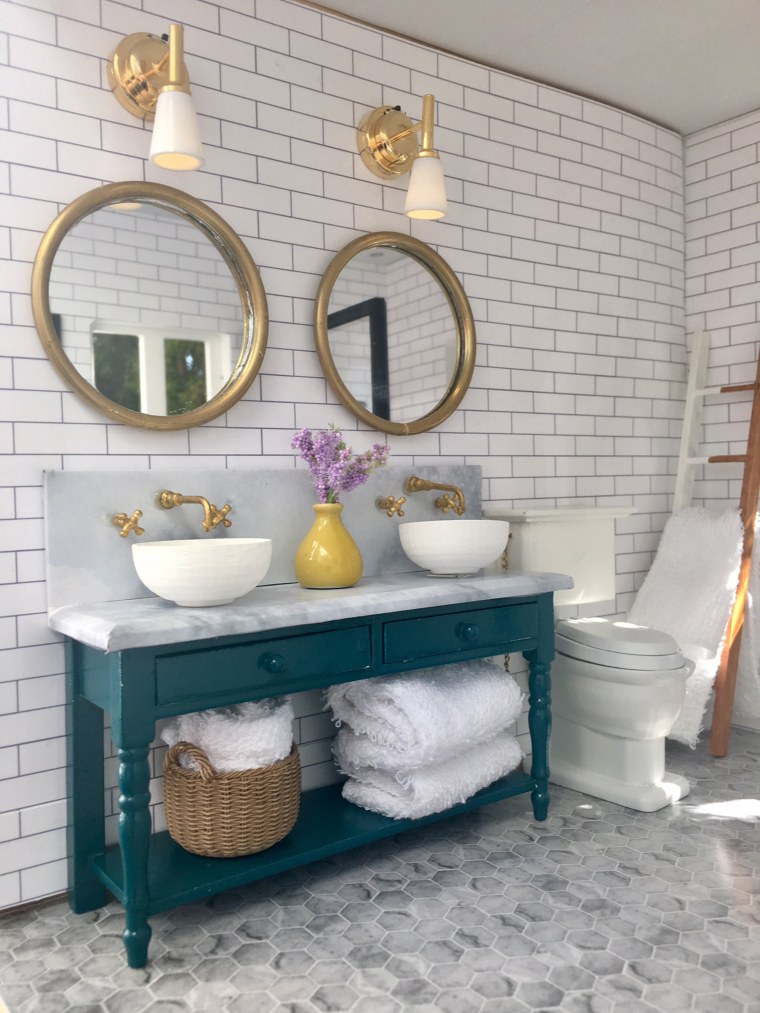 It took less than two months for Roberts to design the house and, incredibly, she says the furniture and decorations only cost between $200 and $250 in total.
"A lot of furniture was really cheap ... I had a $10 limit for each of the items I got," she said. "And then I made a lot of the things."
In the living room, Roberts made $5 bookcases look expensive by painting them charcoal and flipping them upside down. She also reupholstered the chair in the corner using buffalo-checked fabric from Michael's.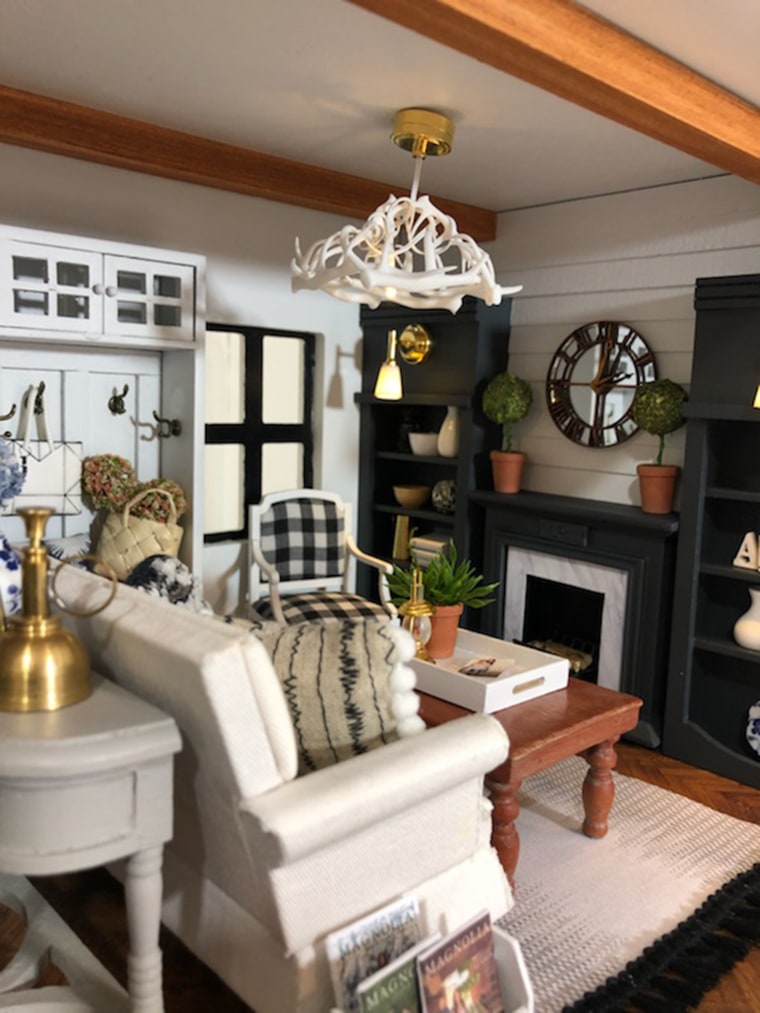 Roberts even created miniature versions of Chip and Joanna's lifestyle magazine, Magnolia.
How is this even real?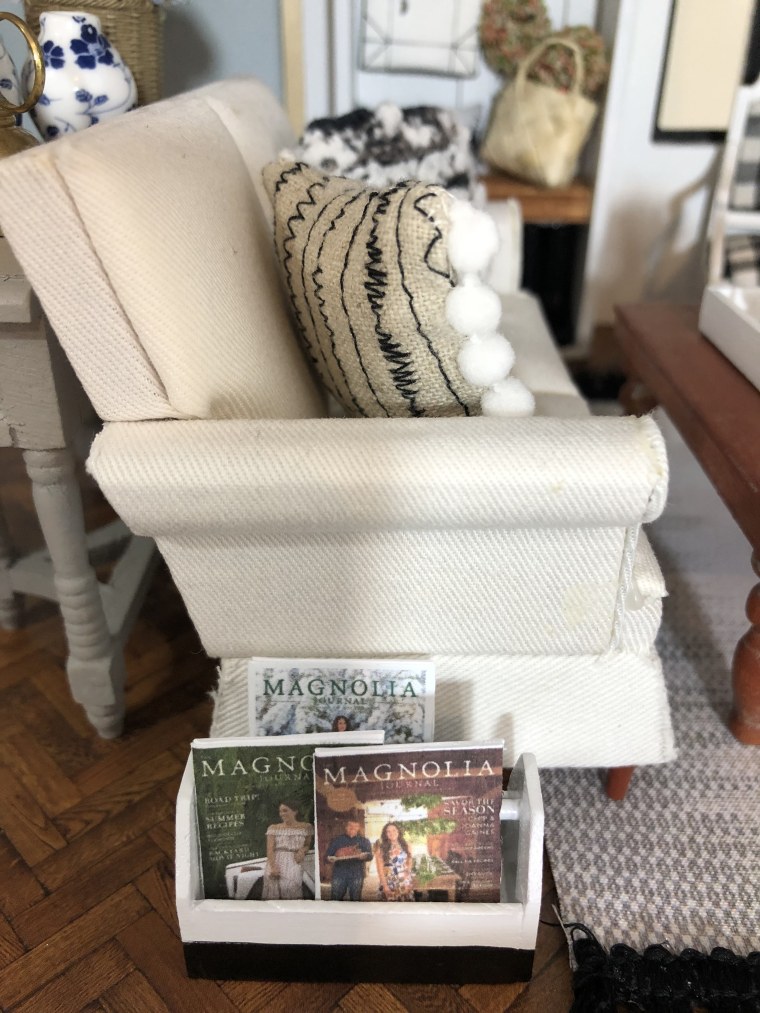 When Roberts posted photos of the house on Instagram, she didn't think anything would come of it.
That all changed when she saw that Joanna Gaines herself had discovered the project.
"I can't get over this amazing dollhouse finish out?!?" Gaines wrote in her Instagram story.
Roberts freaked out.
"I was screaming," she said. "I had no idea that she had seen it."
Before long, the incredible house went viral. Roberts quickly racked up more than 33,000 Instagram followers, and her phone has been blowing up with messages from her newfound fans. Some people even told her she's given them ideas for their real-world design projects.
"My husband and I just moved into an old cottage to fix up this past August," one woman wrote to Roberts on Instagram. "I've been struggling with the den bookcases and décor. This look is amazing. May just copy it all!"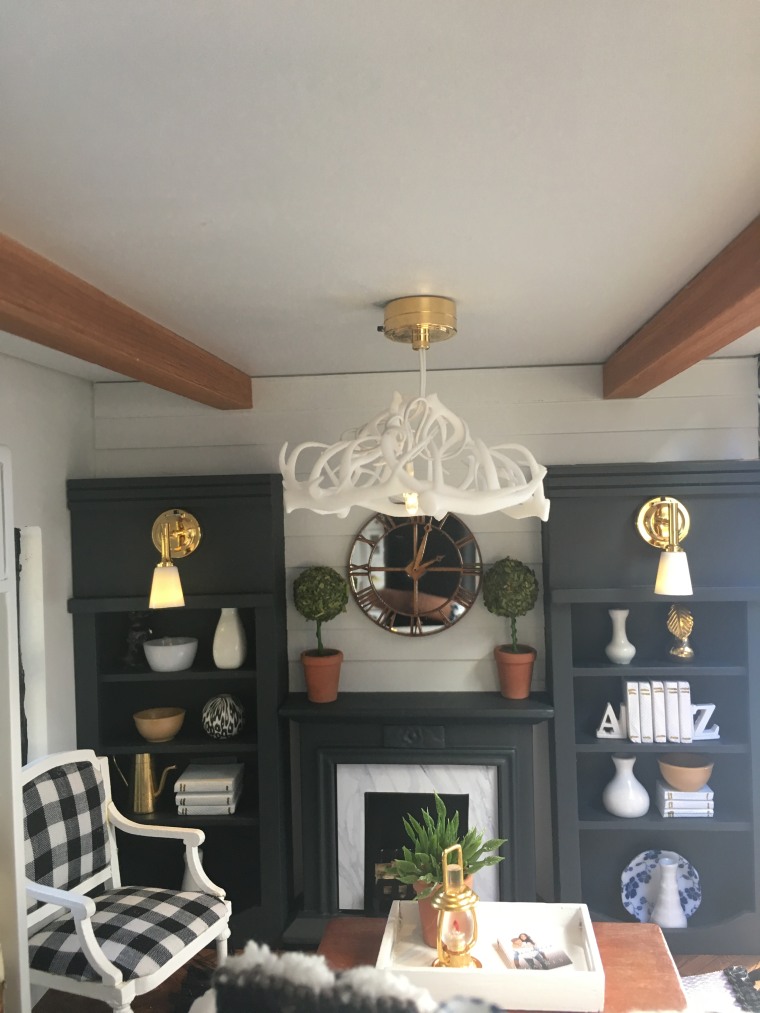 "You gave me real inspiration that I've been searching for in redesigning my master bathroom," another fan commented.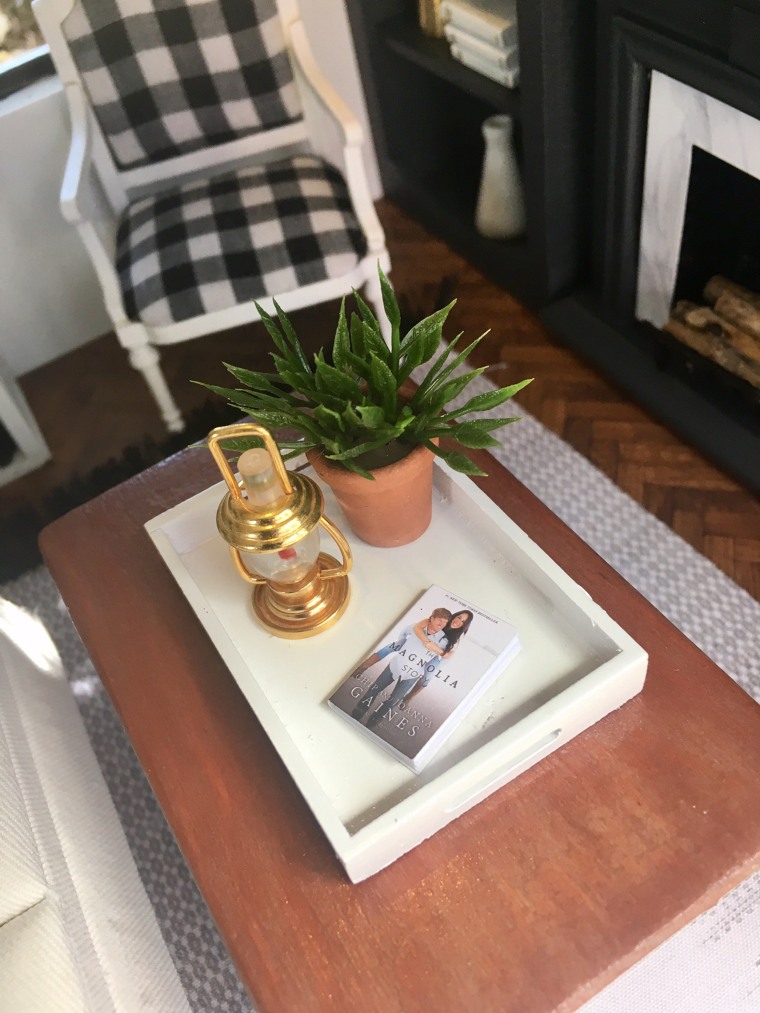 Now, Roberts is already hard at work on her next dollhouse, which she says has "a totally different feel" from her "Fixer Upper" masterpiece.
"This one I'm working on now is a Victorian," she said. "In my head, I'm designing the space for people that I make up, so that helps me decide what I think they would want or need in the house. So this one is a single woman and she's got a lot of money. She's young, she lives in New York … She's like Carrie Bradshaw, when Carrie Bradshaw was, like, 30."
She shared a sneak peek of the decor on Instagram.
In the meantime, she's still reeling from the reactions to the "Fixer Upper" build that started it all.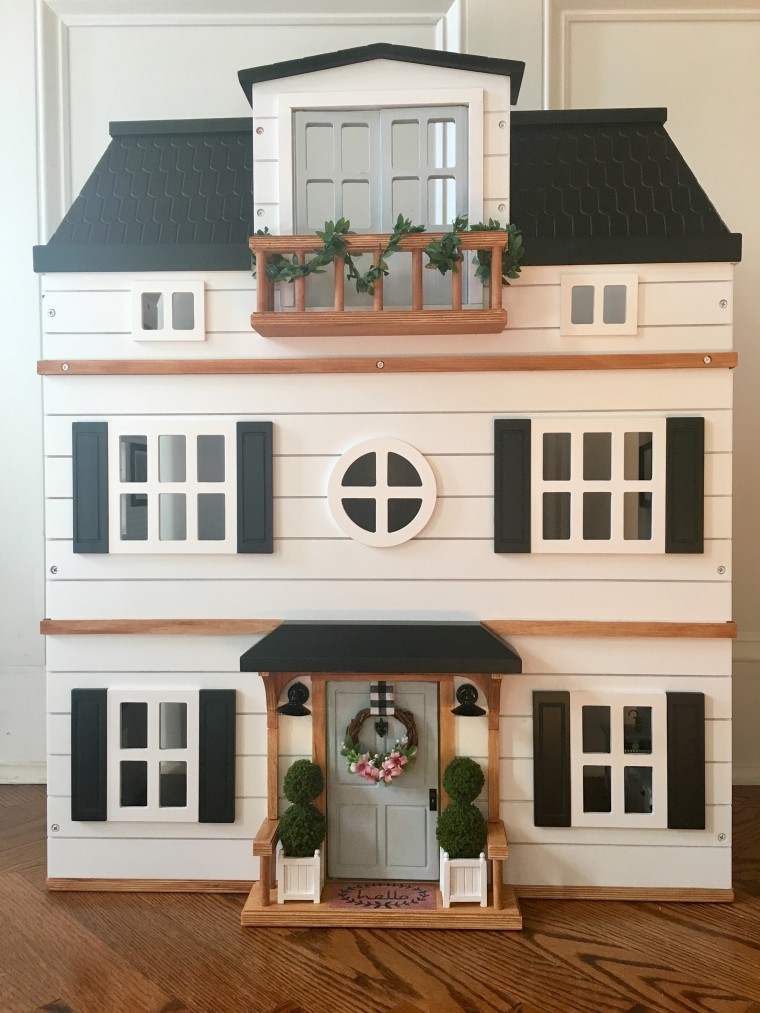 "I can't believe that this little dollhouse has a life of its own," she said. "It's been super crazy and super fun."