As with fashion, home trends are constantly changing. And if you want your home to be up with the current style, the kitchen is a good place to start.
It's a known fact that an updated kitchen can increase the value of your home, and even minor renovations such as new countertops or appliances can help you sell your place for more money.
Looking to spruce up your cooking space? Zillow Digs recently released its 2016 home trends forecast, spelling out exactly what's in and what's out.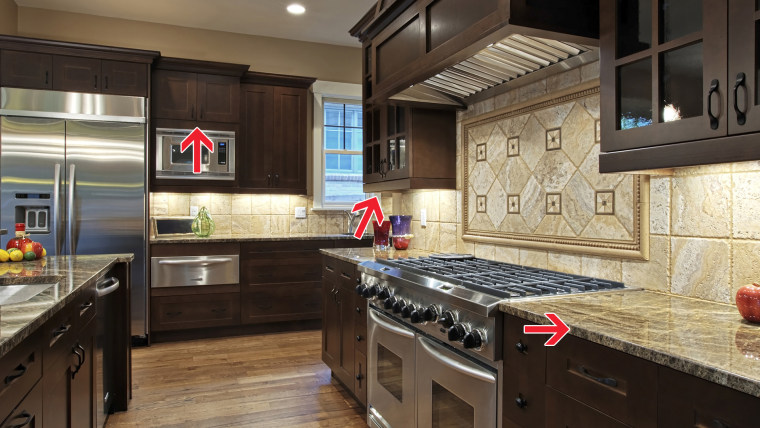 Below, see three kitchen fads that are definitely fading, and find out what's replacing them:
1. Speckled granite
Brown and tan speckled granite seemed to be all the rage for years, but the material can stain and be hard to maintain — which is impractical in a kitchen setting. But times have changed, and according to the report, the new trends for countertops include quartz, marble and butcher block.
2. Short cabinets
If you've got top row cabinets that are shorter, you might want to consider upgrading to a new look: tall cabinetry that is flush with the ceiling. According to experts in the report, this gives the illusion that the room is bigger and brighter — something we probably all want to achieve in our spaces.
3. Dark brown wood and paint colors
Gone are the days of installing beautiful mahogany or cherry wood cabinets. While they do give off a cozy rich vibe, the new trend is light and bright kitchens, according to the report. So what's the up-and-coming trend for cabinet colors? The experts say we should expect to see a rise in tuxedo, or two-toned painted cabinets. This is where the top and bottom doors are painted with complimentary colors. For example, you might want to choose a navy blue and soft gray or beige, according to Zillow Digs.
RELATED: See this kitchen go from ordinary to outstanding after a modern makeover
Other kitchen trends to watch out for this year include hidden appliances like covered refrigerators or microwave drawers, wood paneling (you can thank "Fixer Upper's" Joanna Gaines and her shiplap obsession for that one), and mixed hardware finishes like rose gold or black.
To find inspiration for your kitchen makeover and see pics of homes with these trendy features, check out Zillow Digs.