Even if married couples are lucky enough to speak each other's love languages, it's not always easy or recommended that they start a business and work together all day, every day. Yet that's exactly what Joanna and Chip Gaines signed up for when they kicked their business flipping houses up a notch, expanded the Magnolia brand and became HGTV stars. It's a routine they continue to practice.
So how do they do it? According to Joanna Gaines, it's all about balance.
"Don't get me wrong, working with your spouse comes with its own set of challenges, but it's very true that Chip and I balance each other out," she wrote in a touching blog post on Magnoliamarket.com.
RELATED: Chip and Joanna Gaines are launching a lifestyle magazine
It helps the relationship balance that the couple is able to focus on different elements of the business, but they find that it's best when they work together to get the job done.
"Our jobs are unique, and we've found that we work best side by side," Gaines said. "Sometimes Chip will have to give me little daily reminders, like not to sweat the small stuff, and I'm the one who is usually reminding him to sit down and take a quick break."
But they must have limits as to how much they can withstand one another, right? Based on their on-screen chemistry and genuine fondness for each other's company, it seems unlikely.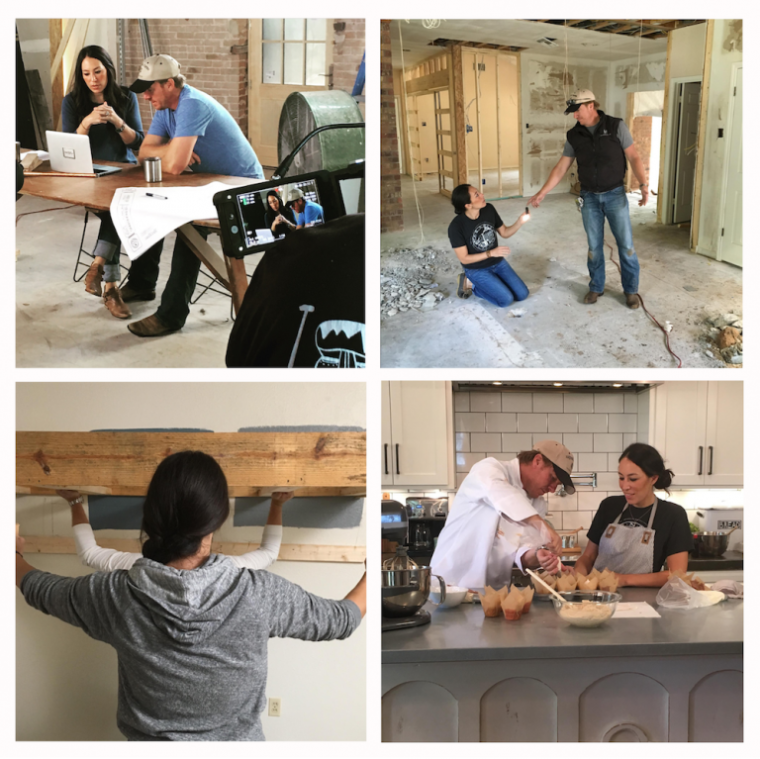 RELATED: Chip and Joanna Gaines reveal their worst 'Fixer Upper' project ever
In an excerpt from their upcoming biography, "The Magnolia Story," out this October, Joanna Gaines shares a very personal perception about her relationship dynamic with her husband: "One pretty amazing thing we learned early on was that the more time we spent together, the better our relationship was. I think a lot of couples feel the need to get away from each other now and then, to take little breaks, and they come back after a girls' weekend or a guys' fishing trip or something all refreshed and happy to reconnect because they missed each other."
RELATED: Joanna and Chip Gaines surprise math teacher with gorgeous new classroom
She continues: "We were just the opposite and still are. We seem to give each other energy. We function better together than we do apart, and I don't think either one of us has ever felt the urge to say, 'I need a break from you.' Don't get me wrong, we've certainly had our share of disappointments and arguments, but we just always wanted to tackle our issues together."
To read more about their work-life balance, and to see a funny video of the couple explaining why they work so well together, visit magnoliamarket.com.