When it comes to home renovation and DIY projects, you probably don't think of Jennie Garth. But the actress, best known for "Beverly Hills, 90210," recently gutted and renovated her California ranch home, a process documented on her HGTV show, and one she called challenging but incredibly rewarding.
From demolition to decorating, she shared what she learned with TODAY.com, giving tips for families who might be taking on a similar project.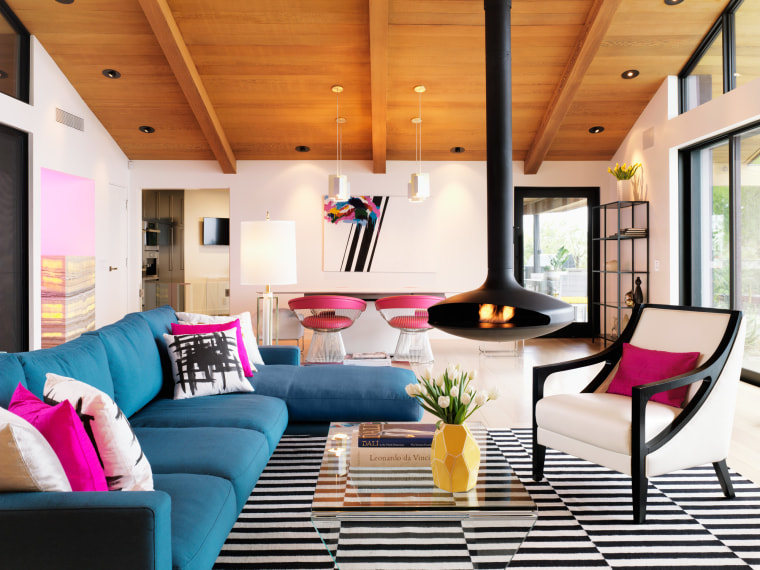 1. Break it down.
Renovating and decorating an entire home is a lot to handle, Garth warned.
"Break the project down into bite-sized pieces so it doesn't feel so overwhelming," she said. "Go room by room and get as specific as you can, and as visual as you can. Use Pinterest. Create a visual sort of look book that you can share with your contractor."
On "The Jennie Garth Project," the actress took one room at a time, but kept in mind that "one room would sort of work with the next room, so the design wasn't so jarring," she said.
She also adds that organization is important.
"I would have a notepad with me all the time," Garth said. "I would think of something, like, I want my sink to be a dual basin or a single basin, or I want to make sure I have a hook to the right of my bathroom sink. Little things that come to your mind. It's good to make sure you write it down, and then you don't have as much on your mind."
2. Expand your budget.
Garth, who lives in the home with her three daughters, quickly learned that renovation can be expensive, and said it's hard to imagine everything you'll need when you're starting out.
"Have a cushion," she said. "Definitely when you hire projects out, they end up costing more, that's just a given."
She suggested that people wanting to renovate set aside some extra cash in case of surprise expenses.
3. Save cash by getting your hands dirty.
To counter those extra expenses, one way to stay on budget is to figure out what you really need to pay people to do, and what you can handle yourself.
"My dad built my childhood home I grew up in, and so I was really raised with that notion of, 'Why pay for something when you can do it yourself?'" Garth said. "And so that's how I live my life — I always try to tackle something myself. I research it and try to figure out a way I can do it myself before other people come in and get paid for it."
Garth, who is a spokesperson for Motrin and shares DIY tips on the brand's Facebook page, encourages women especially to not be scared of construction-related tasks.
"I did a lot of demolition myself," she added. "Put on gloves and get in there. Do the work yourself and see how great it makes you feel."