Homeowners get to enjoy fresh snow for maybe five measly minutes before it's time to go to work.
Then it's all about pulling up their boots, taking out the shovels and heading outside to do the back-breaking work of shoveling it off their driveways and sidewalks for hours on end. What a pain!
They're doomed to this cycle with every snowstorm, that is, unless they take lesson from cartoons of yesteryear. Bugs Bunny was onto something when he turned a pebble-sized snowball into a gigantic ball as it rolled down a mountain. In fact, when TODAY Home reached out to Alex Salt, who demonstrated this fun and useful technique on YouTube, he said cartoons were the inspiration!
Snow rolling has become a viral phenomenon online with some videos touting more than 7 million views on YouTube. Much like cartoons, you begin with a small snowball and push it forward, causing it to become larger and larger to clear a path in your driveway without using a shovel at all.
It sounds easy, but there are some caveats.
"It needs to be a wet snowfall," said Michael Rodo, a fellow snow roller who cleared his deck with this very technique. "Snow in frigid temperatures produce snowfalls that are too fluffy, but if you can build a snowman with it, it's typically good for rolling."
Joshua Jordan, an illusionist who lives in West Virginia, didn't need sleight of hand when he used "wet snow that is very tacky and sticky" in his video.
His top tip? Timing is indeed everything, so avoid taking too long to start the process. Snow that melts then freezes again will have a thin sheet of ice on its surface that's impossible to roll.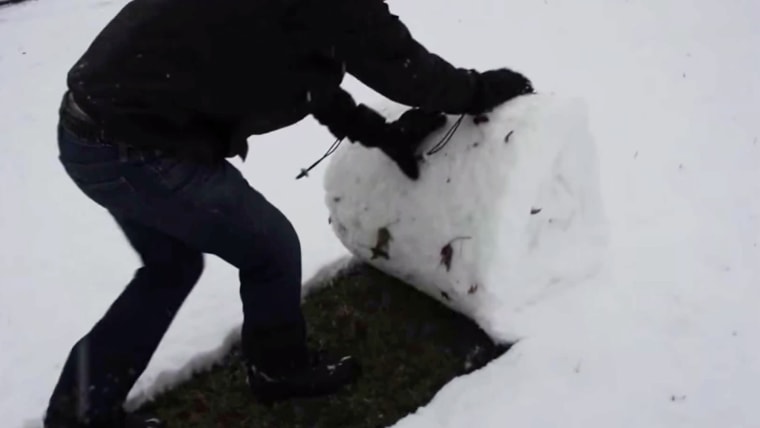 Salt, who's from New Zealand, offers a few more pointers. "Shape as you go to keep it circular. Try to avoid an egg shape, which makes it hard to push."
You need about an inch or so of snowfall on the ground to make this work, too. Salt warns that several inches, say more than four, will keep it from lifting off the ground.
How to try snow rolling:
Assess the scene. You're looking for "wet snow" and 1-4 inches of it on the ground.
Toss your shovel aside!
Make an snowball that's about 8-10 inches.
Start to roll by pushing the snowball away from you.
Keep rolling and try to keep it as circular as possible. An egg shape will make it tougher to push and may ultimately fall apart.
Reshape as you go, as needed.
Rest the final roll in a safe place. Push it over onto the ground so it's not a safety hazard.
And be sure to know your limits, Rodo mentioned. "Be careful once you start rolling. The bigger your roll gets, the more it will try to fall over — don't even think about doing this uphill!"
Above all, just roll with it!