No matter how you manage to get ink on your clothes or carpet, it's a pain to remove. But it's not always impossible — especially if you tackle it right away. Before you toss that ink-stained shirt in the rag pile, check out how our experts remove these stubborn stains.
Stain removal preliminaries: What you need to know
Before you begin, Meg Roberts, president of Molly Maid professional cleaning service, offers the following basic guidelines.
Follow the care label to make sure the item is washable and color safe.
If removing a stain from an expensive or irreplaceable item, perform a colorfast test in an inconspicuous area before trying to treat the stain.
Treat the stain as soon as possible. The longer you give it to set, the more difficult it will be to get out.
Always blot initially, as rubbing will spread the stain.
Never dry an item before the stain has lifted.
Don't be afraid to call a professional. Dry cleaners and cleaning services can work wonders on stains.
Commercial stain removal products that the pros use:
If you know from past experience that ink stains are in your future, do something about it now. There are several products on the market that could make removing these stains less of a nightmare.
Here are five favorite ink-fighting products that pros swear by:
1. Carbona Stain Devils #3, $3.99, Carbona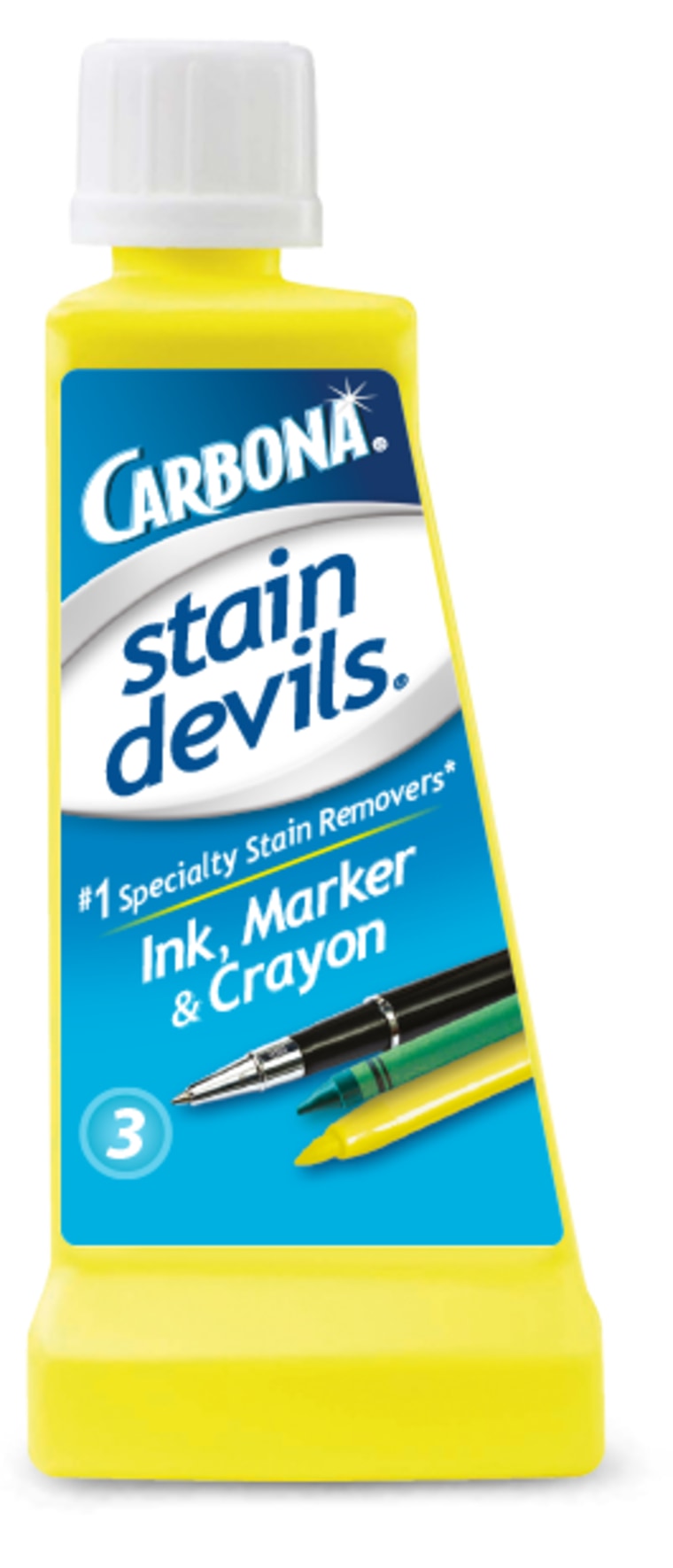 This product is specially formulated to remove ballpoint, felt tip and roller ball ink.
2. White Wizard Cleaner and Stain Remover, $6.06, Walmart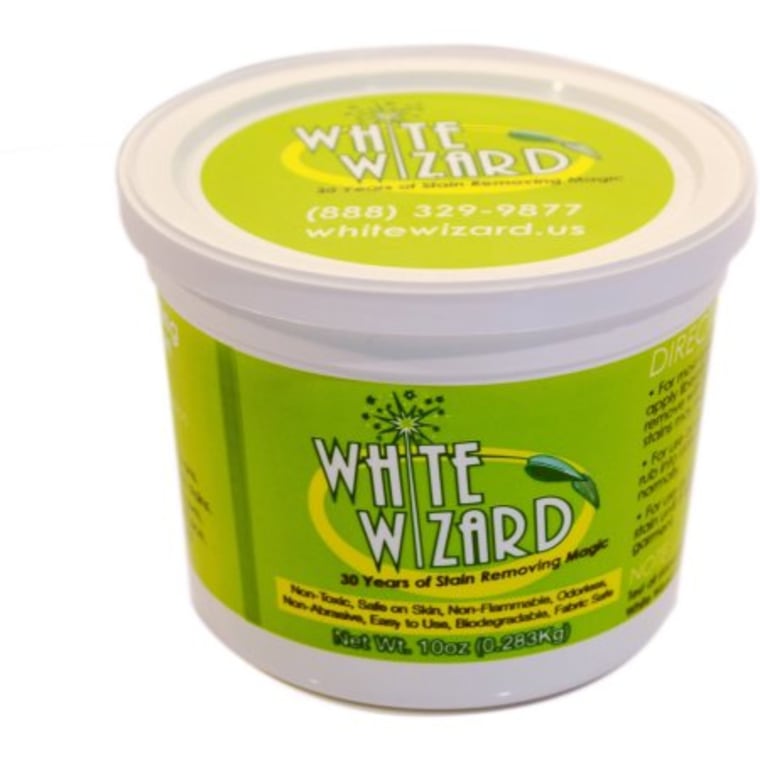 This all-purpose stain remover is safe for carpet and fabric.
3. Amodex Ink and Stain Remover, $21.99 (s/2), Amazon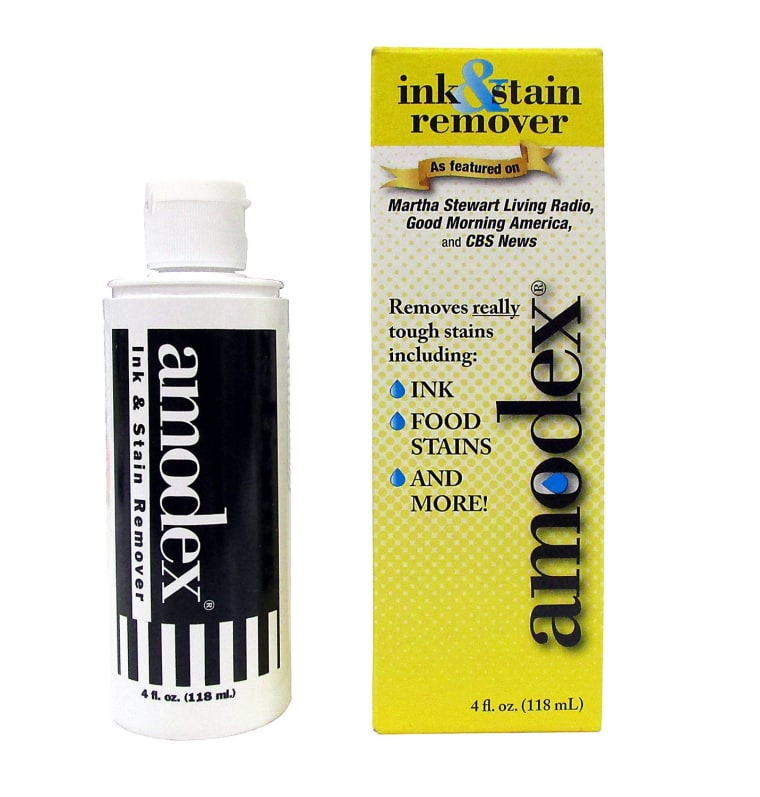 This eco-friendly ink and stain remover claims to work on all inks from ballpoint and gel to permanent marker.
4. Motsenbocker Lift Off Instant Markers, Pens, Inks Remover, $14.99, Amazon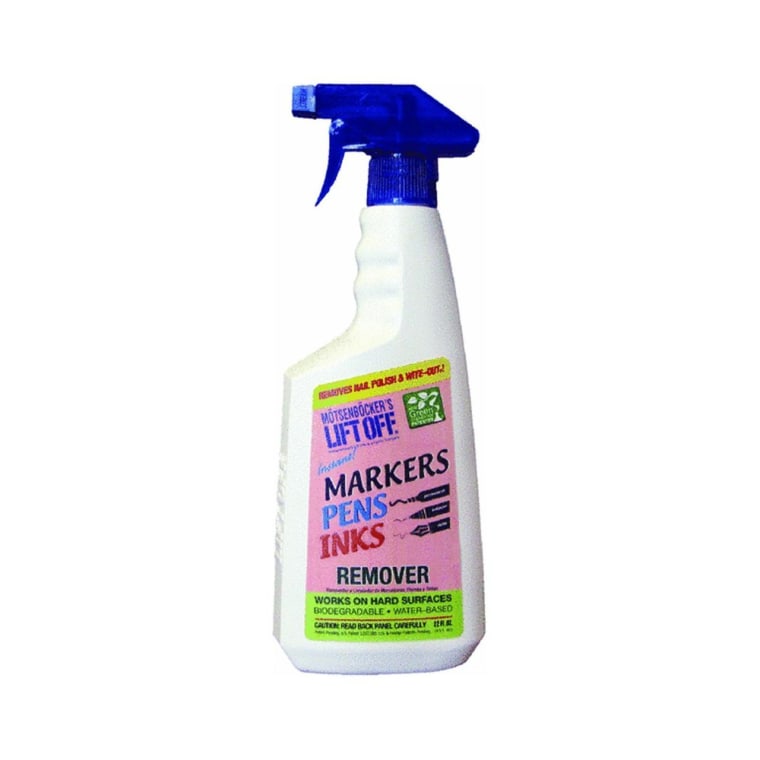 Biodegradable and water-based, this works on all surfaces to remove most types of ink.
5. Powerizer concentrated detergent, $19.99, Powerizer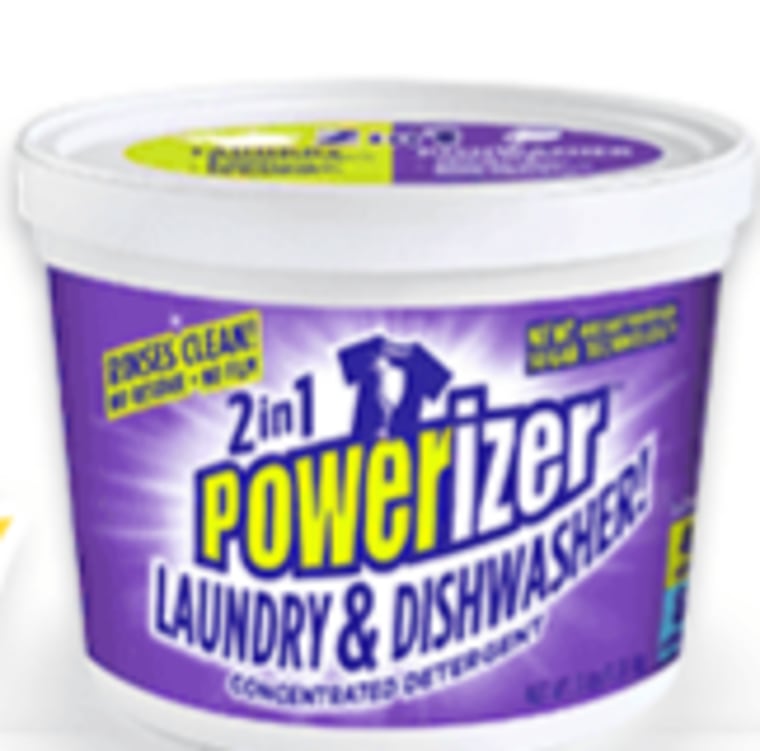 This detergent uses a laboratory-developed scientific process to effortlessly remove stains.
RELATED: 7 laundry-saving tips we never knew (like a foolproof trick for red wine)
Not all ink stains should be treated equally
If the colors of little Susie's rainbow drawing end up on your carpet before you have a chance to buy a stain removing product, try some of these handy tips.
How to remove washable marker
Probably the easiest ink to remove, washable marker can be flushed out of washable fabrics with clear water. Cleaning expert Leslie Reichert suggests placing the stained item on a clean cloth then dabbing the ink spot repeatedly with a wet cloth until the stain disappears. Dab, don't rub, or you'll spread the stain.
Sometimes a faint stain still remains. To remove any residual ink, apply a small amount of liquid laundry detergent directly to the stain, lightly working it into the fabric. Allow this to work on the stain for a few minutes before rinsing it completely. Launder as usual.
Check the item before tossing it into the dryer. If the stain is still there, re-treat it with liquid laundry detergent, then wash again. Repeat as needed.
How to remove gel and ballpoint ink
"The secret to removing ballpoint and gel inks from fabrics is to use alcohol," says Reichert. "First, place the stained item on a clean towel or absorbent cloth. Dampen a white rag with rubbing alcohol, then dab it on the mark. As the ink flushes out, move the stained spot to a clean area of the towel. Continue dabbing until the alcohol breaks down the ink stain and it disappears." Don't rub the area or soak it with the alcohol, as you don't want the ink to bleed into the surrounding fabric.
To prevent gel ink stains from bleeding into the surrounding fabric, Reichert sprinkles cornstarch on the stain to absorb the moisture and any ink that comes out of the stain. Then she blots the stain with alcohol, as described for ballpoint ink. Repeat this process until the stain is removed.
If you don't have alcohol, try dabbing the stain with cleaning vinegar, suggests our friends at Four Monks Cleaning Vinegar. Continue dabbing with full strength vinegar until no more of the stain can be lifted.
To remove faint traces of the stain, rub a small amount of liquid laundry detergent into the area and allow it to work on the stain for a few minutes before rinsing completely. Another option is to treat the faint stain with a stain pre-treatment such as Shout, then launder as usual.
RELATED: The 1 ingredient you need to get rid of a blood stain
How to remove permanent ink
Permanent ink is made to last so it's almost impossible to remove. Your best bet, according to Reichert, is to treat the stain quickly. Place the item on a clean cloth, then blot the stain with alcohol, repeating as often as needed. If the stain doesn't lift and the item can be bleached, wash it immediately in laundry detergent and bleach.
How to remove ink from hard surfaces
If you get ink on a hard surface, such as wood, laminate or flooring, Reichert suggests removing it with an eraser sponge like the Mr. Clean Magic Eraser.
How to remove ink from carpet
Dean Carter, president of Carters Carpet Restoration, recommends three products for removing any ink from carpets.
Hairspray
Goof-Off Aerosol or Spray
WD 40
The cleaning process is the same for each product. Start by spraying the spot lightly with the product. Using a clean white towel, squeeze the carpet fibers in an upward motion to remove the ink. If the ink is transferring onto the cloth, repeat the process until all ink is removed or ink no longer transfers onto the cloth.
Remove the cleaning product by dipping a sponge into a solution of 1 quart warm water and 1 teaspoon of blue Dawn detergent and applying sparingly to the area. Using a clean white towel, squeeze the carpet fibers in an upward motion to remove the cleaning products and the cleaning solution.
The main point to remember, Carter says, is to use as little liquid as possible. The biggest mistake people make is forcing the ink deeper into the fibers by using too much liquid. Go lightly and squeeze well.
If the stain remains, call a professional carpet cleaner. You've given it your best; let them do the rest.