Costco is the magical place where you can buy a swing set, a 72-pound wheel of Parmigiano-Reggiano, socks and enough toilet paper for the next century all in one shopping trip. People love it so much that one couple staged their engagement photos there and a little girl threw a Costco-themed birthday party! (We get it.)
But this warehouse wonderland comes at a price — a minimum $60 membership fee per year and the struggle of transporting all of the items from the store to your home.
If you love buying items in bulk as much as we do, you'll love this news.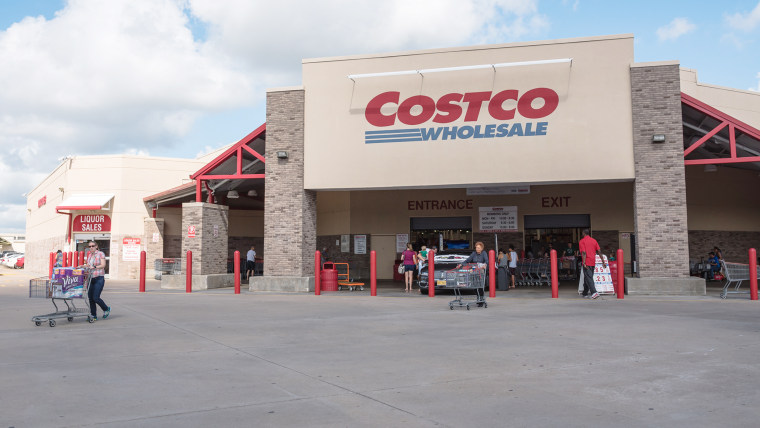 Instacart, the same-day grocery delivery service, has partnered up with the warehouse club to deliver Costco goodies right to your door — and you don't need to shell out the $60 membership fee.
Here is how it works:
First, go to Instacart's site or app and see if Costco delivery is available in your area. If they deliver to you, you're in luck! Fill up your virtual shopping cart online with (almost) all of the Costco items your heart desires. Yes, we're serious. You can basically get everything you need. Want 48 snickers bars? Order away! Ever wish you could buy your paper towels in bulk so you're never stuck without them? Now you can. After selecting your items, Instacart sends a shopper over to the store, where they grab all of the items from your virtual cart and purchase them in real life. Then, they deliver it straight to your doorstep.
The service is awesome, but it's not free. The delivery fee is $5.99 for individual purchases over $35 or you can get an Instacart Express Membership for $149 per year (includes regular grocery shopping).
There are two catches, though:
1. Some of the prices on Instacart may be slightly higher than Costco's in-store prices.
Instacart's website says: "When possible, Instacart works with retailers to bring you the same prices as found in the physical store. In some cases prices may be higher than in-store. We don't honor in-store discounts (although we make available Instacart Coupons from time to time). You can see detail about pricing at the stores in your area here (you must be logged in): https://www.instacart.com/store/prices."
2. Just because an item is available online, doesn't mean it is in the store.
Instacart's virtual store isn't always reflective of the store's actual inventory. Their site states: "At times an item you order will be out of stock at the grocery store. If this happens, your shopper will contact you before they check out to see if you want a replacement or not. If you don't get a replacement you will be refunded for the out of stock item."
Regardless, we're excited to try it out. If $6 will save us from throwing our backs out, we're in!