From grass and mud to ketchup and mustard, summer comes with its own set of stains. That's why we asked Duane Schumann, restoration manager of Treasured Garment Restoration, for tips on removing summer's most stubborn stains. Follow his suggestions and your summer whites will still be white when you pack them away in the fall.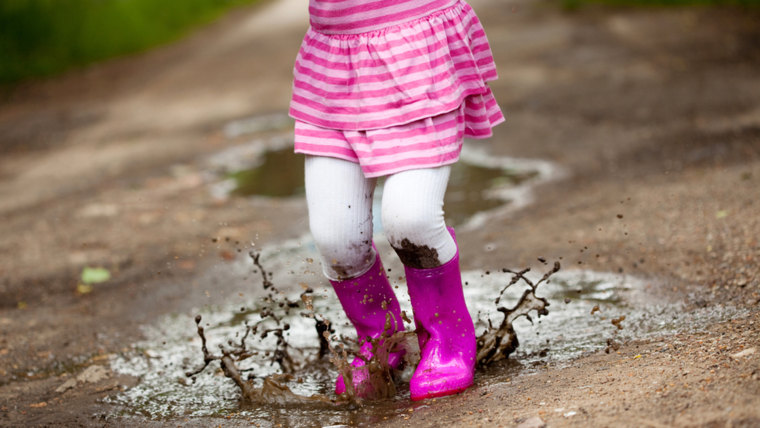 Perspiration stains: Grab the baby powder!
Sweat stinks! Plus, it can cause problem stains, particularly on silk and wool garments. That's because it reacts with deodorant as well as the dye and sizing in fabric. The best advice? Wash or dry clean the garments as soon as you can after wearing them to prevent the stain from setting.
RELATED:7 laundry-saving tips we never knew (like a foolproof trick for red wine)
Or, do something to keep underarm perspiration from touching clothing in the first place. "Since sweat stains just show on lighter/white shirts, I recommend dusting the inside underarm portions of light/white garments with a light-to-moderate layer of regular baby powder, not cornstarch-based types," suggests lifestyle blogger Randi Dukes. "Then iron the same area to form a barrier that will keep stains from setting."
Grass stains: Tackle with bleach and detergent to start.
Whether gardening or picnicking, grass stains are inevitable — and tough! Fortunately, washing with bleach and detergent does a great job of removing grass stains on white items. However, avoid soaking clothes too long in bleach as it damages the fabric.
If the garment cannot be washed in chlorine bleach, soak it in a solution of water, OxiClean and detergent, then gently brush or dab the area. Avoid rubbing the stain, as it may spread. After pre-treating, wash the garment using detergent and a non-chlorine bleach. Before drying, ensure that the stain is gone otherwise the heat from the dryer could set it.
Mud stains: Another fine use for baking soda!
Kids love to play in the mud — and the wetter it is, the better it is. When it's time to wash those muddy jeans, do your best to brush off all of the loose mud. Then soak the garment for ten minutes in a solution of one tablespoon baking soda, a fingertip of blue Dawn detergent and a gallon of warm water. Lightly brush the stain to move and suspend the soil. Squeeze the solution through the fabric. Repeat as needed. Wash as usual.
RELATED: Give your laundry room a functional face-lift using these tips from the Property Brothers
Sunscreen stains: Believe it or not, dish detergent is the way to go...
Sunscreen. It's great for protecting our skin but it sure stains our clothes. Because sunscreen contains oil you'll need a degreasing agent, like blue Dawn dish detergent, to remove its stains. Soak the garment for thirty minutes in a solution of Dawn and warm water. Then, using a bristle brush, lightly work the solution into the stained area. Repeat until stain is removed then launder garment as usual.
Ketchup/mustard stains: OxiClean for the win!
Mustard-dripping hot dogs and ketchup-slathered hamburgers are quintessential summertime fare. But, what do you do when the toppings land on your shirt? As soon as you can, flush the garment with cool water, removing as much of the stain as possible. When you get home, tackle the stain. Combine one ounce of OxiClean with warm water and work it into the stain using your index finger. Let it sit in the solution for ten minutes then flush and repeat, as needed. When stain is removed, launder as usual.