You enjoy having overnight guests during the holidays — but you don't welcome the disorder that it brings to your house.
We asked some of the nation's most experienced hostesses for tips on keeping order in a full house. Surprisingly, it all comes down to planning ahead. Come along as Eugenia Smirnova, innkeeper at The Gingerbread Mansion in Ferndale California, and Judy Hotchkiss, innkeeper at Prospect Hill Bed and Breakfast Inn in Mountain City, Tennessee, show us, room-by-room, how to take the "guest work" out of hosting overnight guests.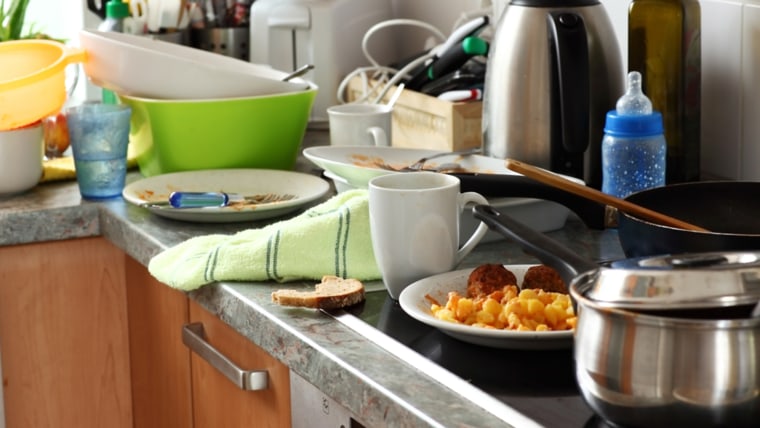 RELATED: Passwords, toiletries and more: What house guests need from you
At the entry way
To minimize tracked-in dirt and leaves, keep sidewalks and entryway clean.
Place a welcome mat outside entry doors so guests can wipe their shoes before setting foot in the house. Add a longer "walk off" mat inside for extra cleaning.
Keep floors clean by placing a shoe tray next to the door to corral snow-crusted boots, rainy day galoshes and muddy shoes, says Hotchkiss.
Prevent "coat-litter" by taking care of coats and scarves as guests enter. Hang them on a coat rack, coat hooks or in a nearby closet, she adds.
In the guest bedroom
Keep bed-making simple by using comforters (they make up fast and easy) and a couple pillows (one soft and one firm). Placing eight throw pillows on a bed is only asking for work — from guests and from you.
Same goes for surfaces. Remove all clutter so guests can use dresser tops to hold their own stuff. Clutter-free surfaces are easier to clean.
Give guests closet and dresser space, if possible, add Smirnova. This is a sure way to keep a room neat.
Every guest room should have a wastebasket to keep trash and tissues off the floor.
RELATED: 5 things you should never do with your oven — and 1 thing you should
In the guest bathroom
Smirnova suggests storing rolled cloths in one basket and provide another for used cloths. Once a day, collect the soiled cloths for laundering.
She also suggests using liquid hand soap instead of bar soap at the sink, and using liquid bath soap in the shower. It's more hygienic and not as messy as bar soap.
We all know how annoying it is to find make-up stains on facecloths and towels. Nip that problem in the bud by providing disposable make-up remover cloths in each bathroom — and make sure to point them out to guests.
There should be a clothes hamper in each bathroom for dirty clothes and linens, says Smirnova. This keeps towels off the floor and makes collecting laundry a breeze.
In the living room
Use baskets in the living room to hold cozy throws, magazines and the TV/DVD remote controls. You can straighten a room in no time when everything has a place.
Type out basic instructions on how to use the TV remote control. This saves you time explaining it to guests, plus it spares you aggravation of getting the TV back to normal after they leave.
RELATED: 8 tips for setting your Thanksgiving table
In the kitchen
Turn in your waiter's apron and make guests feel at home with DIY beverages and snacks. Set up a beverage station so guests can make their own drinks. Include the everything they'll need for coffee, tea, cocoa or bottled drinks, says Smirnova.
Put out a basket of snacks (fruits, individual cheeses, crackers, nuts, cookies) to satisfy guests between meals. This frees you to enjoy their company instead of worrying about keeping their bellies full. Keep wastebaskets in every room for wrappers and peelings.
Finally, if guests want to help in the kitchen, let them! Just make sure the task is simple.