Small, but mighty. If there was one sentence to describe this bedroom, that would be it.
And its makeover fits that description, too.
Beatrice Fischel-Bock completely re-made her bedroom without any construction necessary. While it may seem counterintuitive to to put a wall-to-wall gallery in such a small space, the 26-year-old proved that it can add a ton of dimension and actually make it seem bigger. She created the decorative wall by arranging pieces and frames over a photo of her room using the app Hutch — a design service that she co-founded and where she currently serves as the CEO.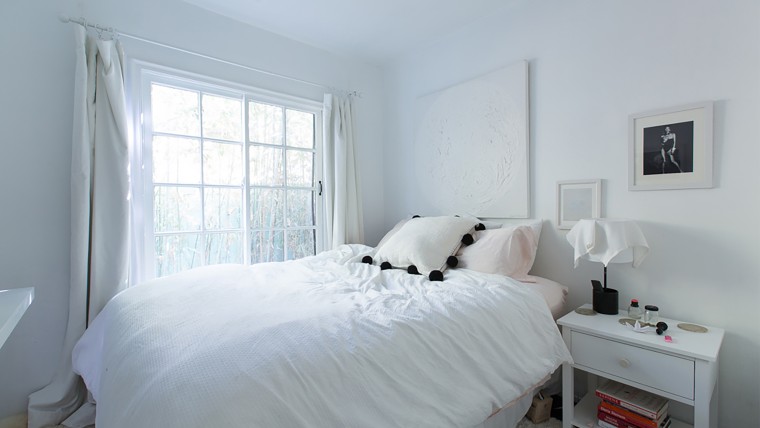 "My mom is an artist, so I have picked up art throughout the years from my travels and visiting local flea markets," Fischel-Bock told TODAY Home.
Fischel-Bock also added a few other elements to the bedroom in her Los Angeles home, including new pillows on the bed, a lamp and a nightstand. While the total budget for her room came out to $1,500, that price can vary greatly depending on which pieces of art you already own.
Fischel-Bock has a few tips on how to create the perfect gallery wall that can transform your space.
Mix it up
While it may be tempting to stick to what you know when it comes to art, Fischel-Bock urges people to integrate different types of art.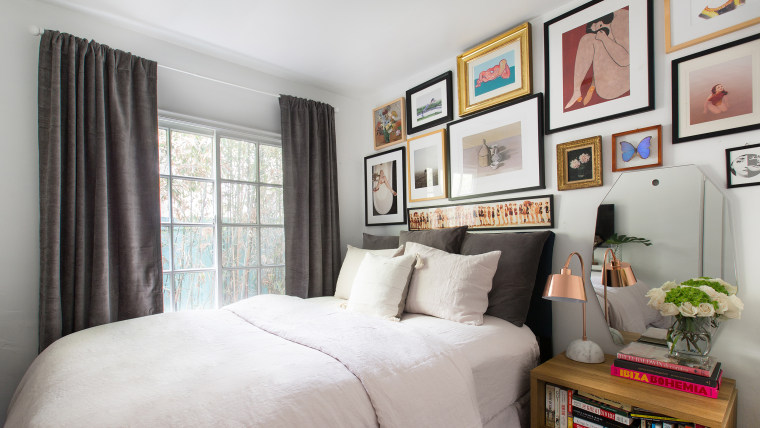 "I find the most inspiring gallery walls are created by having an eclectic mix (of pieces)," said Fischel-Bock "This can include paintings, prints, photographs and other artwork — or focus on one medium and play around with different sizes, styles and framing."
Buy art that speaks to you
While it may be tempting to grab anything you come across, especially for those just building their art collection, Fischel-Bock urges people to be selective. After all — you'll have to live with the pieces for a while.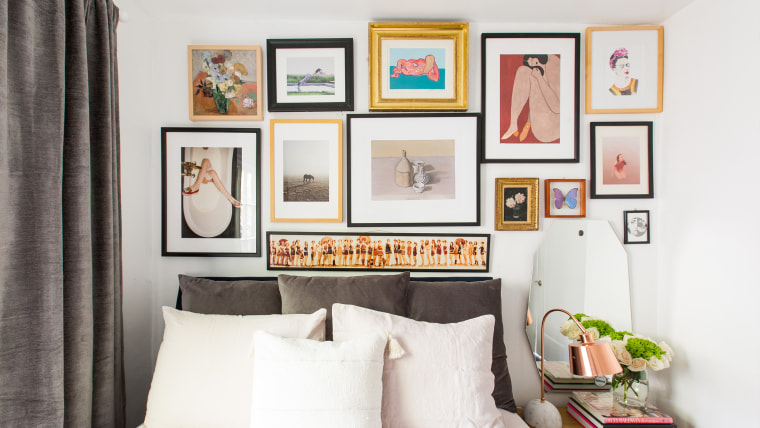 "At the end of the day, you're the one who will be living with the pieces so you want to make sure you're happy with the items displayed in your home," said Fischel-Bock. "No matter your budget, purchasing art is an investment and is very personal."
Placement is key
Once you can visualize where the pieces will go, you'll be more empowered to make bold decisions. You can use an app, like Fischel-Bock, or arrange the pieces on the floor before hanging them up.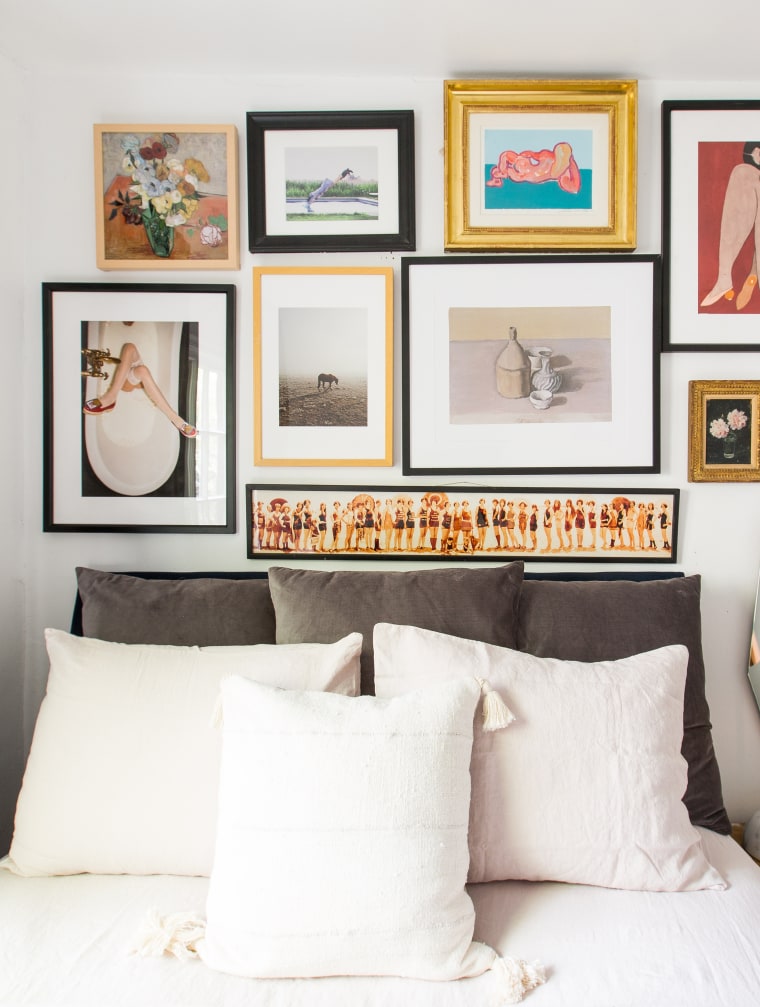 Let there be light!
To achieve ambient lighting, Fischel-Bock originally placed a towel over the lamp in her room. This didn't exactly help the room's aesthetic. And while the room was stylish before, the white and black theme left it thirsting for some color.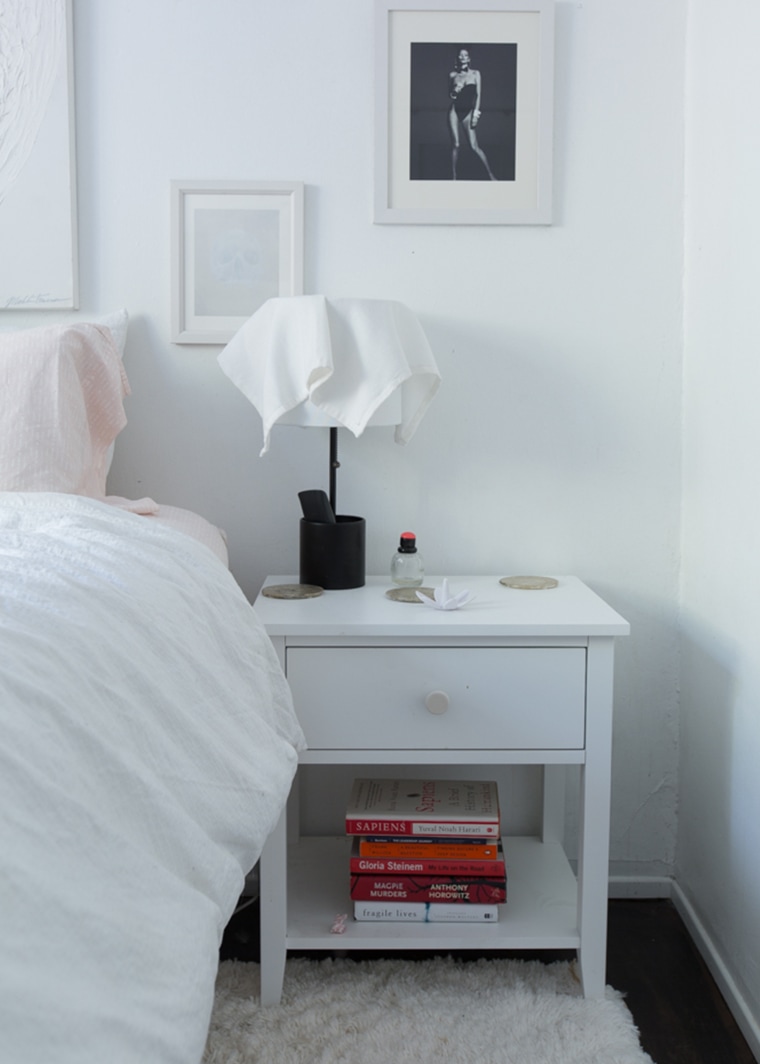 Now, her new lamp faces down, which creates a soft, ambient light that reflects off of gorgeous decorative mirror. Fischel-Bock also opted for a side table that featured warm wood tones.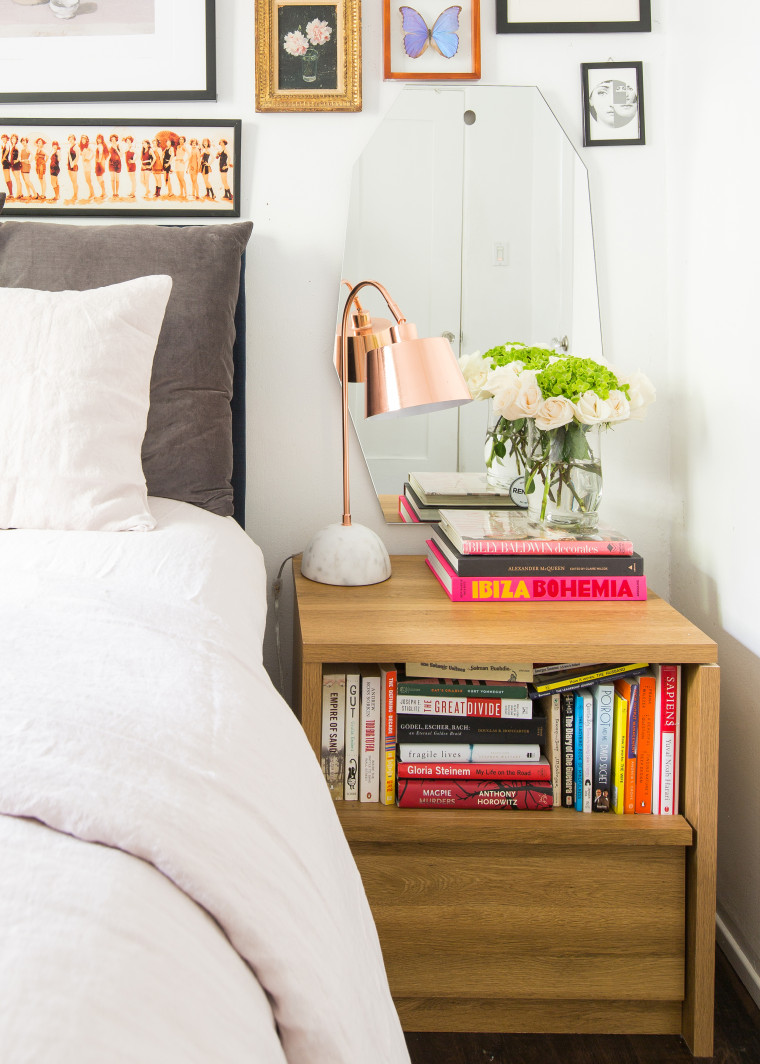 Who needs a whole renovation?!
Shop the look:
Agathe 20-inch table lamp, $65, Wayfair
Needham two-drawer nightstand, $330, Wayfair
Tadashi square velvet throw pillow, $27, Wayfair