There's three things that make an awesome Super Bowl party and it's simple to pull off: Good food and drinks, fun decorations and games the whole family can enjoy.
First things first: It's all about the food!
Everyone comes hungry so you want to be sure to welcome guests with a game day worthy spread. Be sure to incorporate team-inspired eats that represent each team.
Score big with bacon
Dips and chips are the perfect portable treats. But how about this twist on the traditional potato chip: bacon chips and dip!
There are sure to be bacon lovers at your party. To make bacon chips you simply slice thick cut bacon into 2 inch pieces. Bake in a 400 degree oven for 15 to 20 minutes depending on how crispy you like your chips. Serve with guacamole, onion dip or even veggie dip.
Edible footballs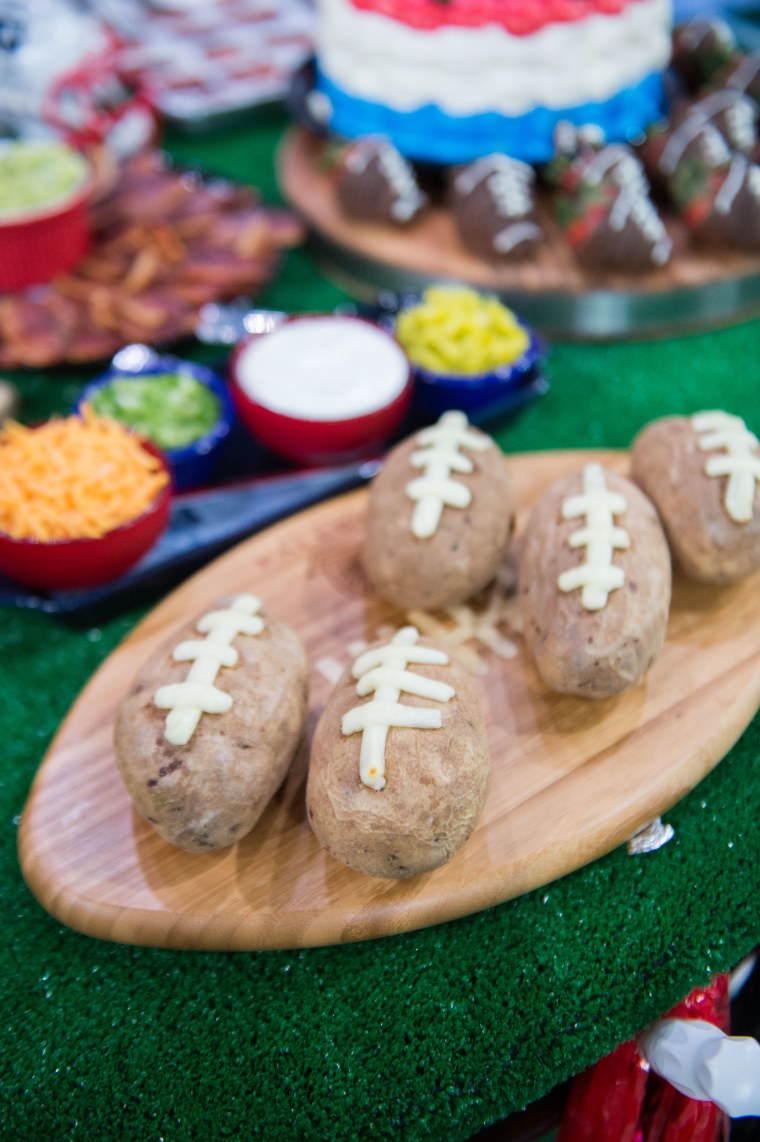 I love to set up a DIY snack station where guests can customize their eats.
Baked potatoes already resemble footballs. Just bake a bunch ahead of time (and add a little cheese for garnish) — these do double duty as a hearty snack and festive table decor.
Set out bowls of shredded cheese, sliced scallions, jalapeños, salsa, sour cream or plain greek yogurt, and fresh herbs like cilantro and parsley to put on top.
You can also create a tater tot bar, a wing bar or an ice cream bar for guests to DIY to their liking!
RELATED: Spice up your Super Bowl party with these chicken wings and skewers
Don't forget the pizza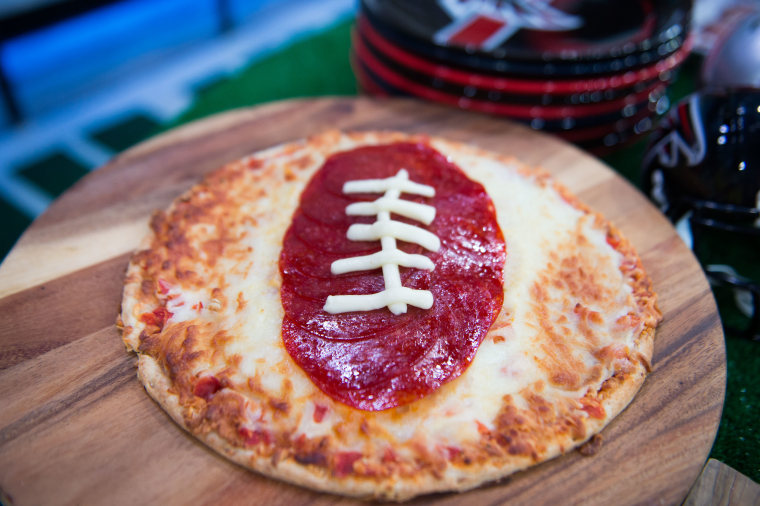 There are certain crowd pleasers you can't go wrong with and pizza is one of them. However, it only takes little touches to get your guests into the game. Simply arranging pepperoni or veggies into the shape of a football on the top of a home made or delivered pizza is as easy as it gets.
Sparring sippers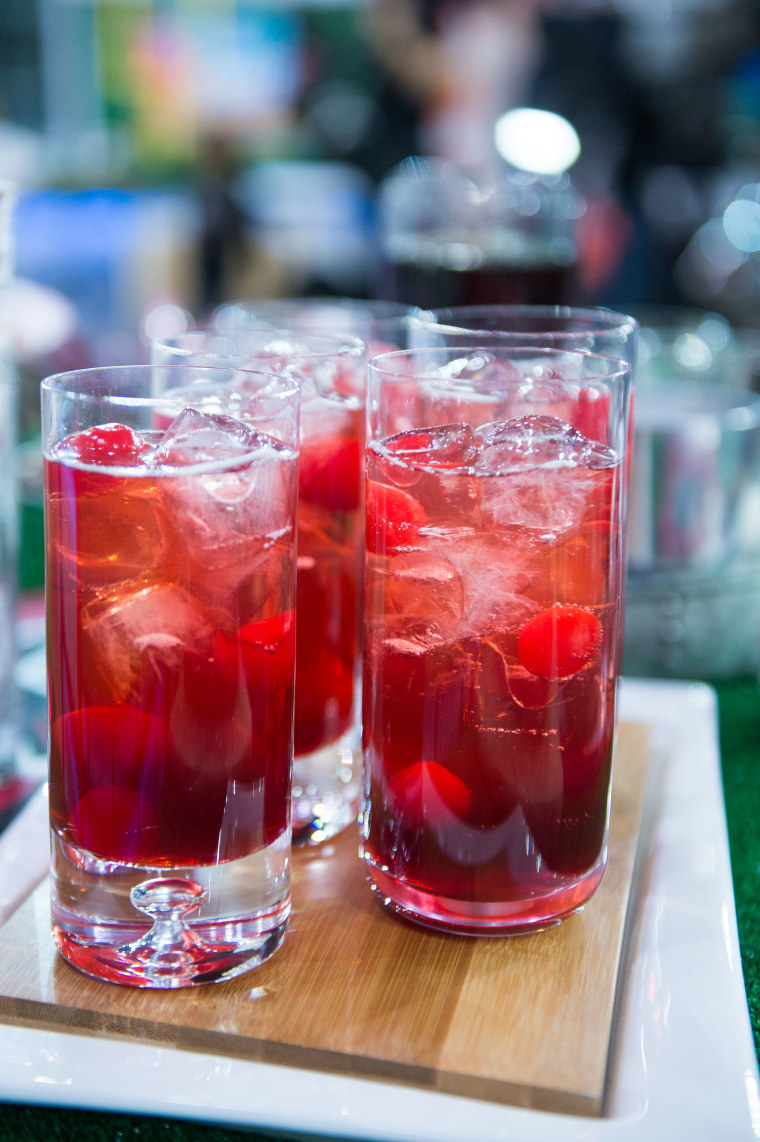 For drinks take cues from the dueling teams. Get inspired by local flavors or the colors of the teams jerseys to create cocktails and mocktails. This year we are having a taste off of the Falcons Dirty Shirley — which is an adult Shirley Temple. For the Patriots, we are serving a kid-friendly patriotic drink — the root beer float that can be tweaked for adults with just a splash of craft whiskey. Don't forget to add an NFL straw to make your drinks more fun. You can find these at www.aardvarkstraws.com.
Sweet treats are also simple to create by turning easy Rice Krispies treat into the jersey of your favorite team. Or simply use colored icing to adorn the treats and show some pride!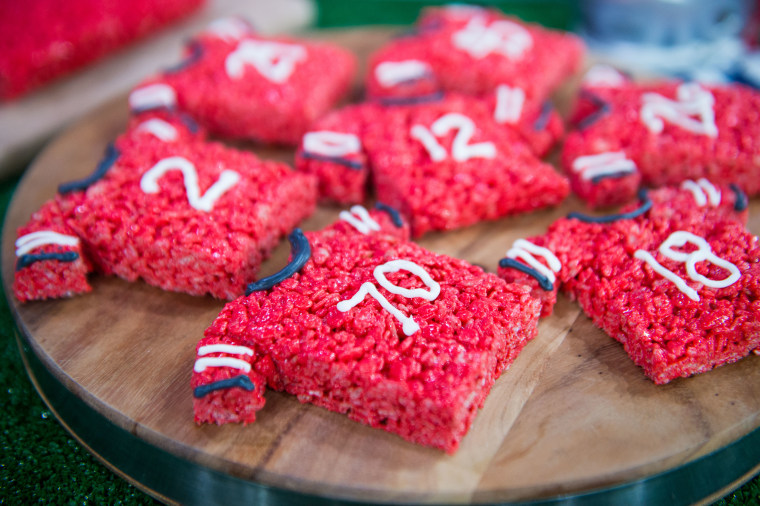 RELATED: Sweet and salty Super Bowl party snacks: Pretzel brownies, maple-bacon popcorn
Easy game day decorations
Use tailgating gear to add decorative touches to dishes, platters and tumblers too. You can find more of your favorite teams gear at NFLShop.com/Homegating.
Get into the game with spirited decor even the kids can help make. Our team-inspired garland can be easily created from store-bought pom poms or by cutting strips of party streamers and making your own pom poms. Your can hang this in front of any table top or drape it over any door. Even hang them on your front door for a game day makeover.
Create a focal point with a wall mounted balloon field goal. You can create this with colored tape or cardboard like we did here. And placing a field goal on the wall and setting out football cutouts and a blind fold for a good old- fashioned game of "Pin the Ball in the Field Goal" offers guests a fun reprieve from the TV.
More FAN-tastic fun
How about some handmade eye blacks? These easily removable accents were made by coloring mailing labels black and cutting them in half. Make a bunch and set them out for guests and encourage they take lots of selfies! Want team jerseys to show off? Go to Lids.com.
And last but not least, have some half time fun! We set up our own game for the kids to play or adults to enjoy at half time. Field goals can be purchased at party stores or simply made by assembling pieces of PVC piping. Make two different colored finger footballs so you know who is the high scorer.