A guest room is one of those rooms that can easily be forgotten about... well until you have visitors that is.
The last-minute dash to get the bed ready and the bathroom stocked before your guests arrive is always a frenzy, especially during the holiday season, but it doesn't have to be.
In fact, there are a few simple things you can do now to make sure your guest room is ready to-go, even at a minutes notice.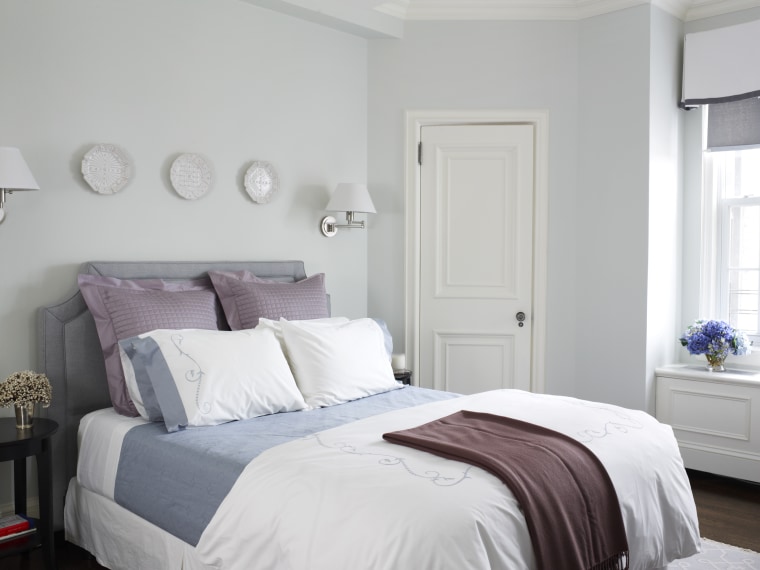 To help figure out what exactly needs to be done before the door bell rings and visitors are at the front door, Kathleen Walsh, principal of Kathleen Walsh Interiors, is sharing her top tips for creating a guest room that's truly an oasis.
1. Keep a mix of pillows
Walsh suggests putting a soft or medium fill pillow on the bed. Then in the closet, keep a firmer-filled pillow handy, so it can be switched out easily.
2. Coverlet vs duvet? The great debate
How about using both? Yes, really. Set the coverlet up and fold the duvet at the end of the bed in the summer. Then in the winter, set out the duvet and fold a coverlet or blanket at the end. When choosing a duvet, pick one with a medium weight, so it can be used all year long.
3. Reading material is a must
Keep a room well-stocked by placing previously-read magazines in the guest room instead of in the recycling bin. Also, make sure you have books handy in a variety of genres — classics, biographies and current fiction titles as well.
RELATED: How to manage the mess with overnight guests
4. It's all in the details
Nothing says we thought of everything like a phone charger at the ready. Make it a distinctive color, so guests don't travel with them.
5. Stock up on toiletries
Splurge for extra toothbrushes and small toiletries for guests to create a hotel-like experience. Set them in a pretty box or bowl, so guests can find them easily. They'll love having access to these, especially if they forgot their own at home!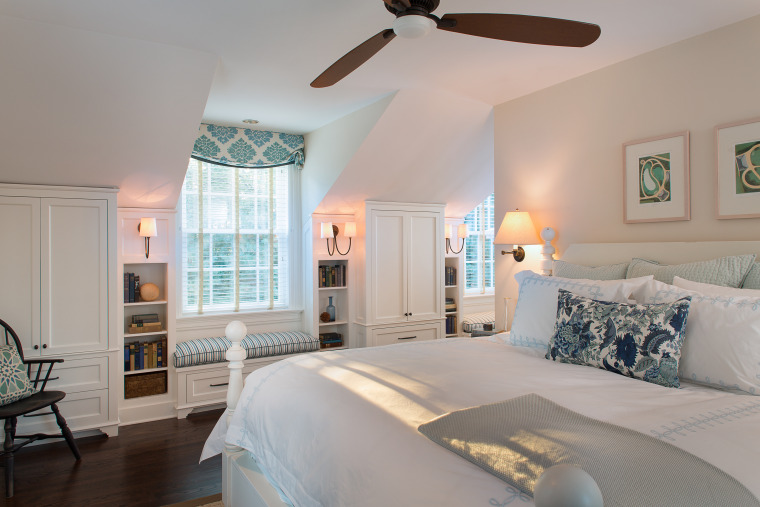 6. Add another piece of furniture.
If the room can fit it, add a comfy chair, a table or small desk. It's a lovely perk to give someone the flexibility to have some alone time in their room, whether it's to relax or do a little work. Some note paper, pens and coasters are also good things to keep nearby.
RELATED: Savannah Guthrie's guest room gets a whirlwind makeover on TODAY
7. Give the room a distinctive look
A guest room is a great place to have some fun with your home's interior decorations. Try a different style or a new design approach. It's sometimes fun to deviate from a normal color or design palette, and this is a great place to try out new ideas. And when you need a break from your own day-to-day, a guest room can become an escape for you too.
8. Skip the iron
Keep your sanity by only buying linens that can be washed in the machine. Dry sheets to 85% and let them finish on a freshly made bed — you'll have far less wrinkles that way.
9. Outdoor fabrics might be the best kept secret
On upholstered furniture, use indoor-outdoor fabrics. For the carpet, consider a high-quality outdoor rug. They will withstand any spill or stain and they look great while being comfortable underfoot!
RELATED: See this bedroom go from boring to 'breathtaking' after budget-friendly makeover
10. Stains on your towels can be avoided
Provide handy make-up wipes to help save washcloths and bathroom towels from permanent make-up stains.
11. Don't forget flowers.
Have a go-to floral arrangement that you can pick up in a flash. If not, a bunch of a single flowers will always do the trick. Just remember not to get anything too pungent!
Kathleen Walsh Interiors (kathleenwalshinteriors.com) is a collaborative design studio based in New York, NY that specializes in residential interior design. KWI's work has been published, most notably, in Architectural Digest, New England Home, Boston Magazine, Wall Street Journal and Lonny, among others.