With the change of seasons often comes the switching out of clothes. If you change over your wardrobe a few times a year to accommodate warmer or cooler months, you'll know what we mean. But it got us thinking — while you're switching out your closet, why not switch out some artwork, too? Fall is a great time to redecorate, and, according to our friends at Martha Stewart Living, your next favorite piece of art might already be hanging out in your closet — silk scarves!
"We love a beautiful focal point in a room but don't want to spend a lot of money," said Katie Covington, Martha Stewart Living's Senior Style Editor. "I came across these floating frames and found them to be so versatile."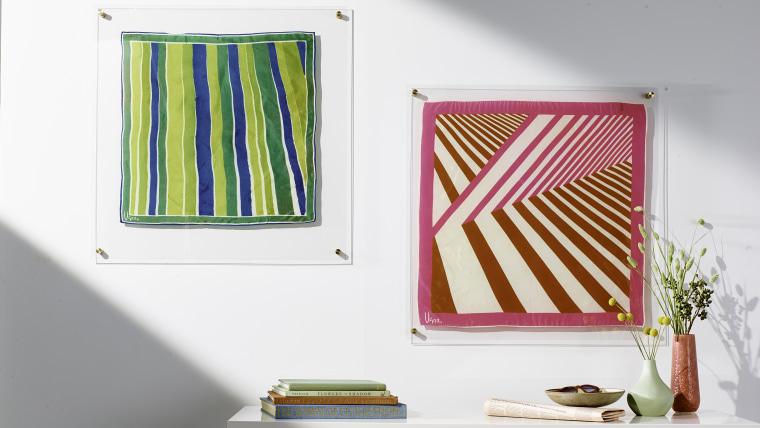 RELATED: Glitter grout exists, and yes, it will make your house sparkle
But the kicker is what goes inside them. "Many of us have scarves that we'd collected or been given as gifts that we love, but are collecting dust in our closets," she said. "So we decided to frame a collection of them. Scarves are a smart way to bring personality, print and pattern into a room."
Scarves-as-art has been done before, often by stapling the scarves to a canvas or attaching them to a mat to be used in a standard frame. But the beauty of using the floating frames is that you don't have to mangle your wardrobe in order to enjoy the view.
"When you're ready to switch up the art in your home, your scarves can go from the wall back into circulation in your closet," said Covington. "The frame uses tension instead of staples, glue or anything that could harm them."
And there's no fussy guesswork over sizes. "Anything over 12 inches and under 36 inches works well," she added.
RELATED: 7 things to ditch from your bedroom right now
That's right, just swap 'em out. This wall art is one hundred percent seasonal.
So what's the look for fall 2016? "We love mixing tonal colors that feel slightly off — think nude and brick or indigo and slate blue," said Covington. "And we're not afraid to pair complimentary patterns together."
They are not afraid. And neither are we.