With only baking soda and white vinegar, you have a stellar "green combo" for many household cleaning chores. Whether you're tackling a grimy oven or sprucing up your countertops, these earth-friendly products are great alternatives to harsh chemical products. We asked green cleaning expert Leslie Reichert to share some of her favorite baking soda and vinegar recipes. They'll do the job, save you money and help the environment — all at the same time.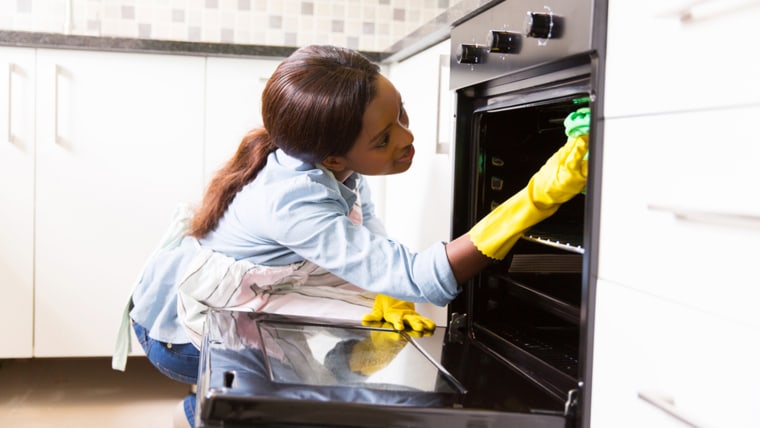 Carpet spot-cleaner
Blot spills from carpet. Spray soiled area with a mixture of equal parts water and vinegar. Blot with a towel. Repeat until spot is gone.
Coffee makers
Run vinegar through the brew cycle. Fill reservoir with water. Run through brew cycle again.
Counter cleaner
1 cup water
1 cup white vinegar
8 drops lemon essential oil, optional
Mix ingredients, then spray on counter. Wipe with a microfiber cloth. For extra power, heat the mixture in the microwave until it's warm. (Do not use vinegar on sealed granite, marble or other sealed stone countertops.)
Cups and mugs
Fill with one part baking soda to two parts water. Let it sit overnight. In the morning, wipe away stains with a sponge.
Fabric softener
3 cups white vinegar
½ cup water
½ cup baking soda
8 drops of your favorite essential oil, optional
Mix water and vinegar, then the mixture heat in microwave for one minute. Dissolve baking soda in mixture. Add essential oils if fragrance is desired. Use in the wash cycle as you would commercial softener.
Glass and window cleaner
1 tablespoon white vinegar
1 quart of water
Mix and spray on glass. Wipe with microfiber cloth.
Oven cleaner (not for self-cleaning ovens)
Method #1:
Scrub bottom and sides of oven using baking soda and steel wool.
Method #2:
1 cup baking soda
2 cups white vinegar
Pour vinegar into a spray bottle. Sprinkle baking soda onto bottom of oven. Spray with vinegar to make a light foam. Keep baking soda moist by spraying vinegar as needed. For sides of oven, mix baking soda with water to make a thick paste. Spread this on sides then spray with vinegar. Allow it to sit for as long as you can. Wipe off and rinse with hot water.
Pots and pans
To remove burnt-on food, sprinkle baking soda over the burnt area, add hot water and let sit overnight. In the morning, scrub with an abrasive sponge or Teflon scrubbing cloth.
Shower walls, doors and curtains
To prevent mildew from forming, spray walls, curtains and shower doors with white vinegar after showering.
Sinks and bath tubs
Simply spray with white vinegar and wipe!
Sneaker deodorizer
Sprinkle baking soda in sneakers. Allow to sit overnight. Shake out baking soda before wearing shoes.
Towels
Smelly towels are often caused by detergent build-up. To freshen smelly towels, wash in hot water and one cup vinegar, then again in hot water and ½ cup baking soda. Reichert recommends not using laundry detergent during this process. Detergent stays in the towels, even after rinsing, and can hold the smells.
What not to clean with baking soda and/or vinegar:
Do not use vinegar on anything shiny as it is an acid, and, over time, can remove the shine.
Do not use vinegar on sealed countertops such as granite or marble. It won't hurt the stone but it will slowly remove the shine.
Don't use baking soda as an abrasive scrub on surfaces that scratch easily.
When in doubt, first test products on a small, inconspicuous part of the item to be cleaned.