One of the hottest properties in the world of fiction is Christian Grey's penthouse in the "Fifty Shades" book trilogy, which kicks off its movie career this Friday — just in time for Valentine's Day.
Grey's character lives in Seattle's chic Escala high-rise building, which has neither the helipad nor the red room of E.L. James' fictional account — but which has attracted hordes of tourists since the first book's release in 2011, not long after the building went up.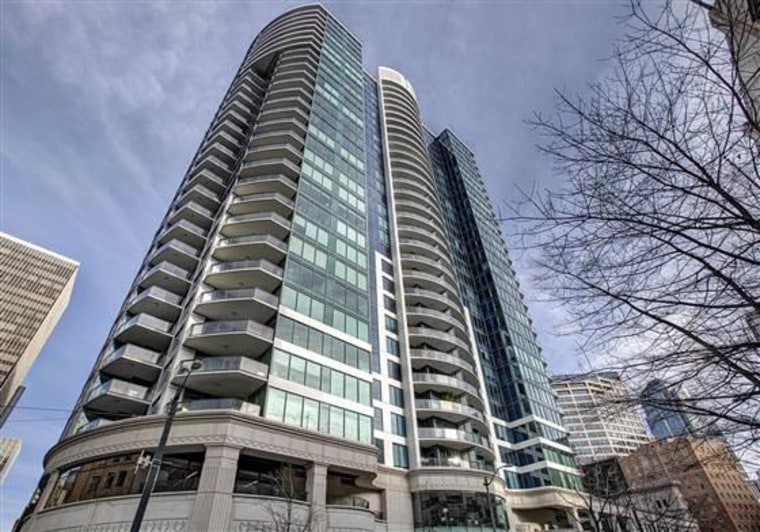 "Typically when the weather's good and tourist season is at its height, we see lots of college-age gals and a lot of times their mothers taking pictures in front of the building and wanting to see the room," says sales manager Erik Mehr of Erik Mehr & Associates, which has sold 264 of Escala's 270 new units. That doesn't include buying and selling by already established residents.
Escala properties have always sold for more than the average Seattle condo, but last year went for $882,500 on average, which is two-and-a-half times the city's median, according to The Seattle Times.
But Mehr doubts Christian Grey has much to do with it. "People are not making million-dollar purchasing decisions based on a book," he says.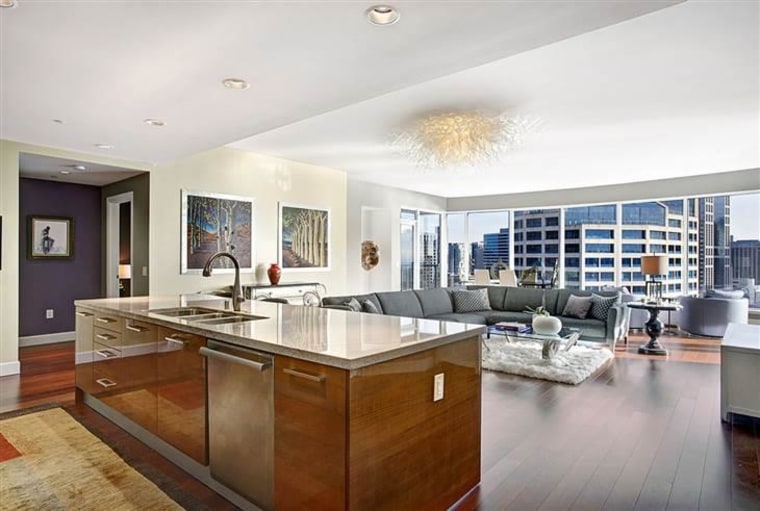 The six new units that are still available are all penthouse shells, meaning they're on the top two floors and need to be built out by their owners. Prices range from $1.8 million for a 1,900-square-foot shell to $6.7 million for a 5,100-square-foot unit.
Because they're shells, there aren't great visuals, but a $1.925-million listing on the 24th floor, shown above, gives some sense of Escala living. This particular two-bedroom, two-bath condo has cherry floors, hand-blown glass art chandeliers and Italian cabinets. It's currently under contract.
"I've flipped 11 condos in downtown Seattle and lived in all of them, and this is really the best managed building," says Paul Kelly, co-director of Tacoma School of the Arts.
Because of a long commute, Kelly is renting out his Escala apartment at the moment and had planned to flip it, but decided he'd rather hold onto it and move back when he retires, if not sooner.
He's had a bit of fun with the building's "Fifty Shades" lore, auctioning off dinners in Escala's "wine cave" to benefit the Tacoma nonprofit Elements of Education.
One raffle winner chose dinner and a tour for 12 at Escala over more lucrative prizes including two tickets to anywhere Alaska Airlines flies. Another person paid $2,600 for the same package.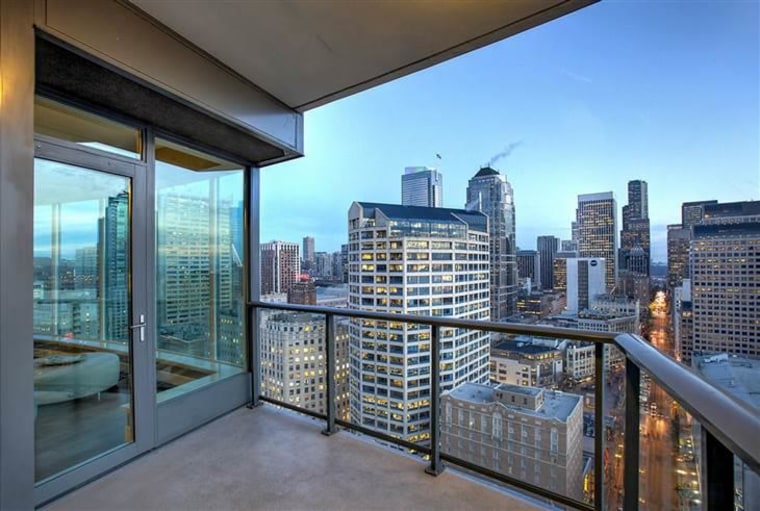 Early Escala resident Roberta McKay left the building for true love — she got married — but misses her years overlooking downtown Seattle. The glamour and beauty of the building, along with its views and the private or semi-private vestibules off the elevators, were "fantastic, and I felt so safe."
Still, letting the condo go had its pleasures. "It was shockingly profitable," McKay notes.
Related: