According to the insurance company Chubb, homeowners are more likely to experience water damage during the winter than any other time of year.
Get Jeff Rossen's new book, "Rossen to the Rescue," here.
"In the wintertime, the water in the pipes gets cold; it freezes," Jim Magliaro, Risk Consulting Technical Leader at Chubb, told TODAY national investigative correspondent Jeff Rossen. "Water goes everywhere."
How can you prevent damages that could potentially run to thousands of dollars? At the Paul Davis Commercial and Home Restoration "flood house" in Jacksonville, Florida, Magliaro shared some simple tips:
Insulate your pipes. You can buy simple insulation for about 25 cents a foot.
Replace rubber hoses. Check your washing machine to make sure the hoses aren't rubber. Steel-braided hoses are inexpensive, costing about $10 each.
Know how to shut off the valve under your sink. "Once a week, you look under the sink and you look for any puddles of water and move your hand along the pipes to see if there are any leaks," Magliaro said. If there are, shut off the valve.
Check for puddles behind your refrigerator. Many refrigerator leaks are due to the water line that feeds the refrigerator. Magliaro suggests you pull your refrigerator out once a month and look for puddles behind it.
Know how to shut off your water main. With the holidays approaching, many of us are leaving for vacation or visiting family. Experts say if you're heading out of town, you should shut off your water main. It's an easy way to prevent major leaks or bursts while you're away.
The main water shutoff valve is usually located at the point where the main water line enters the home. In homes with basements, it is usually in the basement. In homes that are on a crawl space or slab, it can be in the garage (if one exists), in a first-floor utility closet, or, in many Southern climates, outside of the home.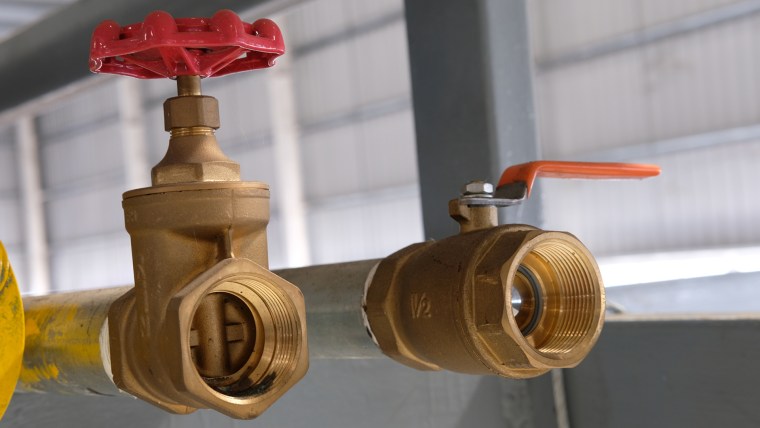 There are typically two types of shutoff valves to a water main: a gate valve (shown left above) and a ball valve (right above). Either is still used today, but the ball valve is becoming more popular. A ball valve is easier to use and shuts off water a little more quickly. With the ball valve, if the handle is in line with the pipe, it is in the "on" position; if perpendicular to the pipe, it is off.
To suggest a topic for an upcoming investigation, visit the Rossen Reports Facebook page.