Olive & Tate blogger Stephanie and husband Justin lived with their infant son and their dog in a home with a teeny tiny kitchen.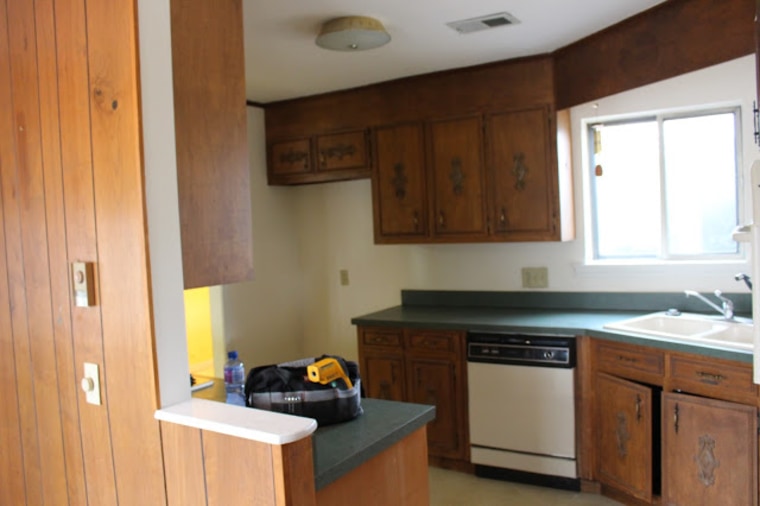 The room was dated by dark woods that made the snug space feel even more claustrophobic.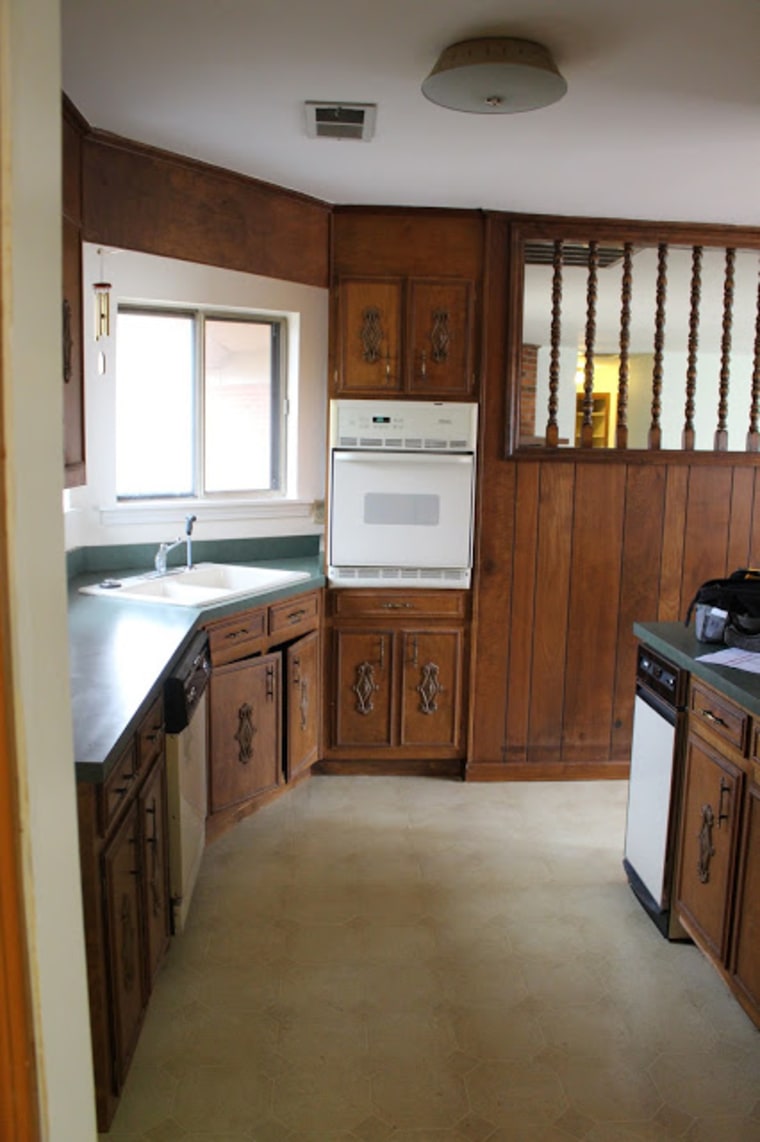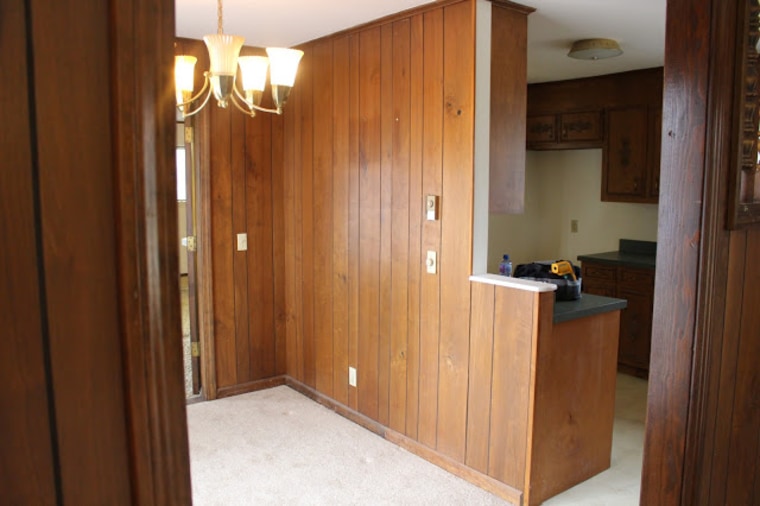 When it came time for an overhaul, Stephanie's wish list for transforming the room was robust: She wanted an open floor plan and sight line from the sink to the playroom and family room, a huge island, tons of power outlets, specific drawers for spices and trash, and several other additional must-haves. It was a tall order.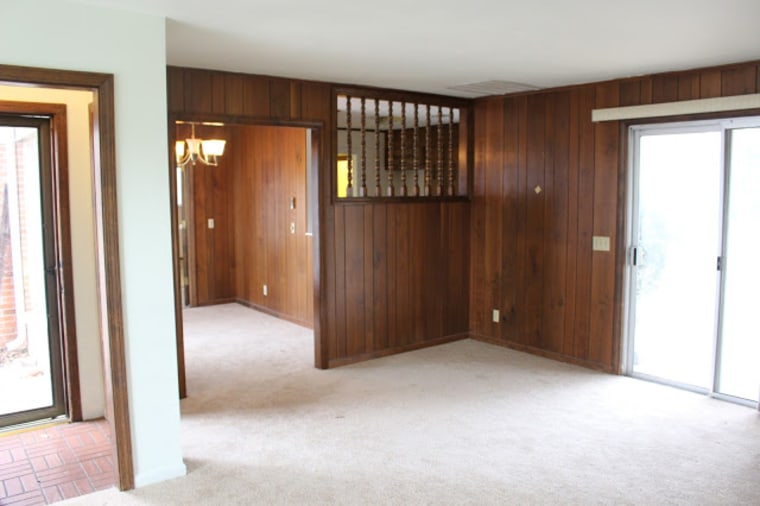 But using their own know-how for the design, layout, and finishes, plus the help of a contractor, the family created a new space equally gorgeous and functional for a modern family.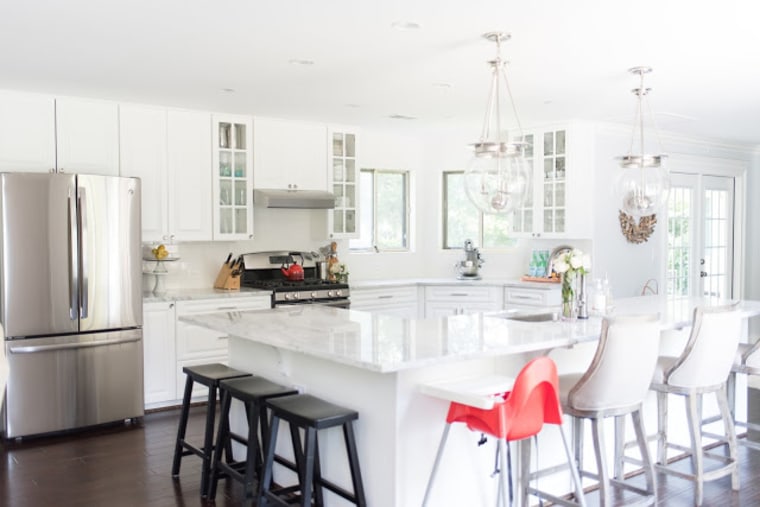 Here's how they pulled it off.
Space saving
Originally, the family's kitchen was shaped strangely. It was a galley-style room with an irregular angle under the windows. Stephanie and Justin rounded out that angle and extended the cabinetry to combine the dining room with the kitchen. That also gave the room extra counter space and a more pleasing visual appeal.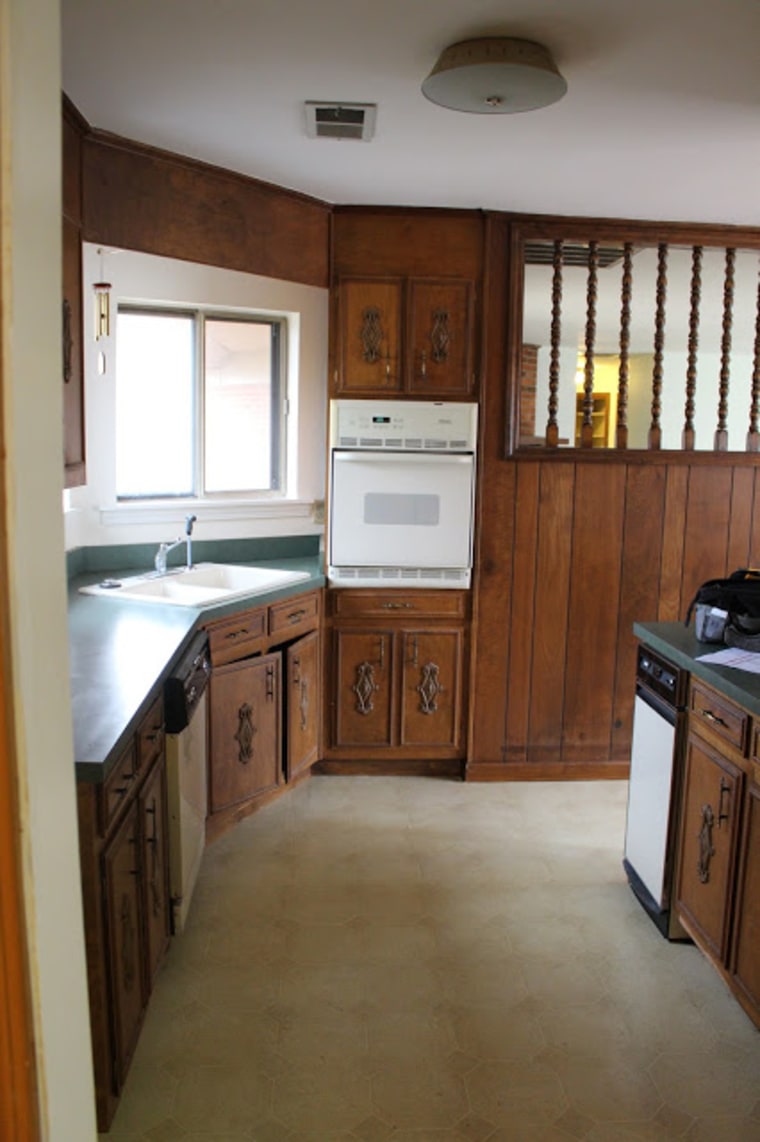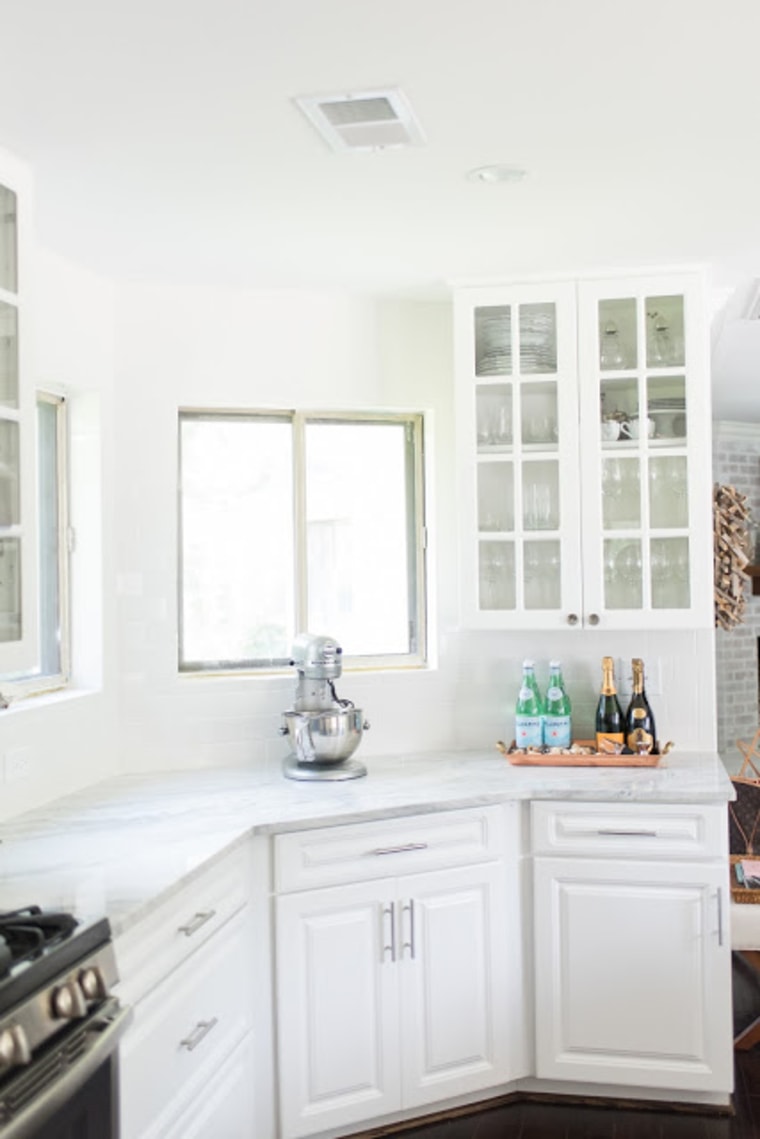 Dreamy displays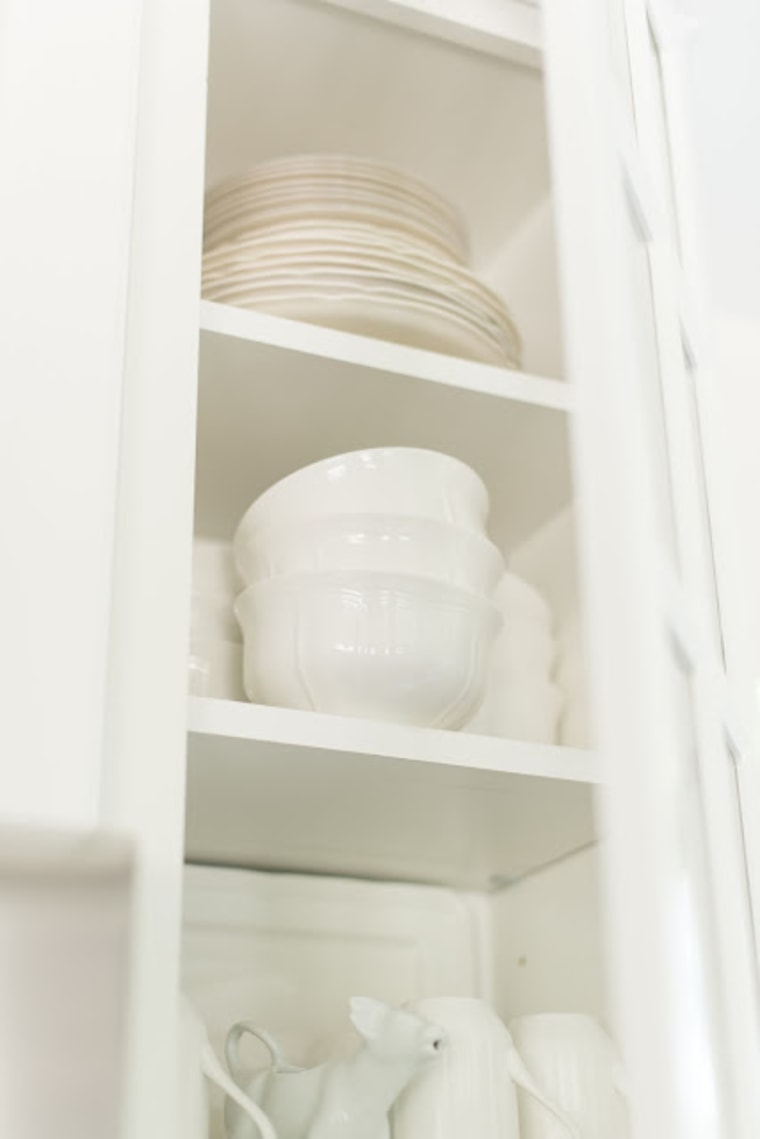 The family owns three sets of china — the couple's wedding china, Justin's mother's wedding china and Stephanie's grandmother's wedding china — so as part of the remodel, they knew they needed a few glass cabinet doors to show it all off.
RELATED: See this kitchen go from 'dysfunctional' to dreamy after an IKEA makeover
"I love that the glass breaks up the working wall and keeps things light," she wrote on her blog.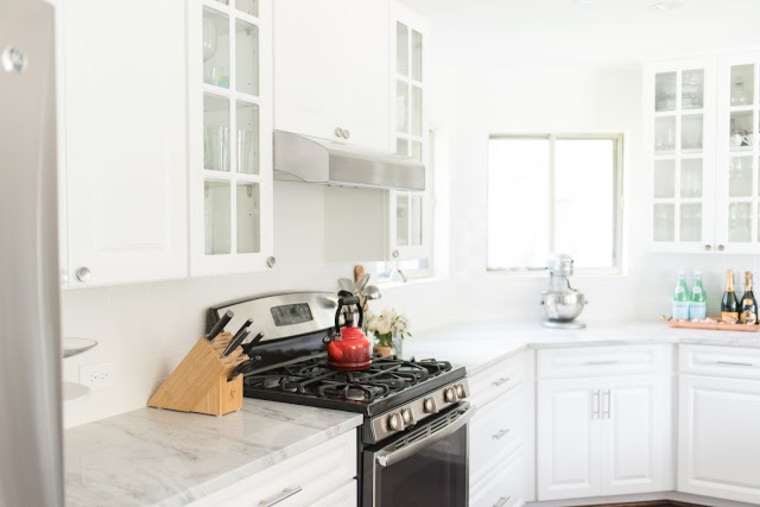 She got the look with pre-fab Home Depot cabinets mixed with custom ones. They kept cabinet knobs traditional, but mixed things up a bit with designer knockoff drawer pulls.
Island time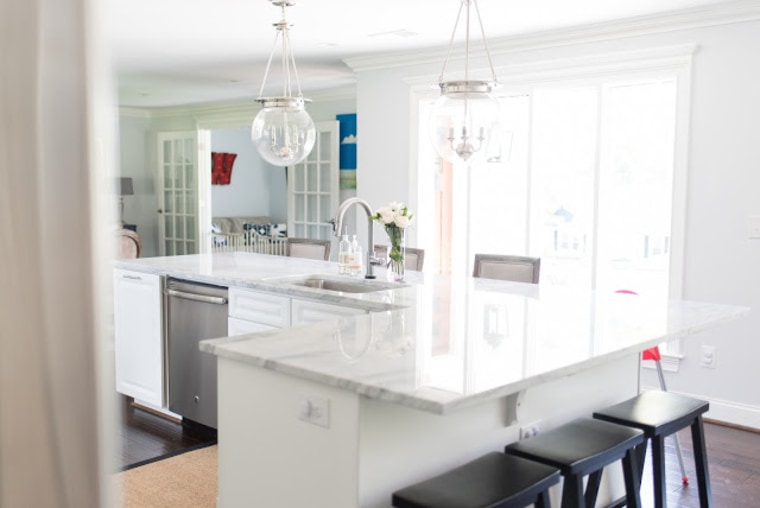 The pair worked with their contractor and drafter to ensure the room was as functional and as open as possible. "But their biggest task," she wrote, "was humoring my giant island concept."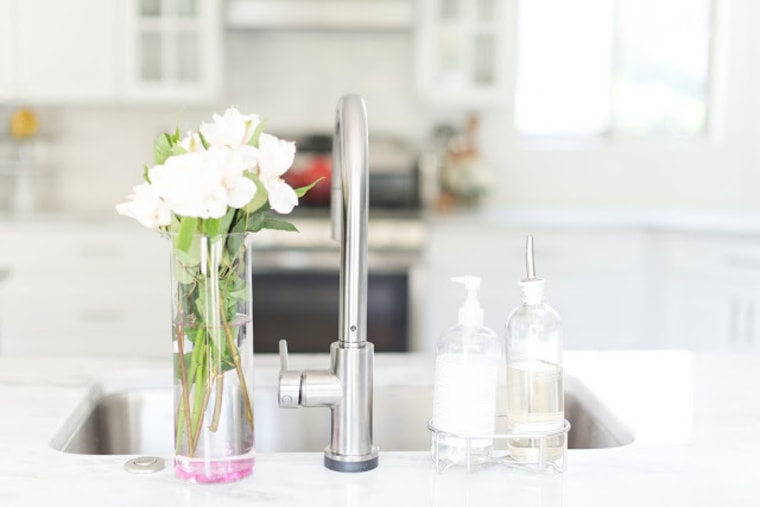 She wanted the island to seat a large number of people, as well as house the sink, dishwasher, trash drawer and under-mount microwave. Oh, and it needed to offer clear sight lines to the home's main living spaces from the sink.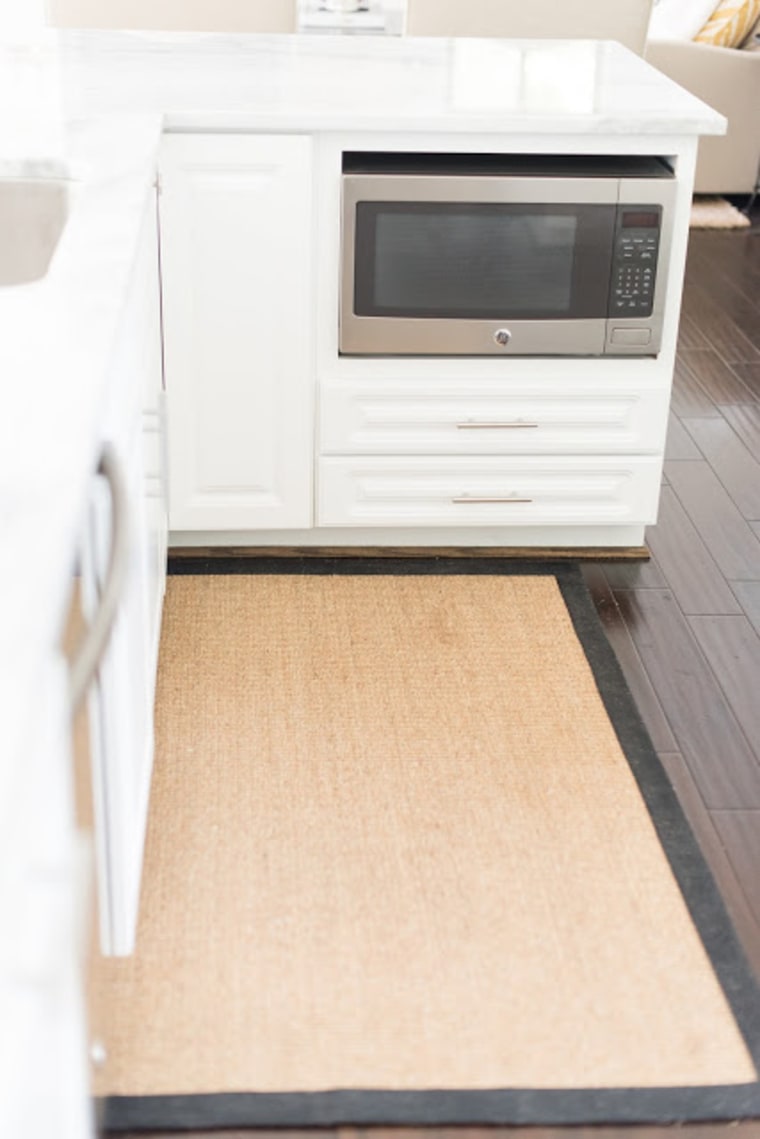 In the end, she didn't have to compromise a bit: The completed kitchen island seats seven adults (or six adults plus a high chair) in total comfort. The family chose counter-hight stools to go along with the island and keep those sight lines open.
"I love how the wood of the gray bar stools is a perfect match to my dining room chairs and marries the two spaces together," she wrote of the pieces she found on Overstock.
A worthy challenge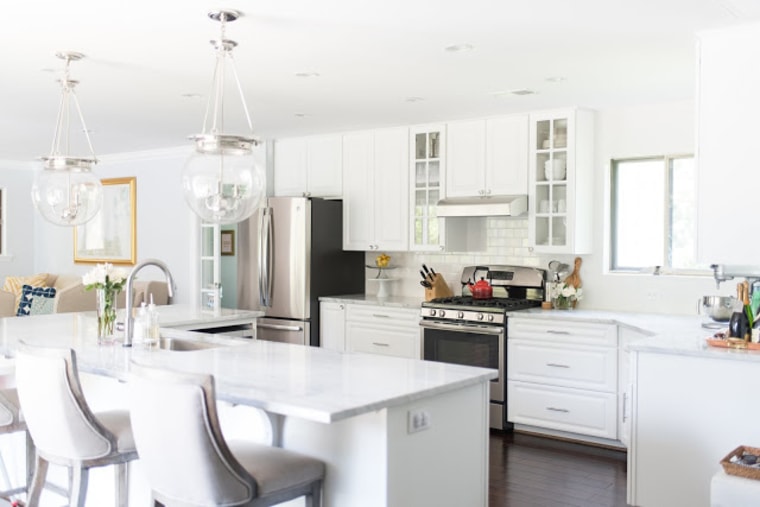 Undertaking a massive home renovation is rarely a walk in the park. In this case, the family planned for a three-month renovation, and moved out of the home and into an apartment for that length of time. But — as inevitably happens — the project went long, meaning the family lived in a construction zone for more than a month.
RELATED: See this 217-year-old home-turned-hospital get a massive transformation
But Stephanie describes the project as 100-percent worth it.
"As much as I hated this reno process, I do love the final outcome of this space," she wrote. "I had a very strong vision and am glad that everyone eventually gave in to my wild ideas. It was a battle but this one was worth it!"
Photos by Christa Rene Photography. Alesandra Dubin is a Los Angeles-based writer and the founder of the lifestyle blog Homebody in Motion. Follow her on Facebook, Instagram, Google+ and Twitter.