Every now and then, a property owner builds on a spot or refuses to budget from a location that's decidedly unusual or inconvenient for neighbors, the city, a developer — or sometimes, their mother.
They're called spite houses.
One of the earliest went up in 1830 in suburban Washington, D.C. when a man became so fed up with horse-drawn wagons and loiterers using his side alley that he built a 7-foot-wide home on it.
A man in early 19th-century Maine built a house to overshadow his mother's, because he thought she was trying to disinherit him. (That'll help.)
Then there was the fellow in 1925 who became so incensed at neighbors who refused to pay what he considered a fair price for a slice of land, believing it was too small for him to build on, that he went ahead and built on it.
But Edith Macefield outdid them all.
A self-professed World War II spy and big-band musician, she refused to leave her home of 50 years even when a developer offered $1 million.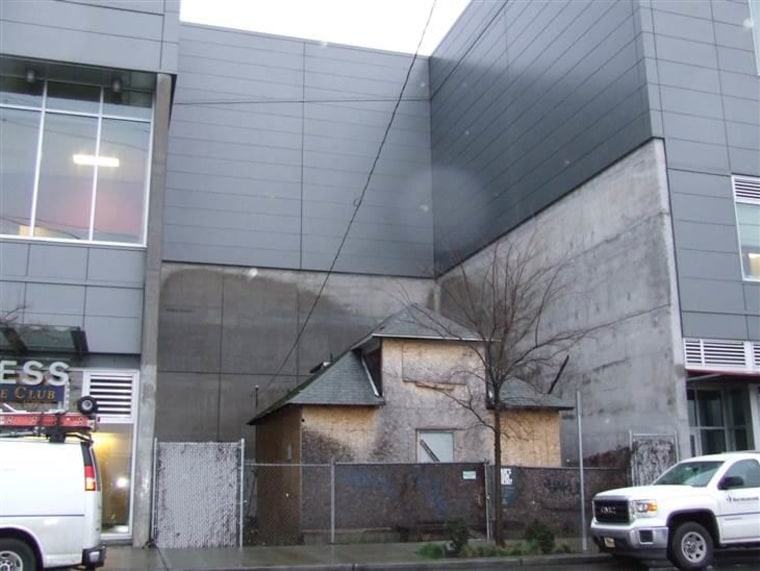 "I don't want to move," she told the Seattle Post-Intelligencer (PI). "I don't need the money. Money doesn't mean anything."
Macefield lived in the 1,050-square-foot home while a towering concrete mall went up around it — a Trader Joe's on one side and LA Fitness on the other.
She died in 2008, at age 86, a year before her chutzpah was commemorated in promotions for the Disney movie "Up."
For a spite house owner, Macefield didn't have much of the requisite emotion. She befriended the construction superintendent, Barry Martin, and eventually willed him her house, according to the Seattle P-I.
Martin sold it in 2009, and for a while it reportedly housed a real-estate coaching business. Now the home is boarded up, and a foreclosure notice says it's due to be auctioned in March.
Related: