Spring is around the corner and that means spring cleaning (and organizing) is about to kick off. Real Simple magazine's Sarah Humphreys stopped by Studio 1A to share some tips and tricks to help kick your home into gear.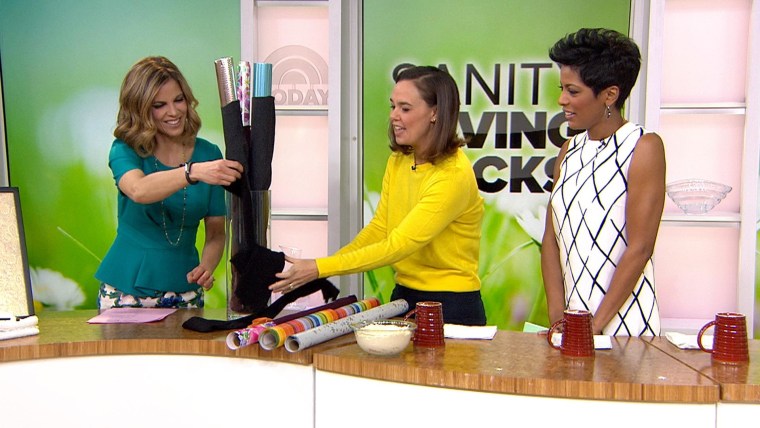 To store wrapping paper
Instead of dealing with gift-wrap rolls denting, ripping and unraveling before your eyes, slide a cut leg of tights over a roll and it will stay put until you're ready for it.
To iron those shirt collars
The last thing you want to do in the morning while rushing to get out the door is to take out the ironing board, plug in the iron and wait for it to heat up to tackle shirt wrinkles. Fortunately, you don't have to. Humphreys recommends getting creases out of shirt collars, cuffs, plackets and hems by simply using your flatiron. Just make sure to wipe any styling product residue off of the tool before using it.
To remove stickers off of dishes
Is residue from price stickers still hanging out on your dishware? No longer! Grab some mayonnaise and rub a dollop onto the sticker. As you rub, the oil from the mayonnaise will lift the sticky residue.
To open clamshell packaging
Plastic product cases can be a headache to open, but they don't have to be. One easy fix is to clamp a can opener onto the top-right edge of the back of the package, then cut around the perimeter.
To clean Champagne flutes
Champagne flutes are too tiny for human hands to get in there and scrub, so instead, fill a bowl with water and soap, then fill the flute with the sudsy mixture. Once its filled, add in a pinch of uncooked rice and swirl it around. The abrasiveness of the rice will remove any residue.
To write down your to-do list
Still searching for that sticky note that features your to-do list? Instead, Humphreys suggests framing a piece of wallpaper or fabric in a frame. Then, using a dry-erase marker, jot notes down directly on the glass surface of the frame. You can wipe off the marker with an eraser or damp cloth and continue using it daily.