As a person who already lives with two other humans in a 900-something-square-foot apartment, I didn't care about the "tiny house" trend when I first heard about it. I'm usually trying to figure out how to get more space, not give it up.
But the more I saw about the miniature homes and the people who swear by them, the more I wanted to try one. After all, I'd already bought into the gospel of Marie Kondo and fallen in love with purging my stuff. What was getting rid of a few more square feet if it meant unlocking a better state of mind?
So I packed up my husband, 8-month-old baby and as little stuff as possible (still somehow filling the trunk of an SUV) and drove to the woods to see if we could hack it in a tiny house.
If you've flipped on HGTV or scrolled the internet in the last few years, you've probably caught at least a glimpse of this tiny home craze — houses are typically under 400 square feet and cost tens of thousands of dollars to build, as opposed to hundreds of thousands.
WATCH: 24 hours in a 204-square-foot tiny home
They attract all kinds of residents and devotees, from the college student who moved into a 145-square-foot home so he could graduate debt-free to the family of four who said their 196-square-foot home helped them spend more quality time together.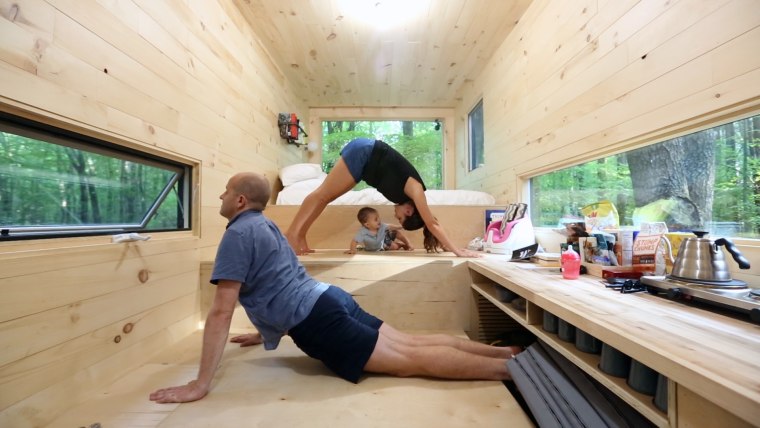 For those like me — who are curious about tiny home living but have trouble fathoming how it could really work — several rental options have popped up, giving non-committers a chance to test the waters before taking the plunge.
One of these is Getaway, a Boston-based company that rents eco-friendly tiny houses in the woods near a handful of cities for as little as $99 a night. The Getaway experience combines the sheer smallness of the home with the larger philosophy of the tiny house movement, which is to learn how to let go of material things and live a bigger life with much less stuff.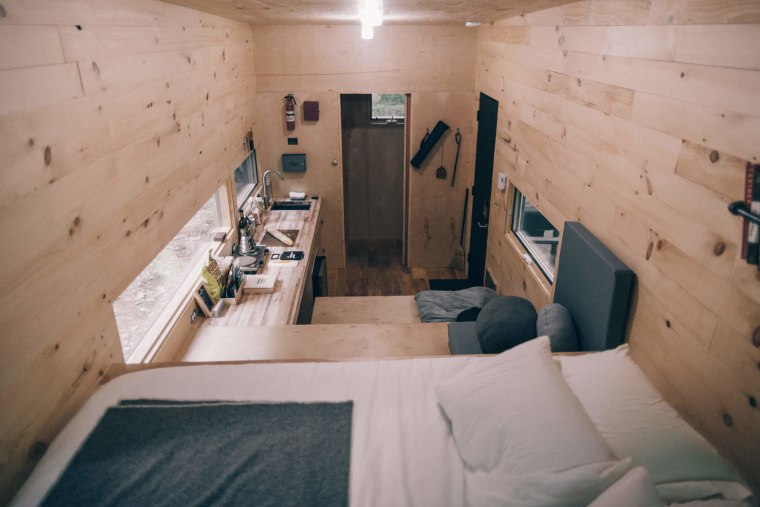 Our tiny house was built on an 8x20-foot trailer with a cantilevered addition on the back, creating a total of 204 square feet of interior space.
It looked like one long room, but the space was subtly divided by tiered platforms into four different living areas: a "bedroom" in the back, a lounge area in the middle, a dining room and a kitchen/living room. The bathroom, right off the kitchen, was separated by a retractable thin wooden door and came with a space-age toilet that shrink-wrapped each flush and disposed of it NASA-style to minimize water usage.
Despite all these things being compressed into one place, the "house" — it really feels like house should be in quotes here — didn't feel claustrophobic, thanks to high ceilings and huge windows that let in lots of light.
We settled in, arranging our bags as neatly as possible so they wouldn't take up valuable space, and tried to live our best tiny home life. We surrendered our cell phones to a lockbox to minimize interruptions and tried to enjoy quieter activities like yoga and reading. We cooked a simple dinner on the kitchen's hotplates and ate side by side at the counter, which doubled nicely as a dining table.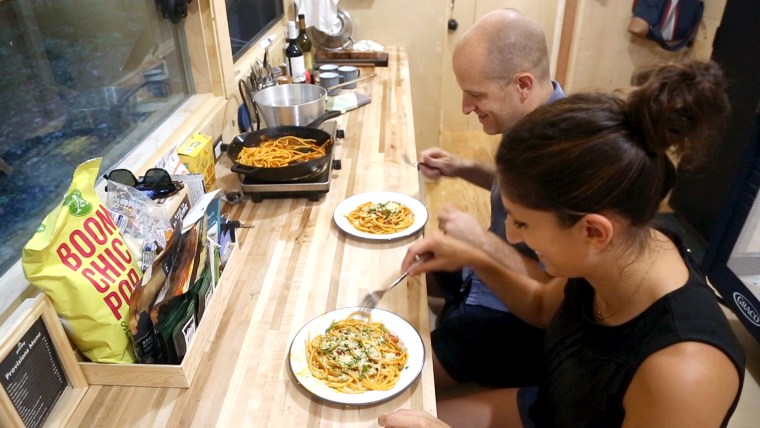 Of course, a tiny house doesn't feel so tiny when you have the wide open space of the woods as your backyard.
When things were going great — I happily chopped vegetables while my family took a nice nature walk, for example, and we ate a delicious dinner as the baby played happily in his Pack 'n Play — I felt totally seduced by tiny home life. It was so cozy and simple, and I loved that we didn't have to shout across rooms to hear each other or fight technology for each other's attention.
After dinner, in lieu of watching TV or wasting time on the internet, we sat and talked to each other, and even played that infamous 36 questions game we'd never had time to try before. Then we read and relaxed against the backdrop of an incredible lightning storm, which broke open the sky outside our giant window.
But sharing such a tiny space when you're used to having more room, particularly with a baby, turned out to be a major challenge. He didn't have the freedom to roam that he's used to, and though we tried to tiptoe around each other, we couldn't help but disturb him — which he paid us back for by waking up in the middle of the night and again at 5 a.m. And unlike at home, there wasn't anywhere to hide the noise. When one of us was awake, we were all awake.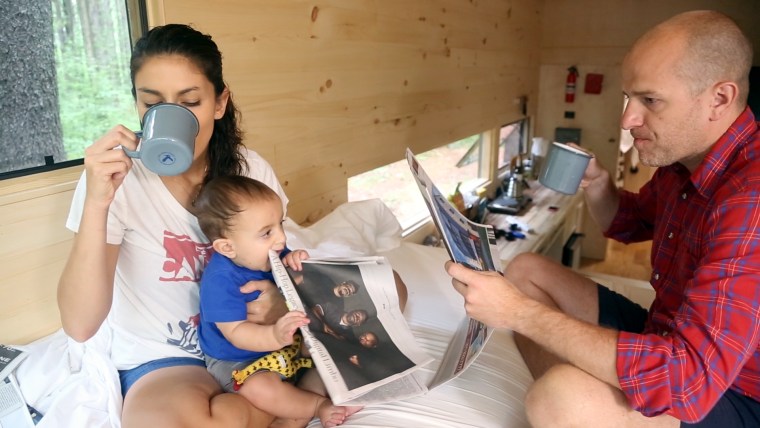 The Getaway experience was essentially glorified camping — or glamping, I guess, if you think it's glamorous to pee within earshot of your roommate. I'd definitely recommend it, or a similar tiny home trial, to anyone looking to disconnect from normal life a little bit, since I think it's always freeing to shed your stuff and see how little you actually need.
In the morning, as we heated water on the hotplate to make coffee and spread out the newspaper in our "bedroom," I realized I'd be happy to live in a tiny home — if it was just me.
My husband, ever the pragmatist, couldn't even imagine that.
"I'd live here," he said, "if it was three of these tiny houses put together."
For more from TODAY editor Meena Hart Duerson, find her on Twitter here.