One of the most iconic TV home sets has to be "Full House," which first premiered 32 years ago this month.
When the Tanner family lived there in the late '80s and '90s, the living room boasted a blue-checkered sofa, bucket chairs and an open staircase. And when Danny Tanner's (Bob Saget) daughters D.J. (Candace Cameron Bure) and Stephanie (Jodie Sweetin) took over the home for the show's spinoff, "Fuller House," the sisters maintained the room's retro style in 2016.
But we had to wonder, what would the place look like if other characters from the show played interior decorator? Online interior design company Havenly answered our question.
Design experts from the company reimagined the space if Michelle Tanner, Jesse Katsopolis, Joey Gladstone or Kimmy Gibbler were put in charge of redecorating.
Michelle Tanner
The third and youngest Tanner sister, Michelle (Mary-Kate Olsen and Ashley Olsen), hasn't been seen in "Fuller House" because she's off running her fashion empire in New York City. So, obviously, if she were to decorate the home, it'd be super stylish.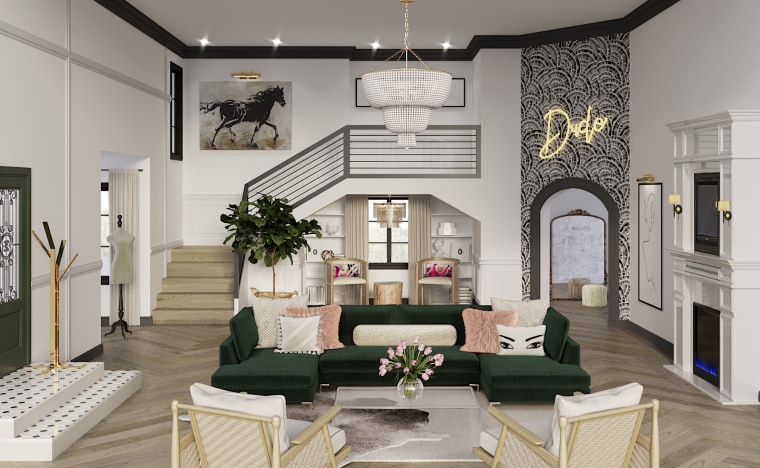 Havenly designer Dani Mulhearn said she wanted to capture NYC living with "Cali cool" vibes for Michelle's architecture. The stairs get a sleek update while the floors use natural oak in a herringbone pattern.
The couch is replaced with a contemporary emerald one (after all, green was Michelle's favorite color growing up) and a large horse print hangs above the stairs to represent her love of horseback riding.
And to add a little bit of rock 'n' roll, there's a fun accent wallpaper on the arch wall with a neon sign that's a nod to her catchphrase, "You got it, dude!"
Uncle Jesse
Designer Lyndsi Lee used Jesse's (John Stamos) "bad boy" vibe as the inspiration for the new decor, choosing moody black walls and cool accent pieces.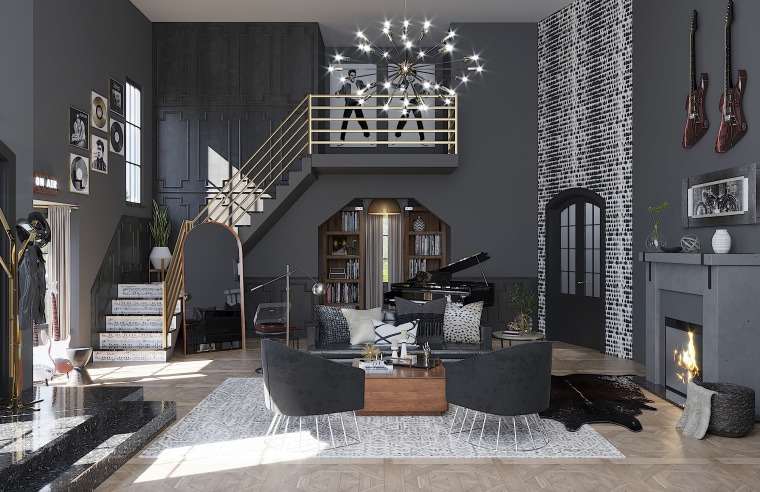 Since music is such a huge part of his life, you'll find life-sized murals of Elvis Presley above the stairs, guitars over the fireplace and even custom-print wallpaper on the steps that symbolize the notes to his first hit song, "Forever."
A statement light fixture hangs above the masculine and modern new furniture, while a practice area filled with instruments can be found in the alcove.
Uncle Joey
For playful and funny Joey (Dave Coulier), designer Karen Richani made sure to give his room a laid-back feel. "The typical room you could see perhaps in a college student apartment," she explained, adding that you'll see bean bag chairs as part of the furniture set.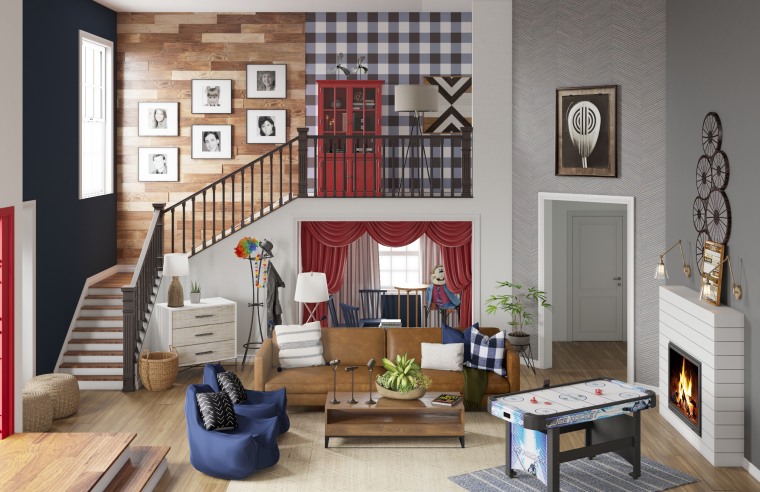 She used an overall color palette of reds and blues to make it feel young, and natural materials like jute and reclaimed wood to give the space a coastal, industrial style.
In the nook under the stairs, there's a special stage he can use to perform impressions for his biggest fans, the Tanner girls. And, of course, his beloved Mr. Woodchuck makes an appearance, too.
Kimmy Gibbler
Technically Kimmy (Andrea Barber) lives in the "Fuller House" home with D.J. and Stephanie, but the Havenly team envisioned what the space would look like if she was given free reign to decorate based on her own tastes (because, let's face it, she's got a pretty unique style).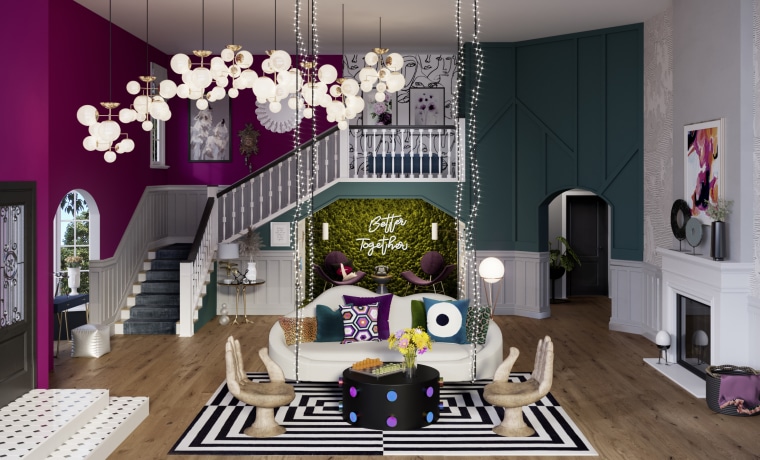 Richani channeled Kimmy's bold and quirky personality for the design. A cloud-shaped sofa, hand chairs, a funky rug and throw pillows give the space a whimsical look since Kimmy doesn't want to grow up.
You'll also spy wolf art on the stairs since she is a member of the "she-wolf pack" with D.J. and Stephanie.