Once upon a time, an online interior decorating company dreamed up how Disney princesses might live in 2019, and the rooms are like a fairy tale themselves.
Modsy, which has re-imagined the homes from "Sex and the City," "Friends," "Seinfeld" and more, came up with a modern twist on the home designs of six Disney characters, picturing how they'd style their spaces as adults in 2019. From Moana's bold and tropical bedroom to Cinderella's seriously enchanting living room, see the looks below and get inspiration for your own magical space.
Moana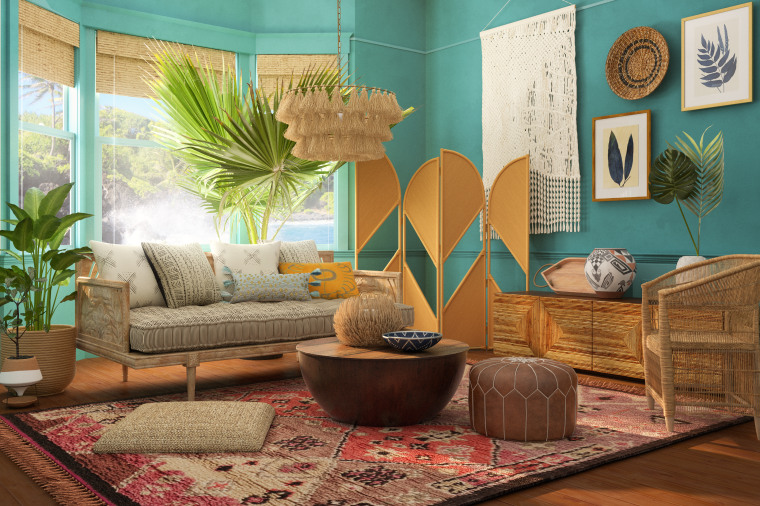 "We wanted to create a colorful bedroom where Moana, the island adventurer and dreamer, could come home to and chill out in — a place where she can easily relax on her own with the perfect view of the ocean," said Modsy's director of style, Alessandra Wood.
The updated room features a tropical-inspired daybed and a wall color that mimics the ocean. To get the look in your own home, look for bohemian-inspired pieces such as tassels, rattan, clay pots or mixed wood, Wood said.
Elsa from "Frozen"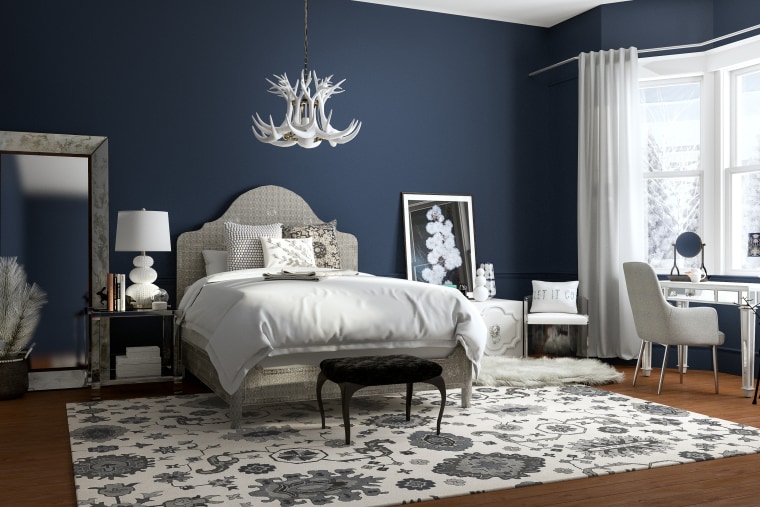 This room channels a winter wonderland, yet still feels warm and cozy.
"Pieces that really make the space feel like 'Frozen' are the antler pendant light, which is cabin chic (but faux, of course), 'Let It Go' pillow, Olaf mug, snowman decor and sprinkles of tributes to Sven the reindeer," said Wood.
The dark blue wall color mixed with white decor gives it a sleek winter vibe.
"To get Elsa's look at home, think about starting with a winter palette with rich blues, silvers and bright whites," Wood said. "Bring nature indoors through faux hides and furs and adding acrylic and mirrored surfaces help re-create an icy cool look without being over the top."
Snow White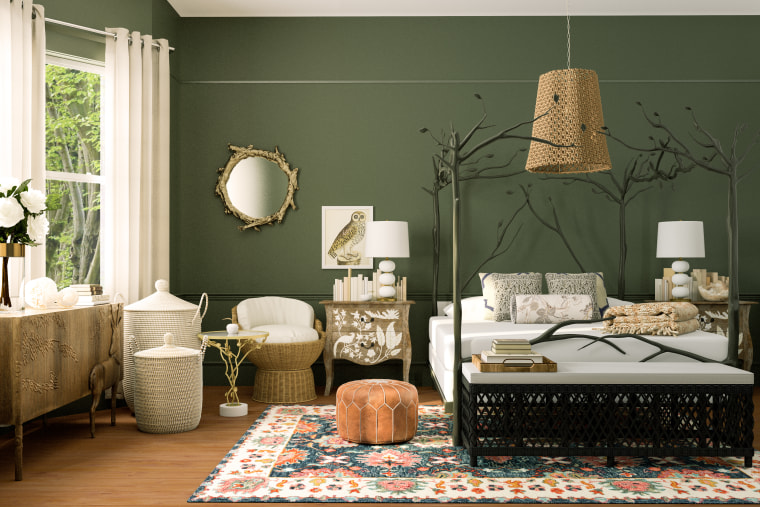 "If Snow White was a modern day designer, she would 100 percent be Joanna Gaines," Wood said. To get the enchanted forest vibe, the Modsy team gave this princess's re-imagined room a rustic farmhouse style.
"We imagine her spending hours on the amazingcanopy bed, as its beautiful frame and details remind her of the woods," Wood said. "The geodes on the dresser represent her dwarfs mining for gems, plus, we thought that Snow White today would totally be into crystals and their healing powers."
To get the look in your own room, choose pieces inspired by nature and animals. "Snow White was a lover of animals so anything animal-inspired bold or subtle would do the trick!"
Belle from "Beauty and the Beast"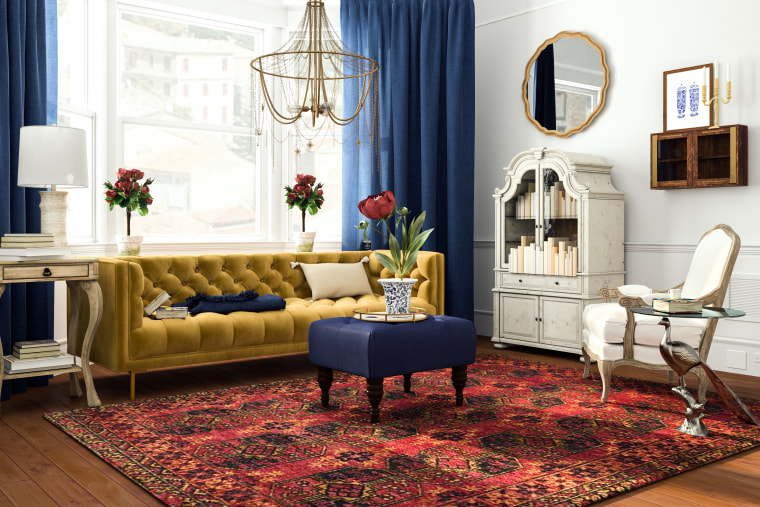 "We aimed to create a luxurious space that encapsulated the color palette and romance of Belle," Wood said. For the sofa, they went with a yellow velvet that is reminiscent of the color of her dress, while the glamorous chandelier reflects the curves of her famous yellow gown.
And, of course, there's a wardrobe that keeps a watchful eye over the room as well as tons of books scattered throughout for the bibliophile.
Cinderella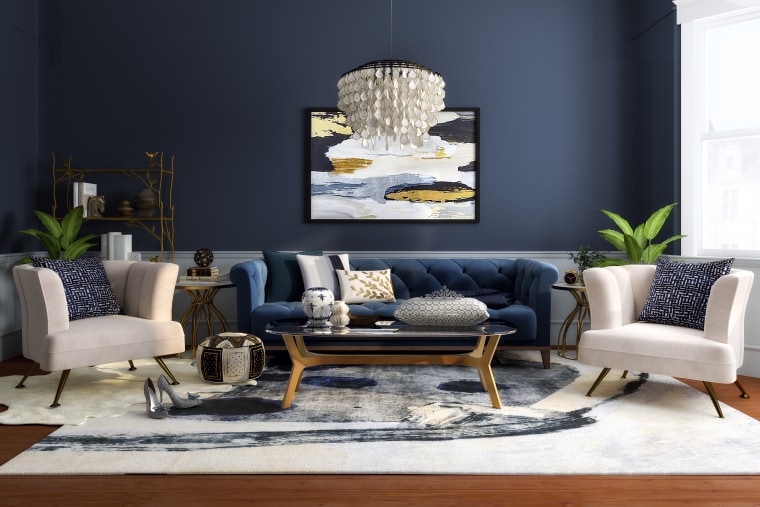 Regal blue, ivory and gold accents make up Cinderella's re-imagined living room.
"(This bookcase) would be Cinderella's favorite piece," Wood predicted, adding that it has a whimsical feel to it with little bird accents to represent her feathered friends from the original film.
You'll find other nods to the film in the space including a pumpkin-inspired pouf, glass slippers, tiara and an alarm clock to let her know when it's midnight.
Mulan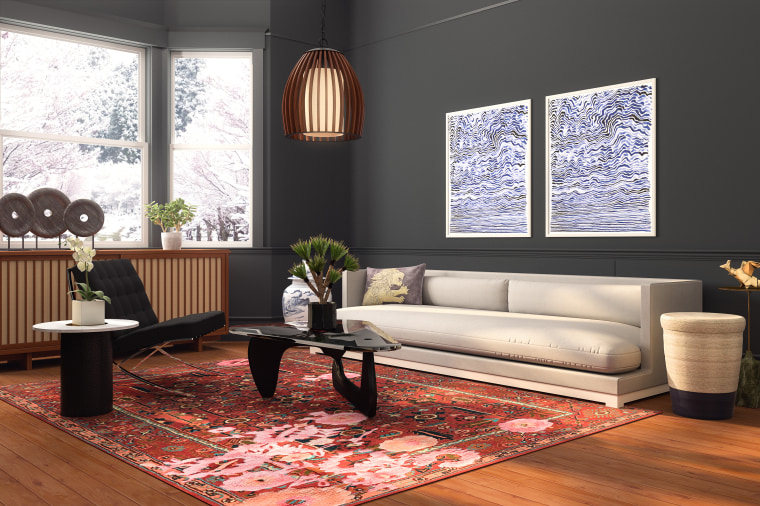 "Mulan is a princess but she is also a warrior — two personas that we wanted to showcase in her modern-day living room," Wood said. The space is minimal with hints of Eastern-inspired midcentury furniture.
"The rug is the centerpiece that ties the whole room together and represents both sides of her — both traditional and a rebel at heart," Wood explained.
To get the look, find minimal furniture with traditional accent pieces like artwork and rugs.
See more of Modsy's re-imagined rooms at the company's blog, The Render.