Want to throw a holiday party without all the fuss and stress? POPSUGAR's lifestyle expert Brandi Milloy says it all begins with the appetizers. Here, she shares her perfect picks (it's all about cheese), tips to dress them up, as well as some recipes.
Say cheese
1. Pick a variety: Go with cheeses with different textures and flavors (cow, goat, sheep, gouda, blue cheese). Also, be mindful of how many people you're serving so you get the right proportion.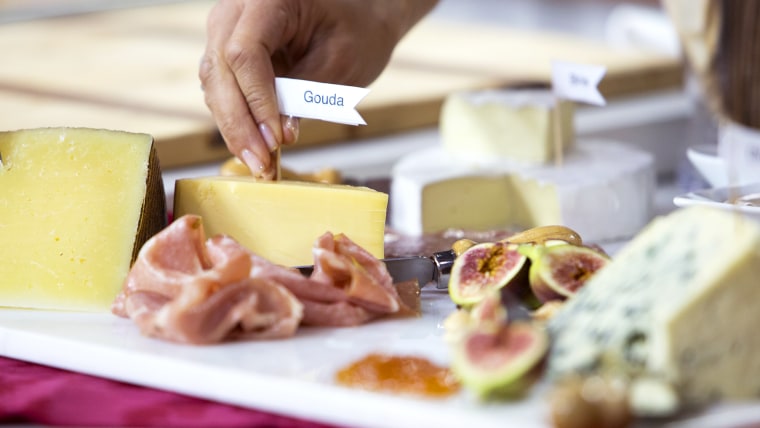 2. Let the cheese come to room temperature: The complex flavors of cheese taste best when they are served at room temperature. Several hours (at least two) before guests arrive, take the cheeses out of the fridge, and let them rest on the counter until they're no longer cool to the touch.
3. Choose the right accompaniments: A good rule of thumb is to serve mild cheeses with savory accompaniments like olives, prosciutto and nuts. Cured meat pairs perfectly with a sharp white cheddar; smoky and spicy meats pair well with goat and brie.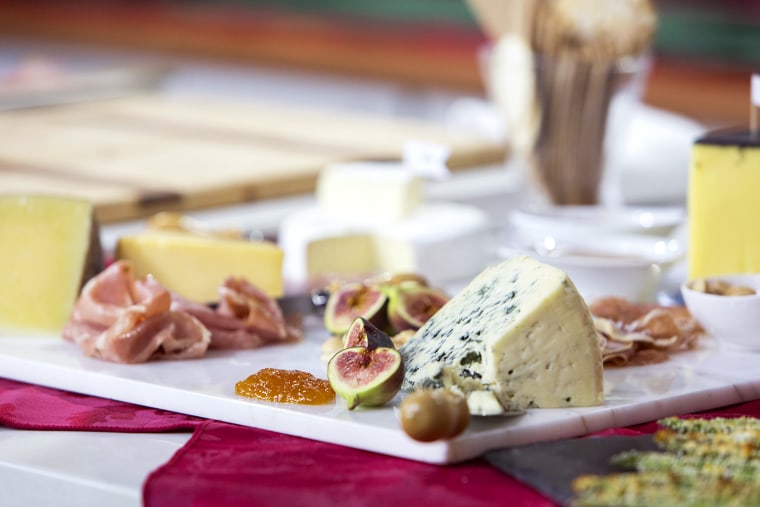 4. Serve with crackers: Baguettes are delicious with cheese but can get hard and cause crumbs. Showcase a variety of thin crackers on a separate board or plate — you don't want to crowd the cheese and meats. 
5. Spread it all out: Use a large wooden cutting board or a stone slab to lay out cheese from mildest to strongest. Place fruits, meats, and nuts between each cheese. And don't forget the knives — you don't want anyone double dipping!
Crudite is just a fancy word for veggie platter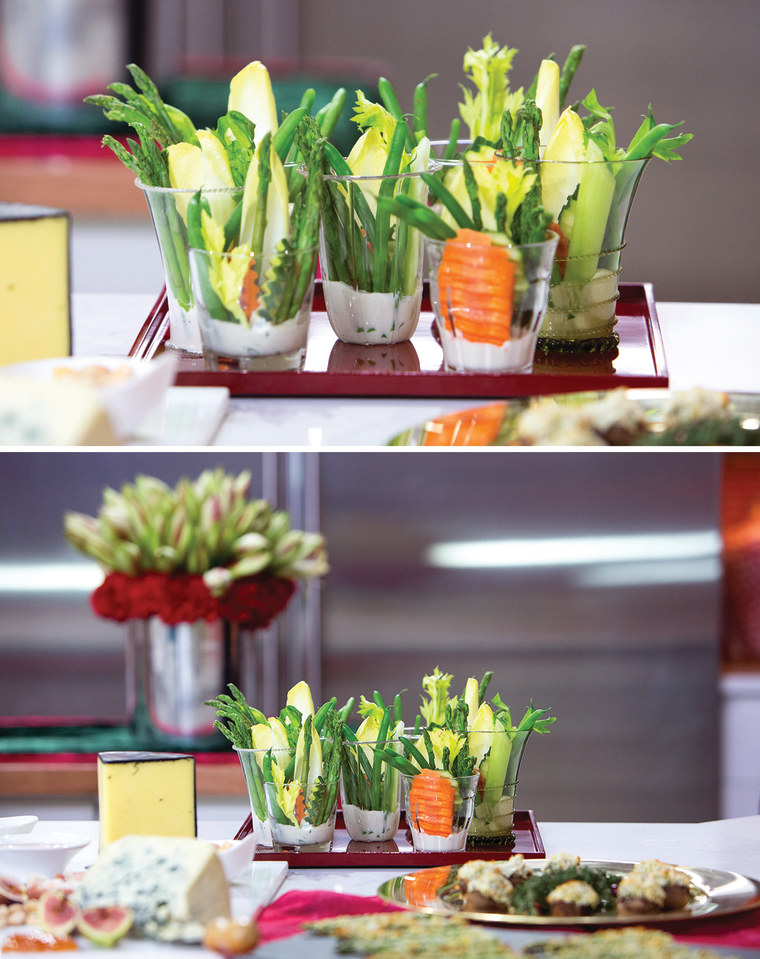 1. This is a great appetizer to do ahead. After you cut them, just store them in an airtight container and cover with a damp cloth or towel. If you want to personalize the dip, feel free to add blue cheese, fresh herbs or any of your other favorite add-ins.
2. Use cookie cutters and wavy knives to cut out veggies. This little touch makes them pop on the table and fun to eat.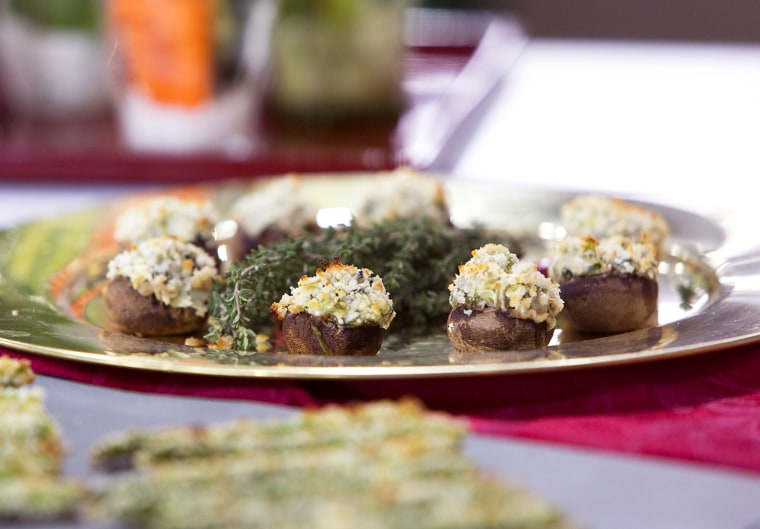 Mushrooms stuffed with artichoke and spinach dip
Makes about 40 stuffed mushrooms

Ingredients

2 tablespoons olive oil

1 medium clove garlic, minced (1 tbs.)

40 small brown mushrooms, stemmed, gills removed

Kosher salt

Freshly ground black pepper

2 ounces cream cheese, softened

4 1/2 teaspoons mayonnaise

1 teaspoon fresh thyme
5 ounces frozen chopped spinach, thawed and squeezed dry

5 ounces frozen artichokes, thawed, lightly squeezed dry, and chopped

3 tablespoons fresh breadcrumbs or panko

3 tablespoons finely grated Parmigiano-Reggiano
1. Position a rack in the center of the oven and heat the oven to 450°F

2. Remove the stem from the mushroom, and using a small paring knife or a miniature melon baller, gently scrape out the gills in the mushroom.
3. In a small bowl, combine 1 tablespoon of the oil and about two-thirds of the minced garlic or use garlic-flavored olive oil. Brush the insides of the mushroom caps with the garlic oil and sprinkle generously with salt and pepper.
4. Arrange the mushrooms oiled side up on a rimmed baking sheet and roast until just tender, about 6 minutes. If they purge a lot of water, flip the mushroom upside down on paper towel to drain some of the water.
5. In a medium bowl, mix the cream cheese, mayonnaise, and 1/2 tsp. of the thyme with the back of a wooden spoon. Stir in the spinach and artichokes and season to taste with salt and pepper.
6. In another medium bowl, combine the remaining garlic, 1 tbs. oil, and 1 tsp. thyme with the breadcrumbs and cheese.
7. Spoon the artichoke mixture evenly into the mushroom caps and sprinkle with the breadcrumb mixture. Bake until the crumbs are golden-brown and the filling is hot, about 6-8 minutes. Serve immediately.
Baked asparagus fries
Prep time: 15 minutes
Cook time: 15 minutes
Yield: 14 servings
A healthy alternative to french fries baked to crisp perfection right in the oven!
Ingredients:

1 cup Panko*

1/2 cup grated Parmesan cheese

Kosher salt and freshly ground black pepper, to taste

1 pound asparagus, trimmed

1/2 cup all-purpose flour

2 large eggs, beaten

1. Preheat oven to 425 degrees F. Lightly oil a baking sheet or coat with nonstick spray.
2. In a large bowl, combine Panko and Parmesan; season with salt and pepper, to taste. Set aside.
3. Working in batches, dredge asparagus in flour, dip into eggs, then dredge in Panko mixture, pressing to coat.
4. Place asparagus in a single layer onto the prepared baking sheet. Place into oven and bake for 10-12 minutes, or until golden brown and crisp.
5. Serve immediately.
Notes: *Panko is a Japanese-style breadcrumb and can be found in the Asian section of your local grocery store.