It's flu season and you know the drill. Over-the-counter products, lots of liquids and rest for the patient. But what do you do to keep the flu from infecting the rest of the household?
Meg Roberts, president of Molly Maid, the nation's leading residential cleaning company, offers the following tips to help disinfect your home during the flu season.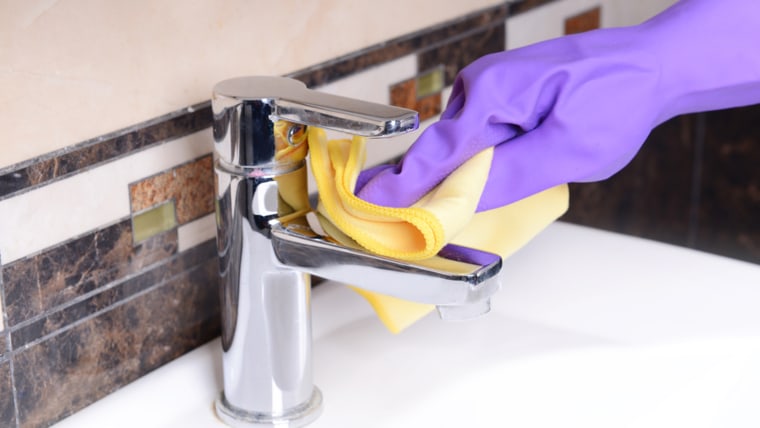 RELATED: Too lazy to clean? Try these easy tips
Quarantine
A person who has the flu can infect people as far away as six feet by coughing, sneezing and talking — and, depending on the type of flu virus, this can continue for five to seven days, even longer with sick kids. By keeping the sick person confined to one room and one bathroom, you'll reduce the area exposed to the virus and so limit the number of rooms you have to disinfect.
Clean germ-infected areas
Clean the rooms used by the sick person every day. Use an antibacterial cleaner to wipe key areas such as: bedside tables, toilets, bathroom surfaces, doorknobs, countertops and light switches. If a child has the flu, wipe down favorite toys, too.
Don't forget remote controls, video game controls, cell phones, iPads or other personal devices. Use cotton swabs to reach crevices and spaces in between keys.
Line the wastebaskets in these rooms with plastic grocery bags to minimize contact with germs. Empty at least once a day, replacing bags each time.
Open windows to bring in fresh air.
RELATED: 10 things in your home you don't clean as often as you should
Tidy up the toothbrush
"It is not necessary to toss your toothbrush after having the flu. Fact is, you cannot give yourself the flu again by using the same toothbrush," Roberts said. "You can infect others in your household so keep your brush uncovered and far away from the others while you're sick."
If you don't want to replace your toothbrush, run it under hot water or soak it in antibacterial mouthwash to kill off any germs. And after each use, rinse the toothbrush thoroughly in tap water, allowing it to air dry away from other toothbrushes.
Sterilize sponges
Kitchen sponges are already a breeding ground for bacteria and are often used on multiple surfaces. Avoid spreading germs by microwaving wet sponges on high for one to two minutes every day.
Laundry precautions
Use a laundry hamper to transport the sick person's towels, bedding and clothes (and the clothes of the caregiver, too) to the washer. "Hugging" laundry could spread germs to you.
Wash the washer. After washing the bed sheets, clothes and towels of a sick family member, take time to wash your washing machine. The moist environment in the washer is a breeding ground for germs. Run an empty cycle on hot water and add bleach to the dispenser. Run an additional cycle to ensure the bleach is gone.