If you're looking to vacation big — no, really big — take a look at this 13-bedroom house packed with game-themed rooms and more creative touches than you could imagine.
Just take a look at the larger-than-life property that will have everyone feeling like a kid again.
Sitting on 10 acres, the Great Escape Lakeside near Orlando, Florida, is perfect for large families or big groups since it sleeps up to 45 people.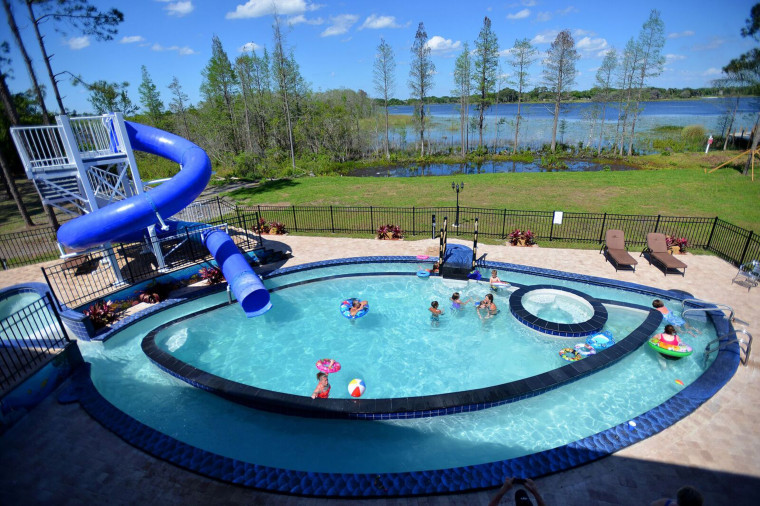 The resort brings the water park to you, with its huge pool and water slide as well as a lazy river with speeds you can adjust based on how slow (or fast) you'd like to float down.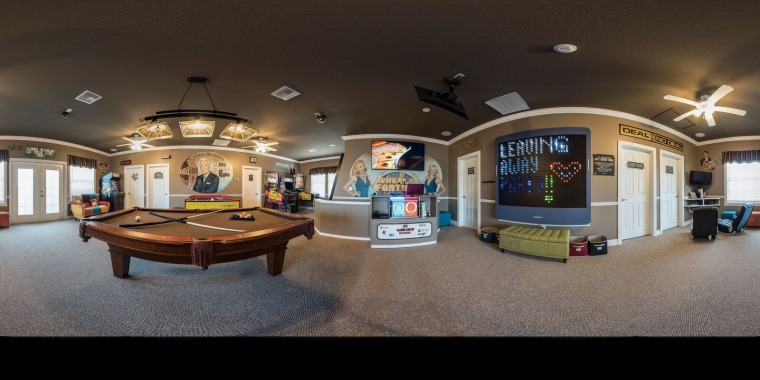 And not all of the amenities are man-made. Nestled next to a lake, the property offers great views and the chance to kayak or canoe for a bit.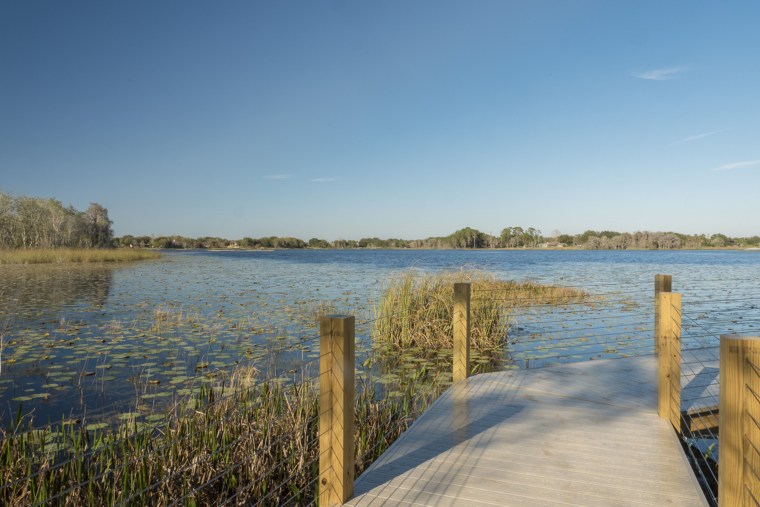 Each room inside the giant house is decked out in game-themed decor. Scrabble players will love the word-themed room that's floor looks like the game board.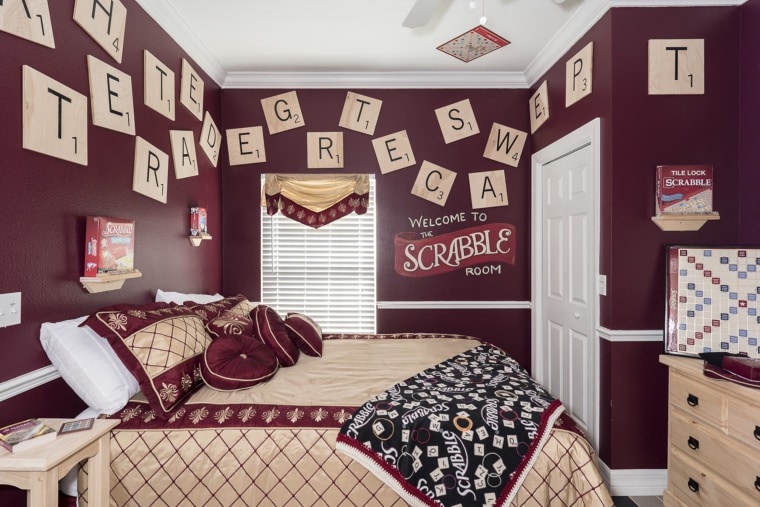 If you love a good puzzle, then the Clue-themed "escape room" is for you. Guests can play a game where they "lock" themselves in (don't worry, you can still get out) and use the hidden clues to solve the mystery and escape. Other room themes include Monopoly, Pictionary and Operation.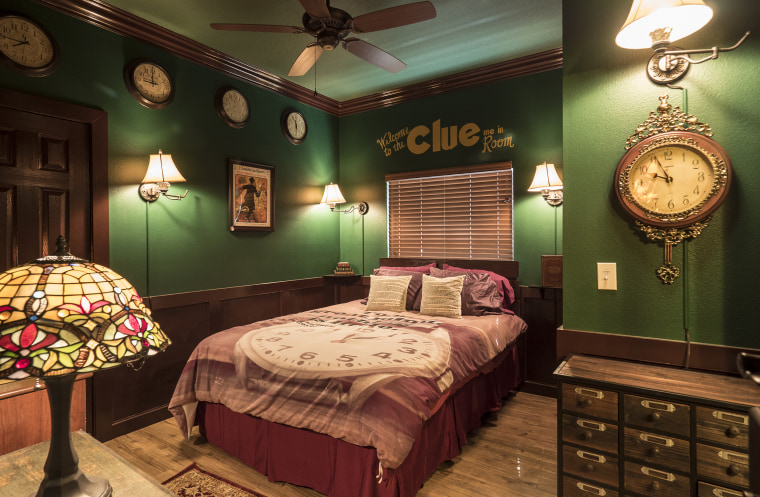 With the flip of a switch, another room transforms into a laser maze, where guests have to climb, crawl and jump from one side of the king-sized room to another. Do your best to beat the all-time record of 5.9 seconds.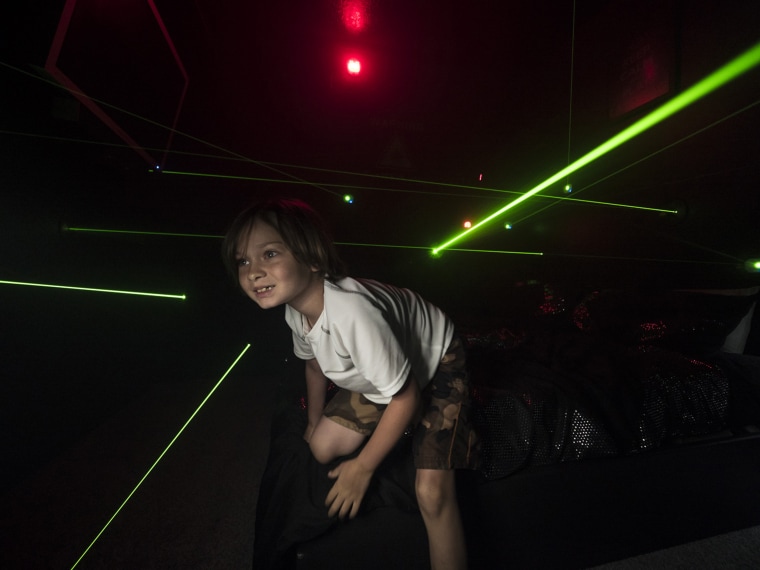 Video game players will love this room where you can sleep in a Pac-Man-shaped bed or play the arcade game whenever the urge strikes (no loose change necessary). Original games, like the Atari 2600 or Intellivision console, are included for whenever you want to feel like you're in the '80s again.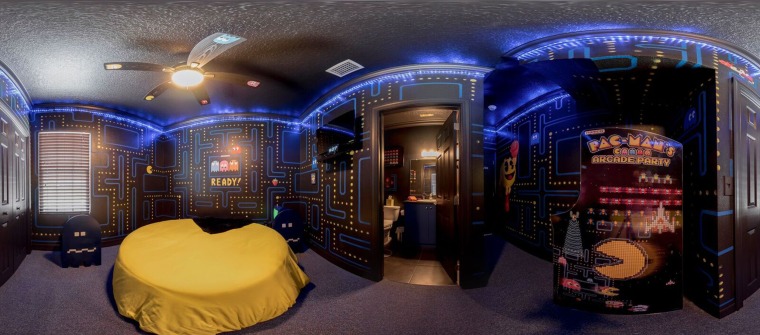 For a more relaxed stay, take the beach-themed room with a view of the pool and lake. The room even has classic Zoltar fortune teller machine, as seen in the Tom Hanks film "Big." Step right up! Also from that movie: the oversized piano from the toy store.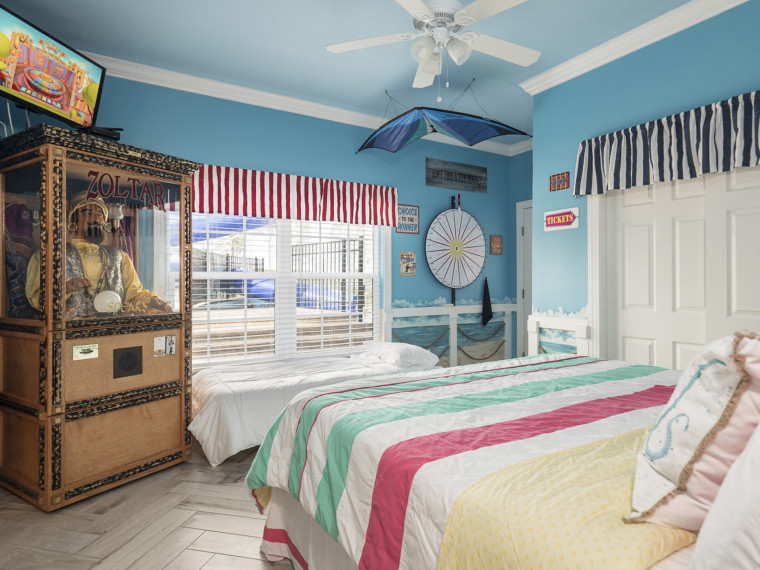 The living room has beautiful hardwood floors, comfy couches and … a huge chess board with giant pieces! (You knew there had to be a game there somewhere.)
If you're looking to relax, kick back and enjoy a movie in the resort's private movie theater.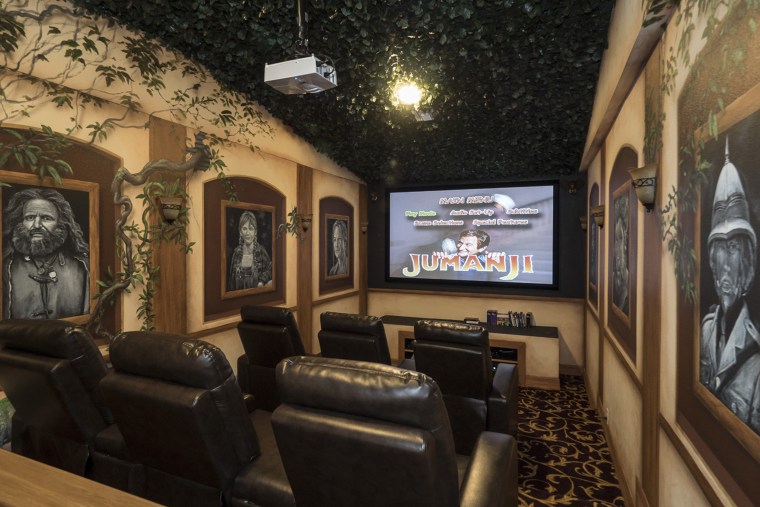 Or for something more adventurous, try playing "human bowling," where a player steps inside a giant ball and races toward the pins.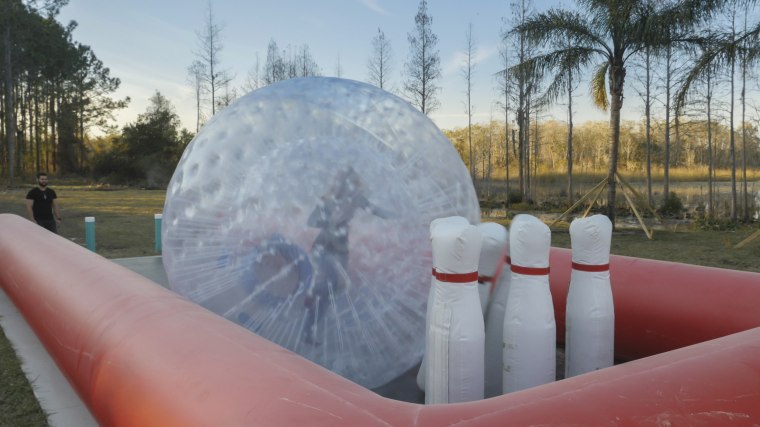 If the house's indoor foosball table isn't enough for you, you can even play human foosball outside.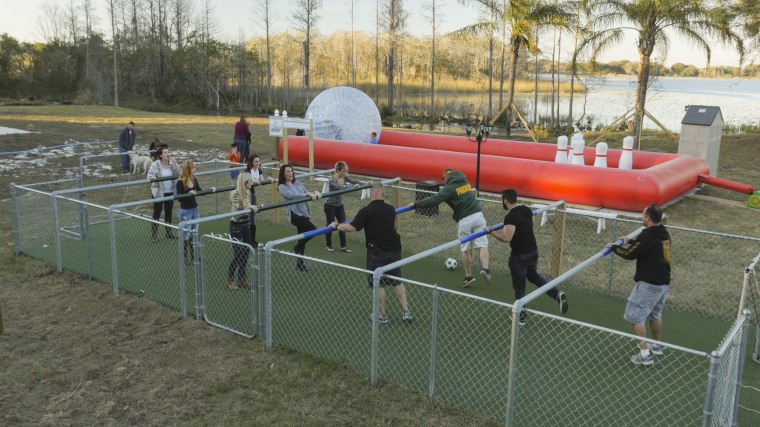 The resort was created by Florida resident Andrew Greenstein and his wife, Belinda, who added fun and games to every corner of the property after purchasing it in 2003.
Soon, their friends began asking if they could stay at the home with their kids. Within a few years, the pair began renting it out professionally. Once this became a business opportunity, Greenstein said he contacted the game companies that own the trademarks and copyrights to ensure that he could rent out the logo-filled house without running into trouble.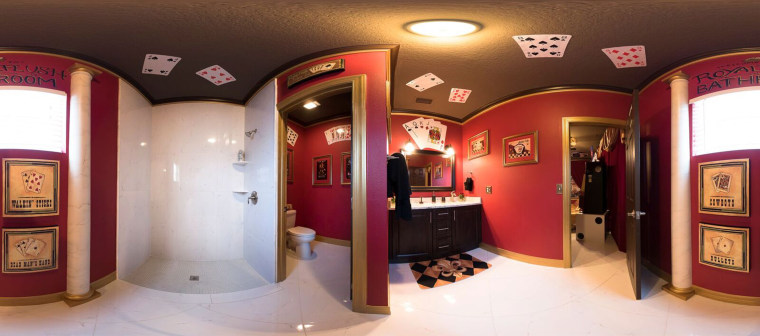 "We never really planned for this to become a business," he told TODAY Home. "Me and my wife and the kids would always would imagine different fun rooms, dream it up and take notes on what we thought would be great."
"As my kids were becoming teens, I said, 'Let's see how you take a dream and make it a reality,'" he said.
Now it's a full-fledged business, but it'll cost you. One night at The Great Escape Estate Lakeside costs anywhere from $1,295 per night to just under $1,900 (depending on peak or off-peak travel times). Since the house is so large, potential guests could invite multiple families to split the cost.
I really enjoy seeing how much fun people have.
Andrew Greenstein, co-owner of The Great Escape Lakeside
According to Greenstein, demand for The Great Escape Lakeside is so high that he's working on a second, similar house nearby. The new house won't be by a lake, but will have new and different features.
"It will be another game-themed house," he said, "with two new bedrooms (and) a billiards-themed pool that will have water cannons."
It's expected to open in 2019.
Greenstein runs other fun rental properties Florida, including the candy-themed Sweet Escape and the prince and princess-themed Ever After Estate.
"I really enjoy seeing how much fun people have," he said.