Aside from having a successful career as a New York City doctor and a colorful wardrobe, Dr. Mindy Lahiri of FOX's "The Mindy Project" (played by show creator Mindy Kaling) has yet another aspect we covet from her hilariously-complicated life: her apartment.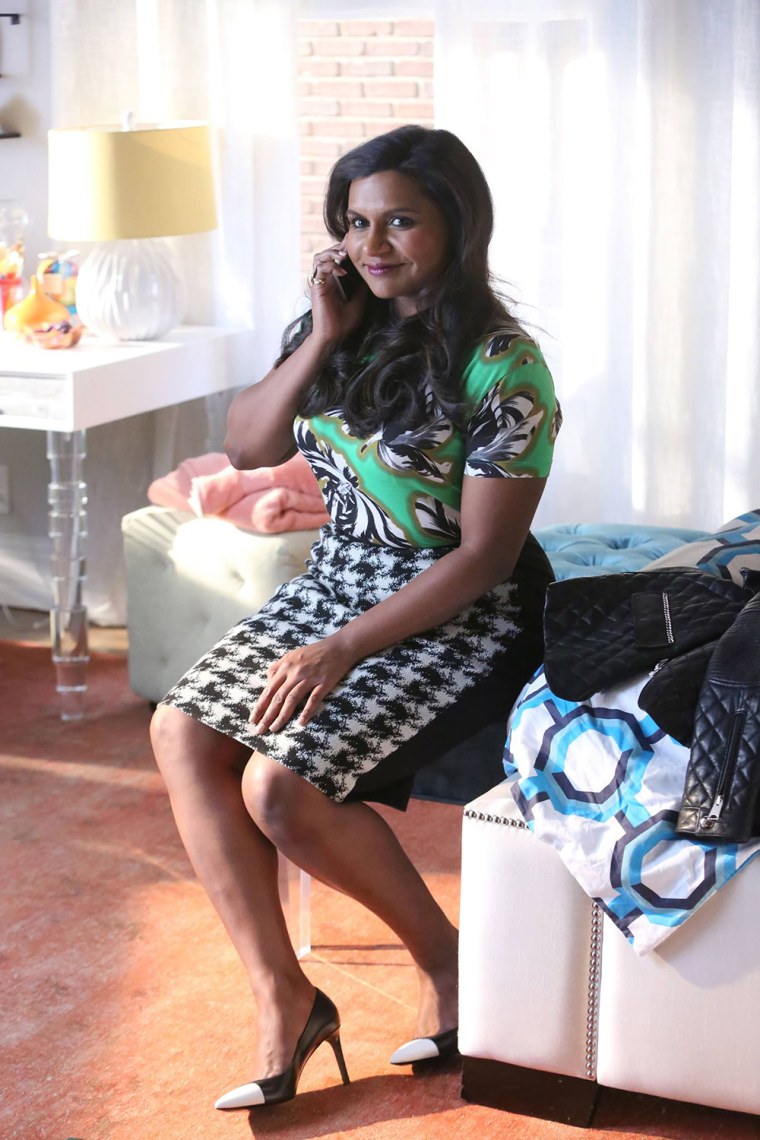 The one-bedroom pad is filled with pops of color, complex patterns and eclectic styles, making it a perfect reflection of Dr. Lahiri's fun and stylish character.
"Mindy Kaling actually picked a lot of pieces to get the look," said production designer Kathleen Widomski, who updated the set for season three with set decorators Shauna Aronson and Lori Mazuer and art department coordinator Krista Gilbertson. "Mindy — both the character and the person — loves color and celebrates it." 
And despite the amazing look of Mindy's space, you won't break your budget copying it. 

"The thing about Mindy's apartment is that there are a lot of pieces that are Etsy driven or sourced from local arts fairs," Widomski said. "You can bring in a lot of it without spending a lot of money." Here are some ways you can get the same "Mindy Project" style in your apartment. 

Bedroom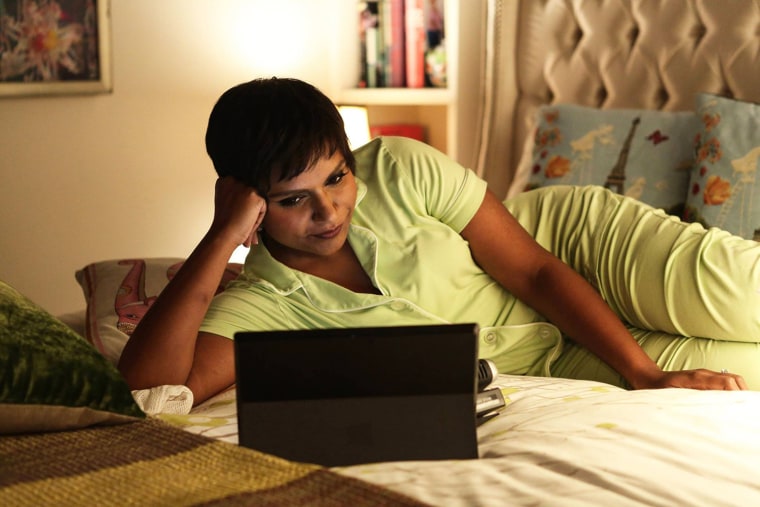 The centerpiece of Mindy's bedroom is the tufted, satin headboard, which was made by the drapery shop at Universal Studios.

"It's comfortable, offers great support and it looks good," Widomski said.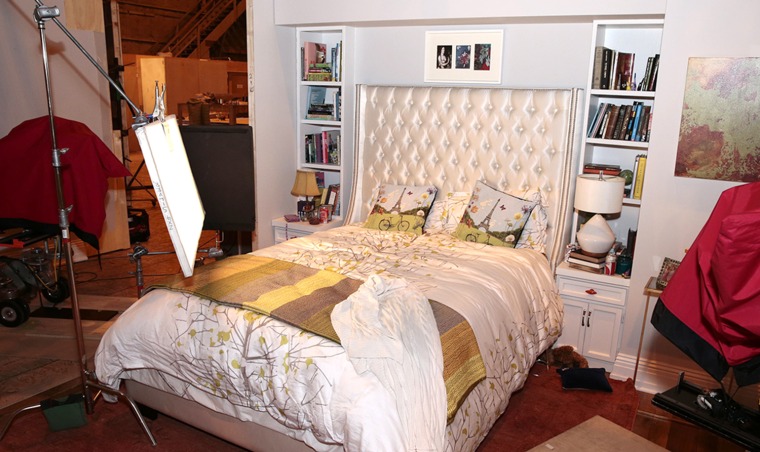 To get the look in your bedroom, try the Lidia Wing Headboard from Lamps Plus, or you can create your own headboard with this tutorial from Sarah M. Dorsey Designs.

RELATED: Get the look: Have your own 'Parenthood' patio
While the dramatic headboard has remained the same throughout the series, the bed coverings change frequently. For similar styles, check out Dwell Studios and HomeGoods, where the set designers source most of the bedding.
In addition to gorgeous bedspreads, Mindy tosses on numerous throw pillows with colorful patterns or fun designs like the Eiffel Tower. Get the look with similar pillows from Jonathan Adler, John Robshaw and Pier 1. (Of course, if you're truly channeling Mindy Lahiri, put a knife under one of your bed pillows like she does to fight off any attacks.)
Living room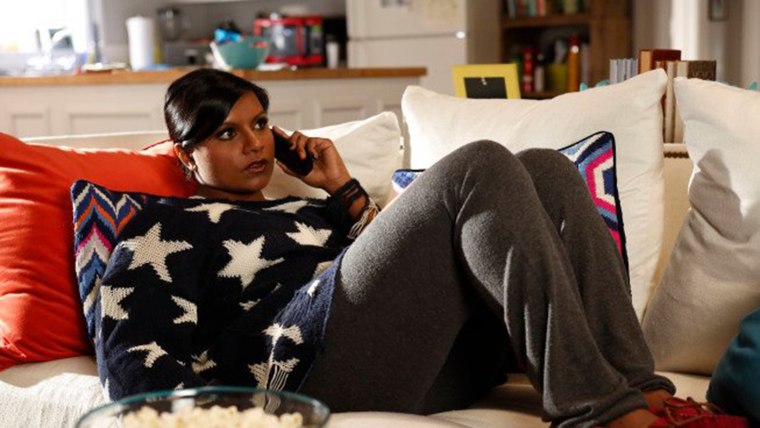 Mindy's living room was designed to reflect her bright personality. To do the same, contrast statement pieces in bright colors, like Mindy's orange rug with her turquoise glass chandelier, and set them off against a classic neutral background, like her white Chesterfield-style sofa with nailhead trim from The Sofa Company.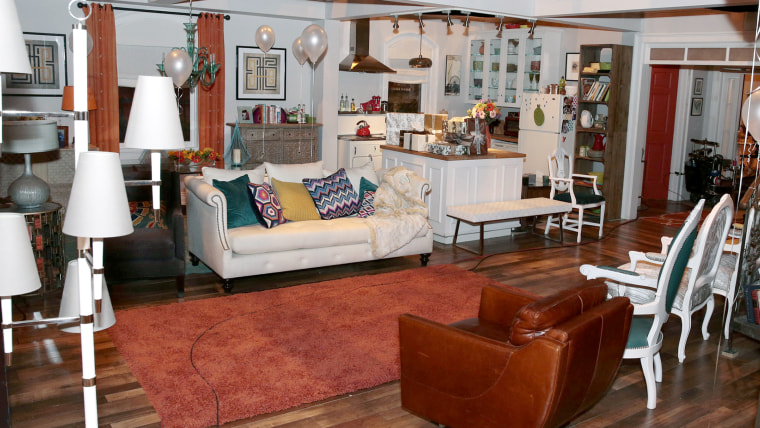 You can get a similar sofa from Pottery Barn and pair it with the Pantone Universe Focus Orange Shag Area Rug from Wayfair. You can also install the exact same chandelier seen in Mindy's apartment, the Z Gallerie Calais Chandelier in aquamarine. Accent pieces from ModShop and throw pillows from Jonathan Adler complete the look.
Kitchen
The small space is typical of New York apartments (unlike perhaps the rest of Mindy's ample space) with a vintage stove and eclectic dishes.
"Besides going to vintage markets and fairs to find mismatched dishware with great colors, Target, Williams-Sonoma and Cost Plus World Market offer great colors and different types of pottery at all price points," Widomski said.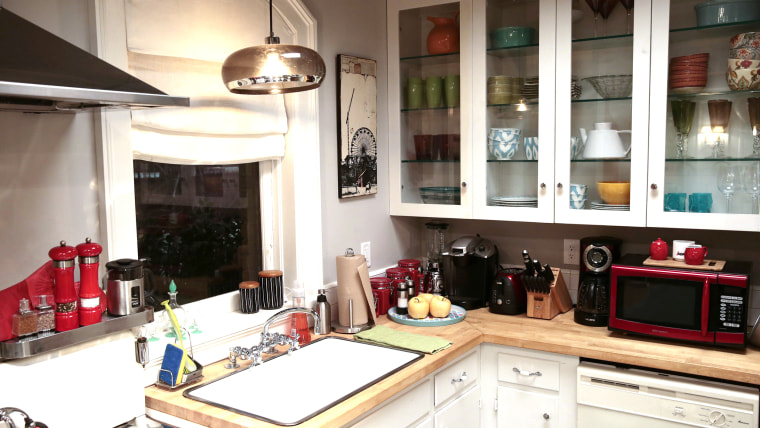 Get the look with Target's American Atelier Trellis Dinnerware in orange or the Amalfi ice cream bowls from Bed, Bath & Beyond.
The basic kitchen is also Mindy-fied with a statement light fixture above the sink, which was updated this season to the Sundance Turquoise Glass Pendant from Houzz.com.
Ellen Sturm Niz is an editor and writer living, parenting, and working in New York City. Follow her on Twitter, Pinterest and Google+.