The results are in! House & Garden magazine surveyed 20,000 top interior designers and asked them what products and brands they love most. And guess what? You can buy many of their favorite home items right in your own neighborhood, or via catalog or online and they don't cost a fortune. Special projects editor Susanna Salk was invited to appear on TODAY to share a look at some of their picks. Here's more from Susanna on what she discussed on the show:
The living room
Here's a living room comprised of many of the winners in each category: On the wall, we have designer's perennial favorite Benjamin Moore's Decorator's White. It's so nice to reap the designers' experience and trust their choices. Benjamin Moore is always tops in quality and this white is clean and fresh and aptly named!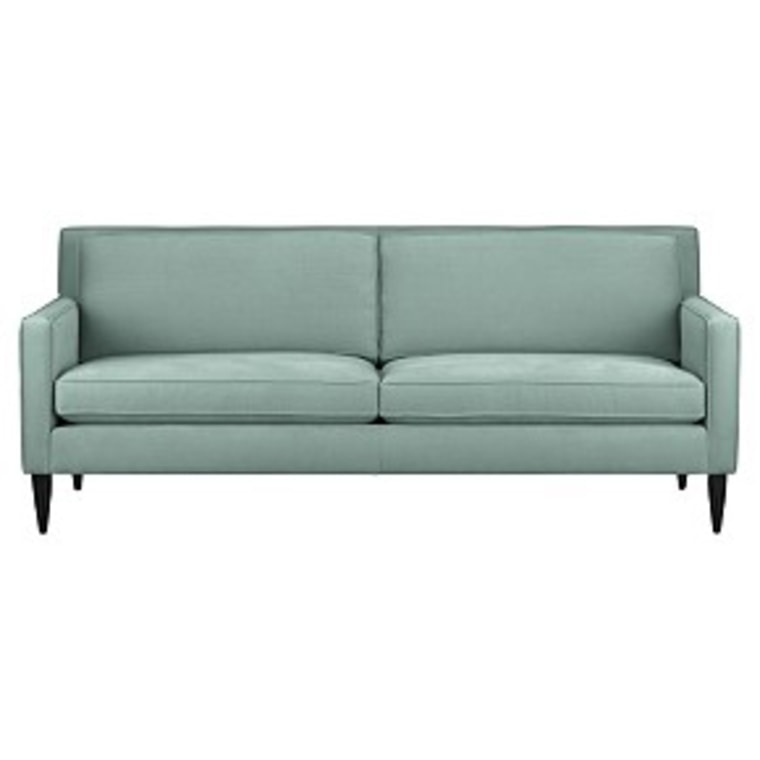 In a living room it all starts with a sofa and here it's so nice to reap the designers' legwork: They count on Crate and Barrel for great sofas that come quickly! Try the Chic sofa from Crate and Barrel: You can see why designers love C&B's cool lines and unique color hues. And it's a great bargain! Rochelle: $1,500. (Rochelle also falls into the ongoing retro trend since it echoes those classic lines of mid-20th-century design.)
The floor lamp is from Ralph Lauren Home, cited as favorite in that lighting category. I love its unusual base and the quality is amazing. This looks like you had to travel to a special showroom in Europe and even better, it's available right here in stores! The rug is by ABC Carpet & Home. It's a must source when it comes to choice and quality, as favorite for sisal and seagrass rugs and for antiques and reproductions. It's from their Infinity collection. And the pattern is so unique looking.
The coffee table is by Pottery Barn. They always have an amazing array of choices in coffee tables, especially in a range of materials. I love how the glass pairs with the matte-finished metal. It's simple and sophisticated, a key component to what designers look for: Juliette Coffee Table.
How can you bring your walls to life without spending a fortune on art work? Designers cited the company RoomAndBoard. I wasn't familiar and went online. I saw these great prints already framed in beautiful maple at a great price. Sometimes by the time you get to the artwork for a room, you feel overwhelmed by the possibilities. Well no longer! (The painting we chose is of Warhol's Marilyn Monroe. By the way, Monroe was cited in our survey as being a favorite design icon along with Ralph Lauren, Jackie Kennedy and Zsa Zsa Gabor! Painting: Gold Marilyn Monroe ($599.) 
The dining room
You can create an eclectic and cohesive look for a room based on a lot of different winners. That's what happens when you incorporate great design.
On the wall we painted perennial paint favorite for range by Ralph Lauren in Goldfinch Yellow. Try it for a fresh approach to adding spring to your home.
On the floor is a gorgeous new graphic floral rug from the Rug Company. This is why I love my job: because of this survey I discovered them and was so impressed. Their patterns are bold, but the beautifully rich color makes is compatible with furniture. Designers love working with them because of how fashion-centric their designs are.
On the window: Pottery Barn Multi-Colored Dupioni embroidered silk panel in Ivory. Pottery Barn is such a helpful resource when you have to find basic components for your room. These curtains look custom made! And they'd enrich any room with their intricate pattern and coloration.
Guess where the floor lamp is from? Home Dept!  Designers shop here a lot in this category and I don't blame them. This design can work in any room. It's a subtle standout... Hampton Bay Hammered Music Note Floor Lamp: $159, available exclusively at The Home Depot.
Dining room table: Designers turn to able Crate and Barrel for tables.  
I have the Eastport both in my dining room and then also in my bedroom, it's filled with coffee table books and collectibles. You can't beat its design or the price and the white is both classic and modern in feeling.
William and Sonoma Carved-Bamboo Painted Chairs (for table): Thefaux-bamboo fretwork is so popular right now and William and Sonoma makes such a great, affordable version. No wonder designers voted for them in the furniture category. You can order these right online.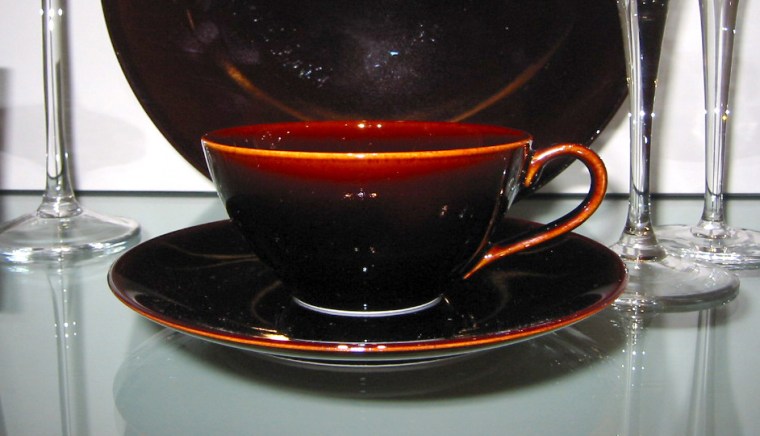 For  table top glasses we show water and wine, both from Crate and Barrel. Designers love a bargain too and you get so much bang for your buck here! This company always has great glasses: The Siera, is made of recycled handblown glass and can be dressed up or down.
Inga Wine glasses also by Crate and Barrel: The retro trend is popular now since it echoes those classic lines of mid-20th-century design.  Flatware by Crate Barrel: Kyoto also falls into a trend because it replicates the image of bamboo, which has become a huge symbol of the "green" movement. Designers love how it goes with dressy or basic white china. On the dining room wall we have a painting from Roomandboard: Sesame, 1970  ($399).  The Helen Frankenthaler print adds such a lovely visual to your room and it looks like it cost a fortune!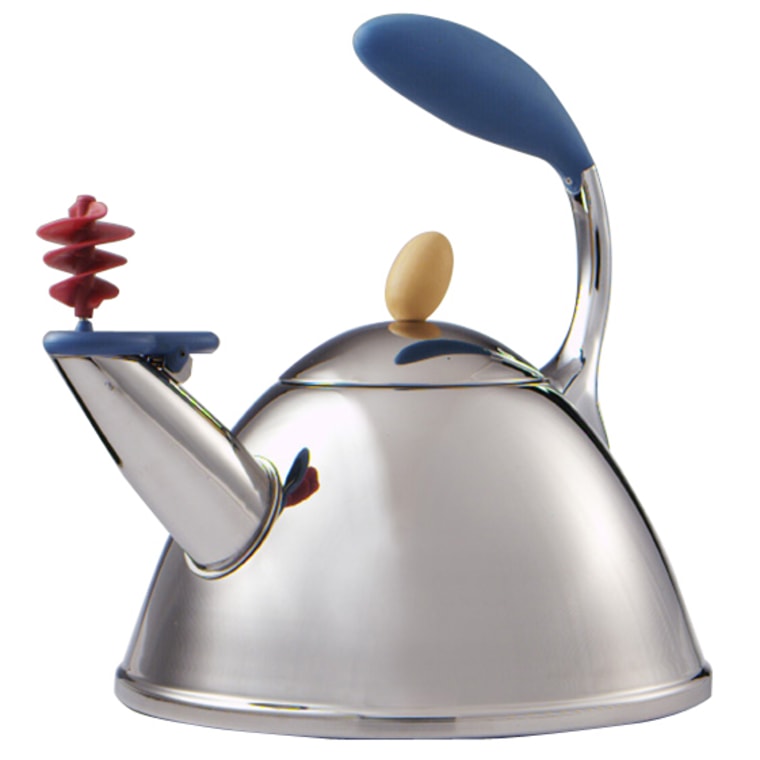 On pedestal tables we have some special items for the kitchen: A Michael Graves tea kettle and toaster from Target. Target created a design icon by offering designer Michael Graves' tea kettle and toaster, so you can see why designers voted Target as a great kitchen accessories resource. Michael Graves was the first designer partnership at Target. His idea here is everyday objects can be well-designed and nice to look at!
And for the full list of House & Garden's Designers' Best, you can visit their website at: