Get ready to bust out the stars and stripes with these easy DIY Mason jar lanterns. 
For more than 150 years, these can-do canisters have held everything from fresh preserves to artisan cocktails served by mustached bartenders. Here, they are given an American flag-inspired treatment by Katie Cleveland, blogger behind Addicted 2 DIY .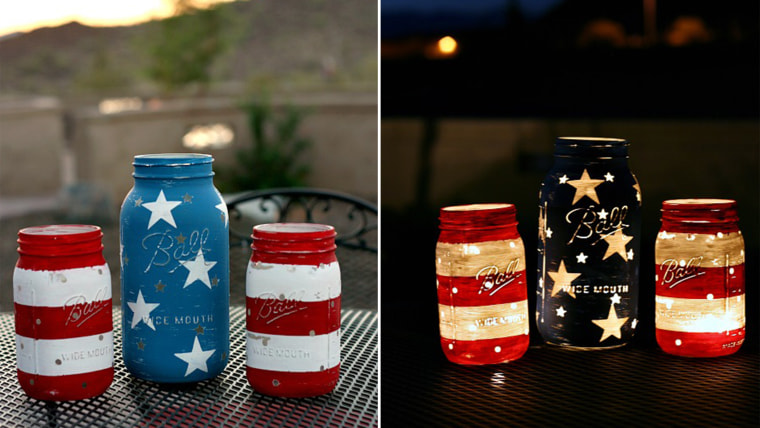 "I love the look of painted Mason jars and I wanted to figure out a way to create a patriotic project that I haven't seen anywhere else," said Cleveland. "I absolutely love how they turned out." 
So do we. And so will you.

What you will need:
One half-gallon and two quart-sized Mason jars

Vinyl cut into ¼-inch dots, ½-inch stars and 1 ¾-inch stars

Americana Decor Chalky Finish Paint in Everlasting (white), Romance (red) and Legacy (blue)

Painter's tape

220 grit sandpaper

Three tea candles

What you will do:
1) Randomly sprinkle the small jars with ¼-inch dots, and the larger jar with ½"-inch stars.
3) Coat all jars with white paint.
4) Create evenly spaced stripes on the two smaller jars using painter's tape, then paint what's left in red.
5) Stick 1 ¾-inch stars to the larger jar, then paint it blue.
6) Once the jars are dry, peel off the painter's tape and all dots and stars. Then distress the jars using sandpaper.
7) Place a tea candle in each jar and voila! The dots and stars let light peek through beautifully.