Tarek and Christina El Moussa flip distressed homes on the HGTV hit "Flip or Flop," but they've endured a number of distressing events in their own home, from illness to police presence to divorce.
On Tuesday, Tarek stopped by TODAY and opened up about all of those things, including his and Christina's decision to remain together — on television.
Despite going their separate ways personally in December, the two remain committed to their show.
"We've been flipping houses, and not only flipping houses but doing it on TV, for a very long time," he explained. "So like anything, there's going to be a challenge, right? Me and Christina are professional. We know we have a job to do. We love what we do and we want to deliver a good product to our fans."
RELATED: 'Flip or Flop's' Tarek and Christina El Moussa split 6 months after police called
They're already filming season seven of the series together, and they hope to continue beyond that. But that's not the most important work they've done together since filing for divorce.
They're also co-parenting their children, daughter Taylor, 6, and son Brayden, 1.
"They're doing absolutely fantastic," Tarek said of the kids. "They're getting accustomed to the new situation. The most important thing is Christina's being a great mom. I'd like to think I'm being a great dad. So we're really supportive. We're spending as much time as possible with them. Taylor, she's doing great. Brayden, he's a little young."
Thankfully both of the children are too young to be aware of the headlines that hit six months before their parents split, when deputies were called to their Orange County home after a report of a "possibly suicidal male with a gun."
In a pre-taped portion of his interview with TODAY, Tarek said it was all a misunderstanding.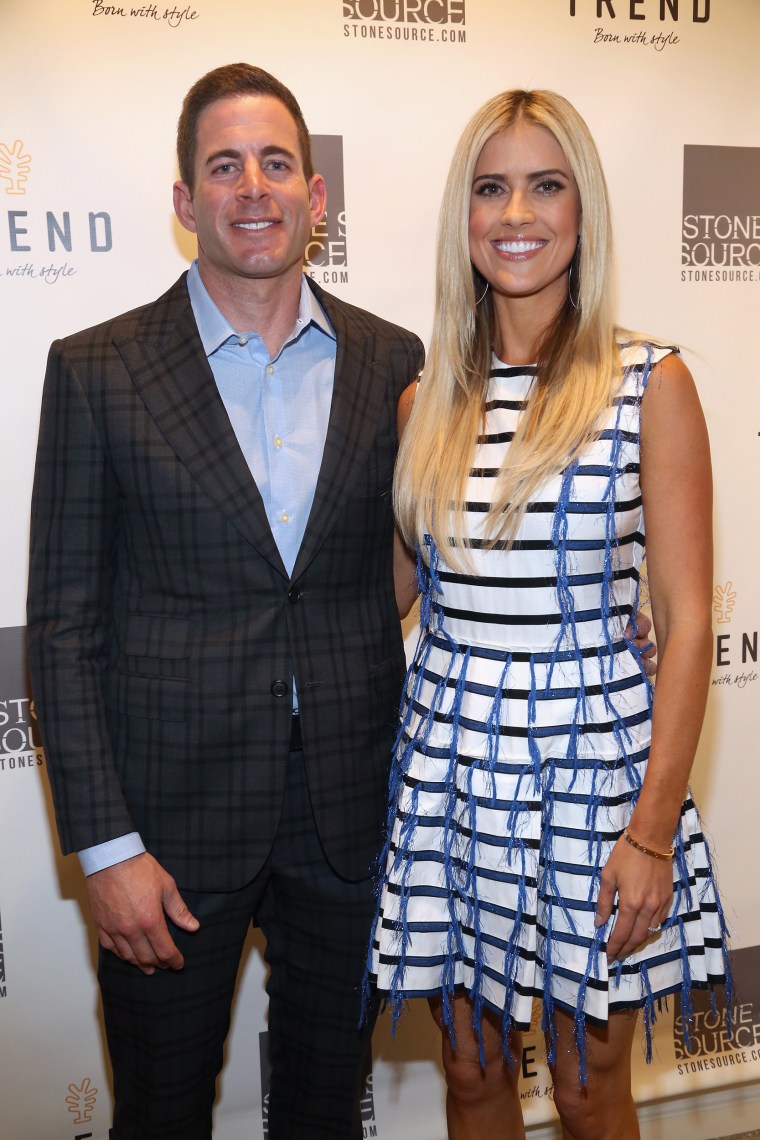 "There's mountain lions and bobcats and rattlesnakes and, like, big wildlife back there," he said of his reason for taking a gun with him as he left the house that day. "I went out for a hike to scout some trails. It wasn't even a big deal. I didn't understand. It got really blown out of proportion."
And as for the suicidal claims, he added, "No. No, no. Never. Absolutely never."
But there was another situation that left him seriously fearful for his life.
RELATED: How HGTV star Tarek El Moussa's cancer, spotted by fan, changed his life
Tarek has opened up to fans about his battle with thyroid cancer in the past, but what he hasn't shared — until now — is that he was diagnosed with another form of cancer shortly after that.
"Getting the thyroid cancer is hard enough, and then a few weeks later finding out I had testicular cancer, I literally thought I was going to die," he said.
At first, he was reluctant to share the news of his testicular cancer, but then he saw the good that came from speaking out about his other ailment.
"I just didn't want to come out with it, it was more of a personal thing," he said. "For me, the main reason I'm coming out is to create awareness. I know that when I came out with thyroid cancer, a lot of people found out they also had thyroid cancer."
Now that Tarek's stepfather has been diagnosed with testicular cancer, he hopes speaking out helps again.
"I feel it's something I had to do."