There's a debate happening in homes and social media accounts across the country about whether or not a flat sheet is necessary. While some people swear by the additional bed linen, others are asking, what's the point of an extra layer?
One Twitter user took the ever-important question a step further tweeting that people blame millennials for "killing" chain restaurants, marriage, etc., but the real millennial feat: the death of the top sheet.
Jesse Lynn Harte, 22, said she was inspired to tweet after she overheard a conversation about how millennials have no work ethic (a statement that she believes to be unequivocally false). "People are always talking about millennials and what we've ruined," she told TODAY Home. Being fed up with this mentality, Harte wanted to bring some comedy into a part of this conversation that she actually believes to be true, but she never thought it would go viral.
Harte's tweet, which has been retweeted more than 20,000 times and "liked" by 70,000 users, sparked a lively debate on the subject. Users were quick either quick to agree with Harte or joined #teamtopsheet.
"Honestly, my eyes have been opened to some factors that I didn't know before," Harte told TODAY after the insane response to her tweet. "But will I start using a top sheet? Absolutely not!"
To settle the matter, TODAY Home decided to take a deep dive into flat sheets. Take a look at some of the pros and cons below:
1. Flat sheets can save you the pain of heavy laundering
"Traditionally, top sheets are meant to keep your comforter and heavy blankets from getting dirty since those items are bigger and may be harder or more expensive to clean," Vicki Fulop, co-founder and CCO of Brooklinen, explained to TODAY Home. If you use a quilt or comforter without a cover, it makes sense to use a flat sheet to add an easy-to-launder buffer between your skin and the heavy blanket.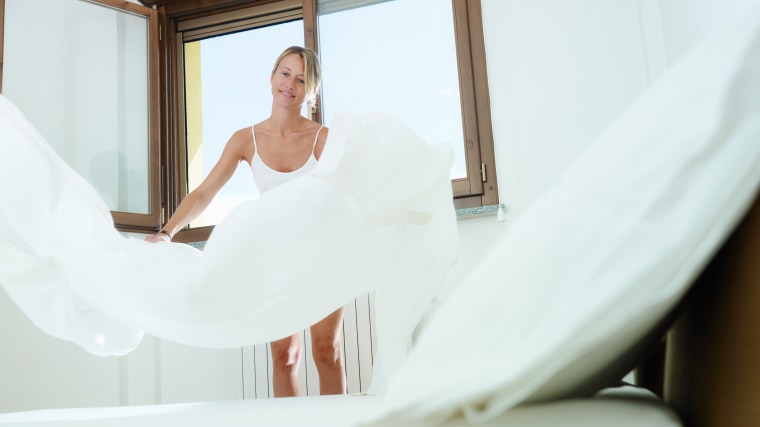 2. But they can also add extra work
Now, if you use a duvet with a cover on it, it might not make sense to have a flat sheet. That's because duvet covers are relatively easy to toss into the wash as a sheet. You'll want to wash your duvet cover at least once a month if it doesn't touch your skin, so since you're already washing it, you might as well save on washing a flat sheet, too. (Experts say to wash your duvet cover once a week if it comes in direct contact with your body.) Plus, using just a duvet cover makes it easier to make the bed in the morning since it requires pulling up just one layer instead of two.
3. Flat sheets help with temperature control
"It can be nice to use your sheets under light blankets in the spring and summer, so you can easily adjust to your desired temperature without hopping out of bed," Fulop said.
4. But they can get bunched up at night
If you like to be snuggled up with something heavy, a duvet cover might be your best bet instead of a top sheet since it's snapped or buttoned to the duvet, thus preventing the chance of it getting bunched up or twisted in the middle of the night.
Fulop's personal preference? A mixture of both. "My husband and co-founder, Rich and I, tend to alternate from top sheet and light blanket in the summer to comforter and duvet cover in the winter."
She added that it's important to do what feels good to you. "I don't think anyone should feel like there's a certain thing that they have to be doing with their bedding — it's all about personal comfort and style."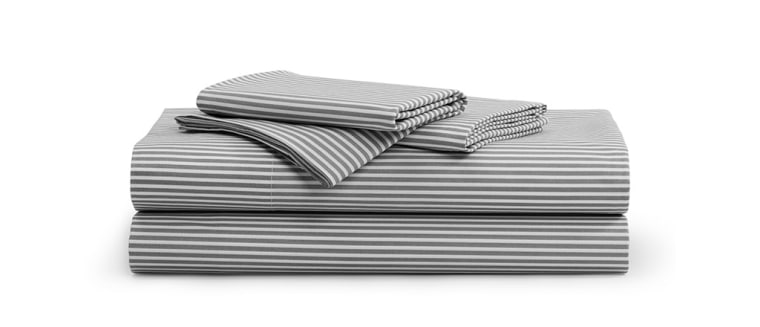 Luckily, whether you're on team flat sheet or not, many companies — including Brooklinen — sell sets with and without the extra layer. Nevertheless, the fight rages on.
This story was originally published Aug. 25, 2017.