So maybe you can't have "Fixer Upper" star Joanna Gaines re-design your house — although we're still crossing our fingers — but we may have found the next best thing.
Thanks to her new paint line, you're now able to paint your home with colors hand-picked by the designer.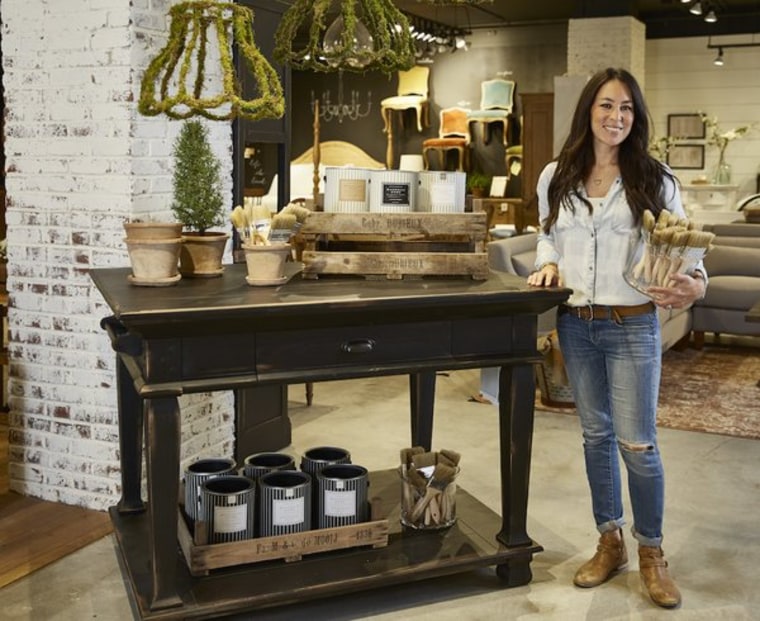 Magnolia Home Paint features 25 hues, all chosen specifically by Gaines in an effort to make the pesky color-picking process easier.
RELATED: 'Fixer Upper' Joanna Gaines shares her spring cleaning checklist
"Every color is inspired by someone or something important to me," she said in a statement to TODAY. "From Chip's wedding band to our farm animals — each color has a unique and personal story."
The colors — which are available in matte, eggshell and satin — are all inspired and named after the things you love about her brand, including her family, her farm, and of course, shiplap.
There's Magnolia Green, which reminds us of those trademark magnolia leaf wreaths, One Horn White, which is named after the family's goat, and a bold red called Vine-Ripened Tomato that makes us want to enjoy a day on their beloved farm.
But Gaines does play favorites when it comes to the hues. It turns out there's a special place in her heart for Ella Rose.
"This shade of pink is a true classic and never goes out of style," she said. "That's why I named it after both my grandmother and my daughter — they're timeless beauties, equally gracious and graceful."
The premium interior paint costs $40-$50 a gallon, depending on the sheen, and is available for purchase at Magnolia Market.
RELATED: Chip and Joanna Gaines just bought a 113-year-old home — and it's no 'Fixer Upper'!
There's also premium cabinetry and furniture paint — you know, just in case you have your own Clint Harp to make custom, unfinished pieces for you, or maybe you want to refinish something you already have.
Gaines said she's excited about the line because it'll make her life easier as she designs space for her clients, adding that you might even see it in future episodes of "Fixer Upper."
"I love this process of personalizing home improvement lines," she said. "It makes my job as a designer much easier, and I hope it makes yours easier too."