The announcement that the upcoming season of "Fixer Upper" will be the last came as a shock to the show's faithful fans, and it's even sparked some wild rumors.
One theory making the rounds is that Chip and Joanna Gaines are pulling the plug on their HGTV hit due to relationship woes — and as it turns out, that rumor isn't quite as wild as it seems.
In their first TV interview since breaking the big news last month, the home improvement stars give some "credence" to that talk.
Don't get the wrong idea. As a couple, Chip and Joanna remain rock solid.
But as Chip explained during a Tuesday morning visit to TODAY, the issue isn't about current problems in their marriage. It's about the ones that could arise if they don't take a break now.
"Look I'll give them a little credence," he said of those repeating the relationship rumors. "The most important thing in the world is Jo and I's relationship, followed very quickly by these four beautiful kids (of ours). We didn't want to push it, to redline it for so long that we woke up and realized we are at a point of no return. So we wanted to take a step back and focus on what is absolutely the most important thing to us."
"We're just really thankful that we had the opportunity to sort of step back and take a break," he continued.
But is it a break they'll come back from?
"Who knows?" Chip said of the odds of returning to TV one day. But the one thing they both know is that they have no regrets about filming "Fixer Upper" in the first place. And if they had it to do over again, they would.
"Absolutely, in a heartbeat," he said. "It was a joy. It was a pleasure."
Chip, who just released his book, "Capital Gaines: Smart Things I Learned Doing Stupid Stuff," considers himself sort of the original fixer-upper, as a husband — and his wife wouldn't have it any other way.
"For me, I get first-hand experience what it's like to have this guy by my side to really push me to my dreams," Joanna explained of his daring, sometimes impulsive, nature — which he then put on display by giving Matt Lauer a smooch.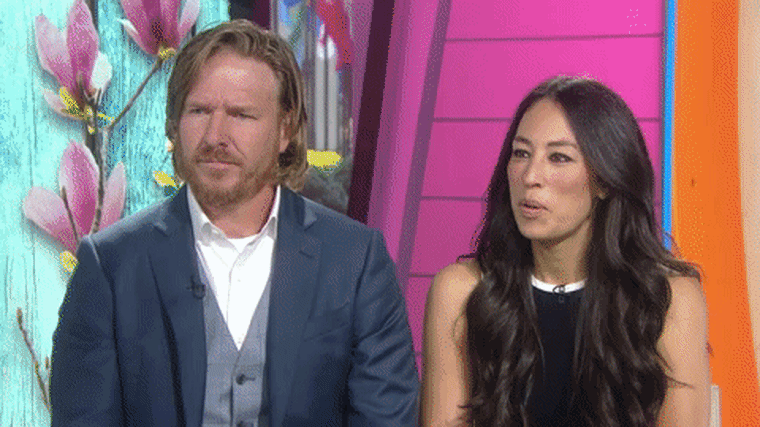 "I think that's what this book is: Get past fear and failure and go for your dream," she added. "In the beginning, I was the one terrified of that. So right off the bat, he was the one who encouraged me, 'If there's something you want, get after it.'"
It's a philosophy he lives by.
"I think even the dumb risks end up paying off," Chip insisted. "(It's) the things you learn through those bad decisions, some of which are the things that mean the very most to me now."
TODAY has affiliate relationships, so we may get a small share of the revenue from your purchases. Items are sold by the retailer, not by TODAY. All prices are subject to change and items could sell out based on the merchant's inventory.