King-size mattresses are the ultimate sleeping luxury — or so we thought.
Now, there's a mattress in town hoping to take that coveted status. The "family-size" mattress from Ace Collection is a colossal 144-inches wide (12 feet) and almost double the size of a traditional king-size mattress (they typically run 76-inches wide). Pretty impressive, right?
If a king-size bed just isn't cutting it anymore and you could use some more space to spread out — like, say, when your kindergartner runs into your room at 2 a.m. — this giant mattress could be just the thing to solve those sleeping woes. But before getting too attached to the idea, consider the size of your bedroom (a mattress this size requires a pretty roomy space) and your budget (the mattress will set you back $2,750 plus shipping and tax).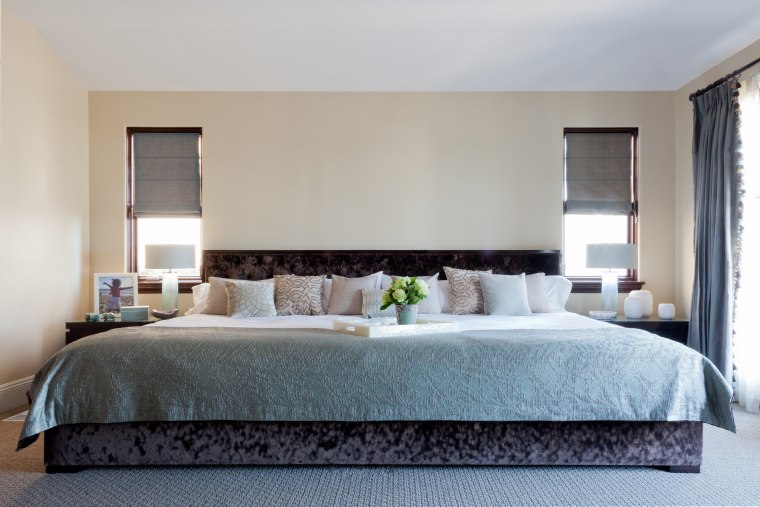 And though its name suggests the family-size mattress was designed for the contentious practice of co-sleeping (when parents and children sleep in one bed), a brand representative told TODAY Home that isn't the case. It does beg the question, though: Is bigger better when you want to share your bed with your significant other and your kids?
While more space could make it easier for the whole family to sleep comfortably, parents should always follow proper co-sleeping guidelines to ensure that everyone gets a safe night's sleep, according to Michael H. Goodstein, MD, FAAP, a fellow of The American Academy of Pediatrics (AAP) and a member of the AAP Task Force on SIDS.
Goodstein told TODAY Home the AAP doesn't recommend sharing the bed with babies less than a year old under any circumstances. "We recommend room sharing. Room sharing — where the baby is close to the parent, but on a separate sleep surface — has been shown to reduce the risk of SIDS up to 50 percent and still allow for closeness, bonding and successful breastfeeding," he said.
Adult mattresses are typically less firm than their crib counterparts, Goodstein explained, and aren't safe for infants. Everything from adult headboard and footboards to quilts and pillows can also pose a risk for babies. "No matter how big the bed, a parent can accidentally roll over their infant, resulting in asphyxia, especially in young infants who aren't strong enough to move around and escape from the weight of the adult," Goodstein said.
When it comes to children more than 1 year old, Goodstein explained, there are no standardized, evidence-based recommendations for co-sleeping, so the jury's still out on whether co-sleeping is beneficial or not.
"The use of a crib between age 1 and 2 will continue to have benefits in terms of safety containment, prevention of falls off bed, etc. However, different parents have different parenting style. Our job as clinicians is to create a partnership with parents and provide them with safety information so they can make informed decisions on how to raise their children to be healthy and safe," he explained.
Whatever your stance on co-sleeping with older children, you can't deny that cuddling up — or spreading out — on a 12-foot mattress sounds pretty cool!
This article was originally published on Dec. 4, 2017 on TODAY.